Donald Trump Jr. Compares Syrian Refugees To Skittles, Draws Social Media Outrage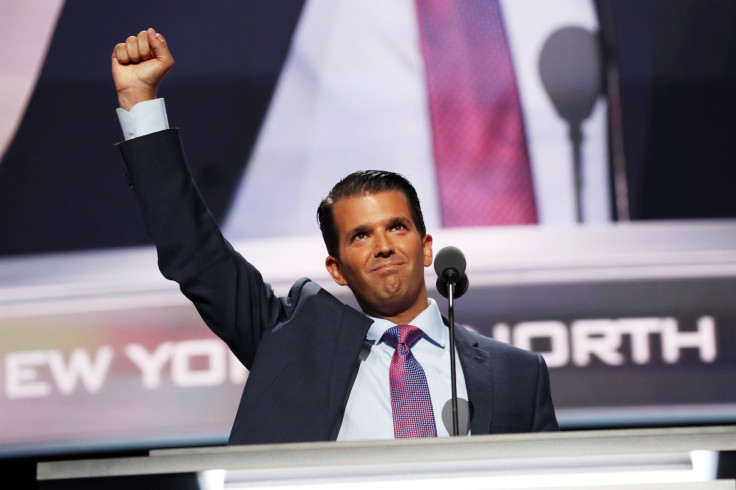 Donald Trump Jr., the son of Republican U.S. presidential nominee Donald Trump, received criticism for his tweet early Tuesday that compared Syrian refugees to Skittles, the rainbow colored candy. Within a few hours, skittles was trending on Twitter.
Trump Jr. tweeted a graphic that read: "If I had a bowl of skittles and I told you just three would kill you. Would you take a handful? That's our Syrian refugee problem." He also called for the end of "politically correct agenda that doesn't put America first."
A spokesman for the Hillary Clinton campaign responded, saying: "This is disgusting."
Former speechwriter for President Barack Obama shared a picture of Omran Daqneesh, a Syrian boy from Aleppo whose picture captured the world's attention last month.
While most tweets were critical of Trump Jr.'s comparison, some had a bigger problem with his use of grammar.
Skittles' parent company Mars, Incorporated called the analogy "inappropriate."
Other than the outrage it drew, the message in the tweet by Trump Jr. was unoriginal too. Former Illinois Congressman Joe Walsh tweeted that he made the same point about the Syrian refugee crisis last month, saying he was "glad" Trump Jr. agreed with him.
Trump Jr. had previously come under fire for his controversial remarks on former Secretary of State Hillary Clinton in an interview with NBC News. "Without the media, this wouldn't even be a contest, but the media has built her up, they've let her slide on every indiscrepancy [sic], on every lie, on every DNC game, trying to get Bernie Sanders out of the thing," Trump Jr. said. "If Republicans were doing that, they'd be warming up the gas chamber right now."
He later clarified saying that he wasn't referring to the chambers used by Nazis to kill Jews during World War II but to capital punishment.
© Copyright IBTimes 2023. All rights reserved.