Who Is John Bolton? Donald Trump's Possible Secretary Of States Wants To Bomb Iran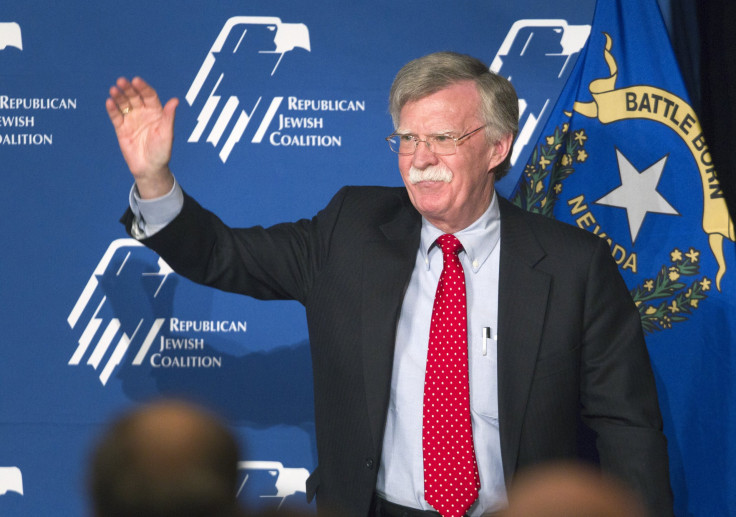 John Bolton could be close to being named the next secretary of state in Donald Trump's administration, multiple reports suggested Monday. The former U.S. representative to the United Nations is somewhat of an establishment Republican figure but has also developed a reputation for promoting aggressive military action, including bombing Iran to keep the nation from developing nuclear weapons.
The Wall Street Journal reported that the decision was down to Bolton or former New York City mayor Rudy Giuliani. The Huffington Post reported that Bolton was close to getting named to the position, while Tennessee Sen. Bob Corker was a "remote possibility" and former Speaker of the House Newt Gingrich was no longer being considered.
Bolton wrote a March 2015 opinion piece in the New York Times titled "To Stop Iran's Bomb, Bomb Iran," that claimed "time is terribly short, but a strike can still succeed," in setting back the nation's proliferation of nuclear weapons.
Others have called such a strike a terrible idea. Former Secretary of Defense Robert Gates, who served in presidential administrations of both George W. Bush and Obama, has said, "If you think the war in Iraq was hard, an attack on Iran would, in my opinion, be a catastrophe."
Gates said the retaliation to such a strike would be devastating. "[Iranian] capacity to wage a series of terror attacks across the Middle East aimed at us and our friends, and dramatically worsen the situation in Iraq, Afghanistan, Lebanon and elsewhere is hard to overestimate," he said in remarks given in 2012 at the Jewish Federation of Greater Philadelphia.
Conservative outlet National Review wrote an editorial urging Trump to choose Bolton, who the magazine called a "friend," and a board member of the National Review Institute.
In an editorial published over the weekend, Bolton listed the so-called Islamic State group, Iran/North Korea nuclear proliferation, Russian aggression, territorial claims from China and the U.S.'s "global governance" as the "five gravest challenges confronting America" in the next four years.
Ryan Grim of the Huffington Post wrote on Twitter that choosing Bolton would be seen negatively by Russia and later posted that Bolton was not a "done deal." Bolton has disagreed with one of Trump's foreign policy statements, the possible secretary of state strongly critiquing the president-elect's noncommittal to backing its NATO allies.
© Copyright IBTimes 2023. All rights reserved.