Who Is Serah Luka? Second Missing Chibok Schoolgirl Found 2 Years After Boko Haram Kidnapping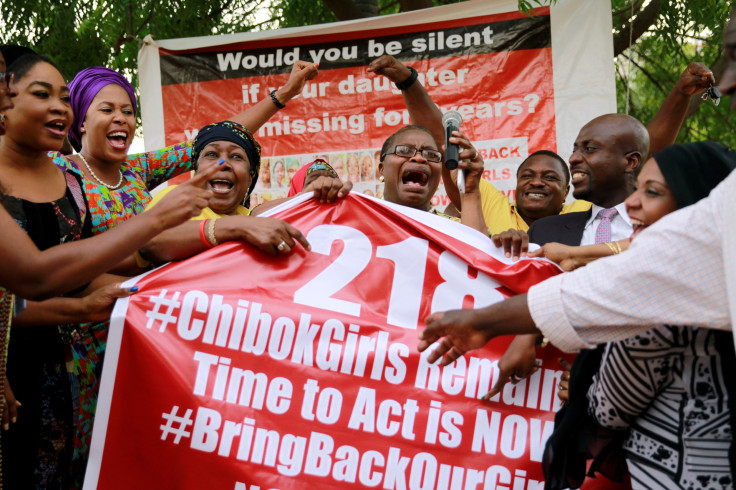 A second schoolgirl who was among more than 200 others kidnapped by Boko Haram during an attack on their school in the northeastern Nigerian town of Chibok more than two years ago has been found, the army said Thursday. The news comes just days after the first of the missing schoolgirls was found by vigilantes late Tuesday in Sambisa forest, near Nigeria's border with Cameroon.
The second schoolgirl, Serah Luka, was among 97 women and children held hostage by Boko Haram who were freed Thursday after clashes between soldiers and jihadi militants in northeastern Borno state, Army spokesman Col. Sani Usman reportedly said. Luka reportedly was from the northeastern town of Madagali, in the state of Adamawa, which borders Borno.
"We are glad to state that among those rescued is a girl believed to be one of the Chibok Government (Girls) Secondary School girls that were abducted on 14 April 2014 by the Boko Haram terrorists," Usman said, according to BBC. "Her name is Miss Serah Luka, who is number 157 on the list of the abducted school girls. She is believed to be the daughter of Pastor Luka.
"During the operations, the troops killed 35 Boko Haram terrorists and recovered several arms and ammunitions and other items. In addition, they rescued 97 women and children held captives by the Boko Haram terrorists."
The first Chibok girl, Amina Ali Nkek, was found Tuesday after being recognized and identified by a fighter of the Civilian Joint Task Force, a Nigerian vigilante group set up to help hunt down Boko Haram. On Thursday, the 19-year-old was flown to the capital Abuja to meet President Muhammadu Buhari.
Buhari expressed his delight over the return of Amina and said that she would resume her education.
"But my feelings are tinged with deep sadness at the horrors the young girl has had to go through at such an early stage in her life," Buhari reportedly said.
During the April 2014 attack, Boko Haram gunmen stormed Chibok and raided school dormitories, kidnapping 276 girls. More than 50 managed to escape within hours, mostly by jumping off the truck they were loaded in. The abduction led to the #BringBackOurGirls campaign, which was supported by U.S. First Lady Michelle Obama and Pakistani activist Malala Yousafzai.
Boko Haram, which pledged allegiance to the Islamic State group in 2015, has been active in Nigeria since 2009, and upped its activities across Nigeria's borders in Cameroon, Chad and Niger in 2015. In a nearly 7-year-old insurgency, Boko Haram has killed some 20,000 people and spread across Nigeria's porous northern borders. Boko Haram has overtaken the Islamic State group as the world's deadliest terrorist organization by killing 6,644 people in 2014 alone, according to the Global Terrorism Index published by the Institute for Economics and Peace, a global think tank headquartered in Sydney.
© Copyright IBTimes 2023. All rights reserved.