Who Is Tristan Thompson? Khloé Kardashian Reportedly Engaged To NBA Player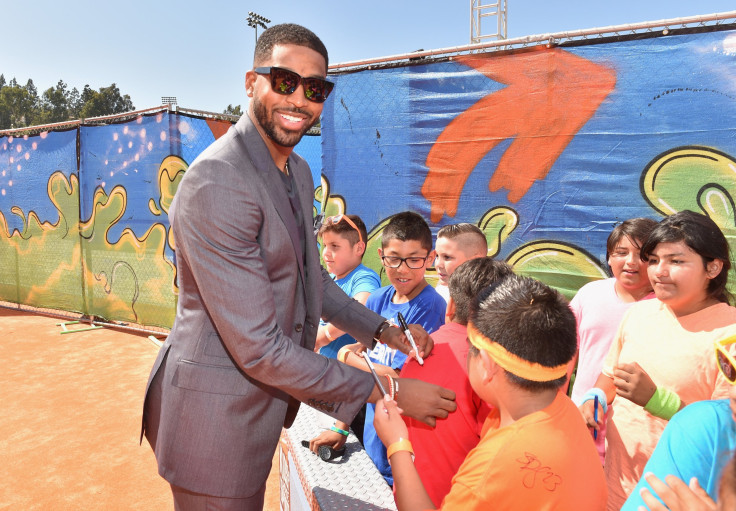 Khloé Kardashian is reportedly set to marry an NBA player for a second time. According to InTouch Weekly, the reality-TV star is engaged to Cleveland Cavaliers center Tristan Thompson.
The news comes just two months after the couple reportedly began dating. A source tells InTouch that the couple will even get their own reality-TV show.
Both Kardashian and Thompson still have ties to other relationships. Kardashian is still legally married to former NBA player Lamar Odom, and Thompson is reportedly expecting a child with ex-girlfriend Jordan Craig.
"Kris (Jenner) is terrified that fans will lose interest [in 'Keeping Up with the Kardashians']," an insider told InTouch. "She desperately wants a new project to work on and thinks Khloé and Tristan's show would be ratings gold, especially if they include all the drama surrounding the basketball player leaving his pregnant ex for her daughter."
A source close to Thompson tells ESPN that reports of the engagement and new TV show are false.
Thompson, 25, played a key role alongside LeBron James on the Cavaliers' championship winning team this past summer. He averaged more than 10 points and 10 rebounds per game in the 2016 NBA Finals, playing in his fifth season. Prior to the start of the 2015-2016 season, Thompson signed a five-year contract worth $82 million.
Much like Odom, Thompson had a lot of hype surrounding him as an underclassman entering the draft. The Cavs made him the No.4 overall pick in 2011 when he was just 20 years old, coming out of the University of Texas.
Thompson isn't the first NBA player that Kardashian has been linked to since her relationship with Odom ended. She previously dated Houston Rockets star James Harden, and she revealed in February that they broke up when Harden cheated on her.
© Copyright IBTimes 2023. All rights reserved.