Who's Involved In The Israel and Gaza Clashes?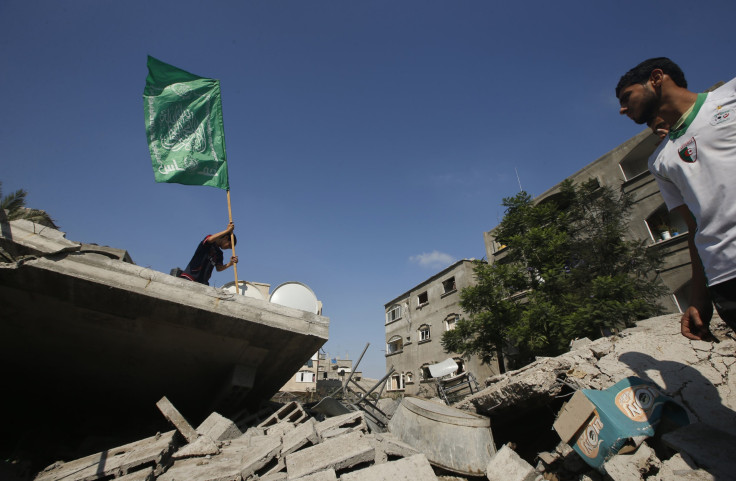 As a day of intense clashing came to a close Tuesday in Israel and Gaza, several groups are now involved in airstrikes and rocket attacks in addition to the many organizations and governing bodies who have weighed in on the escalating conflict.
Here's a guide map to who's who in the ongoing Israeli Palestinian conflict.
Hamas:
Hamas, which is an acronym for "Islamic Resistance Movement," is the current governing body of the Gaza Strip and has been since 2007. Israel accused them of kidnapping and killing three Israeli teens in June, which sparked growing tensions between the two.
On Tuesday, Hamas took responsibility for many of the rockets launched toward Israel. The group even claims to be using a new long-range missile, which can go farther than ever before.
The Israeli Defense Forces:
The IDF consists of the ground, air and navy military forces of the state of Israel. They differ from other armed forces in many ways, one being that every Israeli, man or woman, is conscripted at the age of 18.
In retaliation for Hamas allegedly killing the teenagers, the IDF launched "Operation Protective Edge," an offensive set of airstrikes targeting more than 50 spots in Gaza, some of which are civilian apartment buildings
On Tuesday, the Israeli prime minister approved a pool of an additional 40,000 reservists in the event of a possible ground invasion or other operational needs. The IDF has already mobilized 1,500 reservists.
The Palestinian Islamic Jihad:
The PIJ is an Islamic militant group that deeply opposes the existence of Israel, however, unlike Hamas they have no political role. The U.S. State Department has declared the group to be a terrorist organization.
On Tuesday, the IDF claimed it had killed a senior member of the organization in an airstrike. Also on Tuesday, the PIJ claimed responsibility for two rockets that hit Tel Aviv.
Palestinian National Authority:
Mahmoud Abbas is the leader of the Palestinian National Authority, and current president of Palestine in addition to being a member of Fattah, a Palestinian political party. Abbas shares the Palestinian political power with Hamas.
On Tuesday, Abbas appeared in a televised speech in which he stressed that the Hamas members he had conferred with did not want an escalation, according to Reuters.
The U.S. backs both Israel and Abbas, and issued a statement Tuesday urging him to help de-escalate the clashes.
"We certainly expect President Abbas to do everything in his power to prevent rocket attacks and to condemn violence, and he has made a range of those calls," state department spokeswoman Jen Psaki said in a statement. "But we're conveying the same message to him as well about the need to exercise restraint and de-escalate the situation on the ground."
President Abdel-Fattah al-Sisi
Egypt's President Abdel-Fattah al-Sisi is not known for his love for Hamas, which is allied, ideologically at least, with Egypt's Muslim Brotherhood.
Since Sisi has been in power, the tunnel crossings on the Egypt-Gaza border have been closed. These tunnels were a huge source of income for Hamas, in addition to being a great way for Gaza residents to bring in resources. In 2012, the tunnels were bringing in roughly $750 million a year for Hamas and about 800 Palestinians used it a day.
However, according to Abbas, who had a telephone conversation with al-Sisi on Tuesday, the Egyptian president wants to help end the clashes and "reach a ceasefire at soon as possible," according to the Palestinian Wafa news agency.
United States:
On Tuesday, the White House issued a statement condemning rockets launched at Israel.
"We strongly condemn the continuing rocket fire inside of Israel and the deliberate targeting of civilians by terrorist organizations in Gaza," White House spokesman Josh Earnest said. "No country can accept rocket fire aimed at civilians and we support Israel's right to defend itself against these vicious attacks."
This comes as no surprise as Israel receives the most aid from the U.S. and continues to be a strong ally.
United Nations:
United Nations Secretary General Ban Ki-moon's spokesman issued a statement Tuesday condemning the attacks coming from both sides. He "reiterates his call on all actors to exercise maximum restraint and avoid further civilian casualties and overall destabilization," spokesman Stephane Dujarric said.
The Arab League:
The Arab League is a coalition of independent Arab states, including Palestine. On Tuesday, Secretary General Nabil al-Arabi issued a statement calling on the U.N. Security Council to hold an urgent meeting regarding the Israeli air strikes.
"The continued attacks on Palestinian civilians by Israel is a flagrant violation of international humanitarian law, the Geneva Convention and international resolutions on occupied Palestine," he told Agence France-Presse.
© Copyright IBTimes 2022. All rights reserved.
FOLLOW MORE IBT NEWS ON THE BELOW CHANNELS