Why Disney Is Looking To Sell Television Assets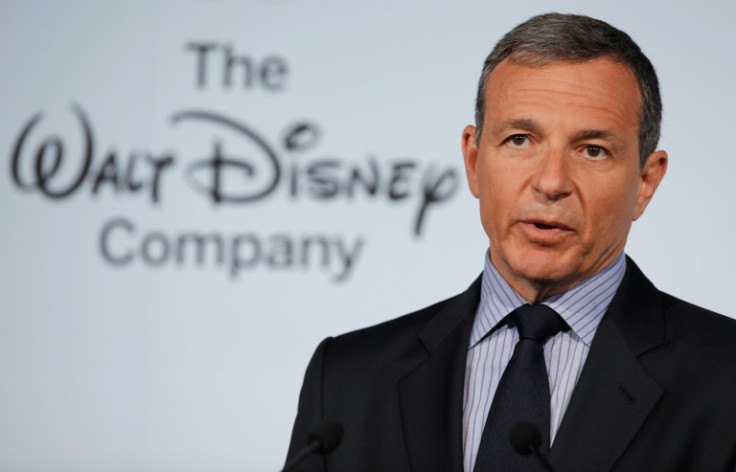 KEY POINTS
Disney CEO Bob Iger said the company is looking to sell certain television assets
A major transaction is unlikely due to market conditions
Disney purchased 21st Century Fox assets for $71.3 billion in 2017
The Walt Disney Co. is planning to sell some of its television assets but a blockbuster deal is unlikely.
In a recent interview with CNBC, Disney CEO Bob Iger said the entertainment and media company was open to selling certain television assets. This public statement came one day after Disney announced its board of directors extended Iger's contract through 2026 to allow "more time to execute a transition plan for CEO succession."
Disney did not immediately respond to a request for comment on any potential asset sales from International Business Times.
The news was not well received on Wall Street. Disney's (NYSE: DIS) stock fell to $87.04 a share at close of trading on Wednesday, down from $90.46 a share the close of July 13. That price is near the company's 52-week low of $84.07 a share.
In an interview with IBT, Rick Munarriz, a senior media analyst with Motley Fool, said Disney is not likely to make a major transaction because market conditions are no longer favorable for media in general.
As Hollywood reels from a prolonged writers' strike — which now includes actors on the picket line — Disney and its biggest competitors, Paramount Global (NASDAQ: PARA) and Warner Bros. Discovery Inc. (NASDAQ: WBD) are all trading near their 52-week lows as investors lose confidence in these stocks and traditional media in general.
The main culprit, Munarriz said, is streaming. People are streaming more often and the major media companies are losing money on their streaming packages. The studios are spending too much on developing new content for them while charging too little for the services.
Disney launched its streaming platform at the end of 2019. Soon afterward, Paramount, Warner Bros and Peacock owner Comcast Corp. (NASDAQ: CMCSA) launched their own streaming services. They joined technology companies Apple Inc. (NASDAQ: AAPL) and Amazon.com Inc. (NASDAQ: AMZN) with their existing services: Apple TV+ and Prime Video. All of which, Munarriz said, were inspired by the success of Netflix Inc. (NASDAQ: NFLX) and the continuing decline in both cable subscriptions and movie theater attendance.
These new streaming services were launched at a low price to attract subscribers. Since then, they've steadily increased prices or included advertising in the platforms to increase overall revenues.
Disney, according to its annual statement for its fiscal year 2022 filed with the Securities and Exchange Commission, saw its combined Disney+, ESPN+ and Hulu subscriptions grow to 235.7 million in its fiscal 2022 from 179 million combined subscriptions in fiscal 2021. However, its operating loss on these direct-to-consumer services ballooned to $4.015 billion in its fiscal 2022 from $1.679 billion in its fiscal 2021.
Disney is still profitable, however. The 2022 annual statement said the company turned a profit in its 2022, with $3.145 billion in net income, and its 2021, with $1.995 billion in net income, after reporting a net loss of $2.864 billion in its 2020. However, the company has not paid a dividend to its investors in more than three years, Munarriz said.
Nevertheless, Disney is likely looking to offload some of its television assets to clear up its balance sheet.
According to its 2022 annual filing, the company's so-called linear networks include the domestic and international versions of the channels branded as Disney, ESPN, Freeform, FX and National Geographic. It also owns broadcasting operations including ABC and eight ABC-affiliated television stations located in New York, Los Angeles, Chicago, Philadelphia, San Francisco, Houston, Raleigh-Durham, N.C., and Fresno, Calif.
Munarriz said anything and everything except for Disney+ itself could be up for sale. However, ownership of these properties is complicated. For instance, Hulu is part-owned by Disney and Comcast.
It's unclear who would want to purchase these assets, however. In the past, a venture capital firm may have purchased an asset and attempted to increase its value then sell it at a higher price, but that seems unlikely now.
Another major media company is unlikely to take up the offer. Munarriz said the appetite does not exist for such a purchase and those companies cannot afford to make it.
Disney's $71.3 billion purchase of 21st Century Fox in 2017, he said, was likely the last major media transaction for the foreseeable future. He estimated rather than a major purchase, media companies may swap assets or make smaller purchases rather than buying the whole suite of available television assets.
Munnariz declined to say how much those assets might actually be worth or when a sale could potentially happen. He did say that Iger's statement shows the media industry as a whole is moving away from the era of plentiful, cheap streaming. Video streaming needs to get profitable or it will not survive.
"You are going to have to pay up for these services. The free ride is over," Munarriz said. "I think subscriber counts will take hits and people aren't going to have five, six, seven or eight streaming services like a lot of homes have these days because they're all so cheap."
© Copyright IBTimes 2023. All rights reserved.