Why Everyone From Bankers To Filmmakers Is Changing Careers And Learning To Code (Hint: It's Where The Money Is)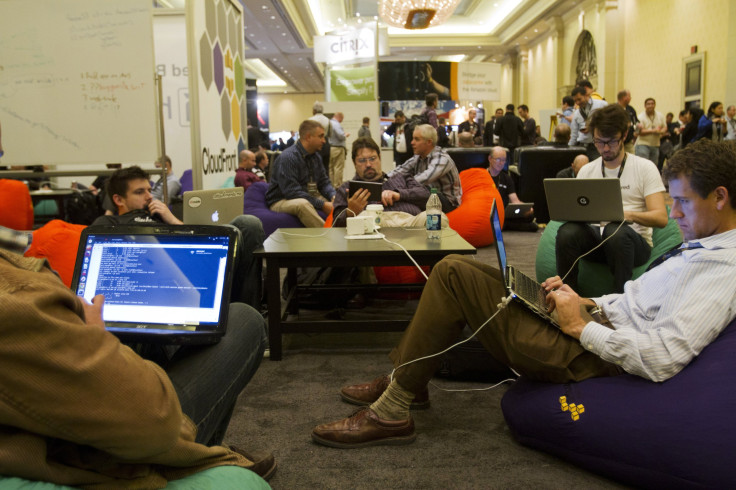 Code schools, where aspiring filmmakers or seasoned bankers can learn to become software developers, are more numerous and popular than ever as a broad spectrum of hopefuls ditch other career plans in hopes of creating the app that powers the next Uber or Airbnb. Indeed, coding education is a blossoming cottage industry. Four-year-old General Assembly now operates over 80 schools across 12 campuses and has pulled in nearly $50 million in funding. Test prep leader Kaplan acquired Dev Bootcamp last year. Top-tier university graduates are moving to tech hubs like New York and San Francisco and pouring thousands of dollars into these programs.
But hefty tuition fees and costly relocations -- without job security -- don't have to be the case for the recent college graduates or career switchers who are flocking to coding. Beyond these popular, well-funded options, there are hundreds of smaller developer schools and a wealth of online resources that can help transform anyone into a full-blown coder.
That's the mission of 29-year-old Erik Trautman. Next month, he'll be running the first full-time class for the Viking Code School. How does it stand out from the rest? Trautman identified two faults in the industry: opportunity cost and relocation cost. His 14-week class is completely online, attracting students from around the world, and it offers a deferred tuition plan. As in, students do not pay until they land a job with at least a $30,000 annual salary.
It's a risky venture. If no one gets a job, no one will get paid. Unlike General Assembly, Trautman chose not to take any investor backing, bootstrapping the initiative with his own savings. But that risk is what's driving him forward. "I think all education in the world should run on outcome accountability," Trautman said. "Personally, I believe that the educator should be invested in the students' education."
Beginning With A Curriculum
Trautman graduated in 2007 with a degree in engineering from the University of Pennsylvania. He worked as a market analyst for Bank of America in New York City and later for BP Energy in Houston before he decided to move to San Francisco in 2012. Like many others, he paid for an in-person boot camp – App Academy, which at the time was one of the first. Instead of taking a job in the industry after, he chose to do admissions work for the company. The experience gave him insights into the mushrooming number of students who want a coding education.
The motivation was to escape from the "cubicle walls" of finance and "build something," he said. Others have pointed to the immediate salary boosts. For a software engineer, the median salary is $77,590, PayScale reports. Even entry-level developers are reported to make at least $48,000 annually.
That's not to suggest anything is guaranteed. The shift to Web-focused careers also played out during the dot-com boom of the late 1990s and early 2000s. But after the bubble burst, there was a severe unemployment period for technology professionals. The industry has yet to fully recover. In 2013, the tech workforce was placed at 2,976,500 people compared to 3,526,000 in March 2001, hiring analytics company Dice Holdings found.
Even so, some of those who witnessed the tech bust aren't overly skeptical of the desire to learn programming despite the possibility of another bubble bursting. "Software development isn't going away anytime soon," said Nick Grandy in an email. He started as a developer at Redshift Technologies after graduating from Harvard with an astrophysics degree in 2000. He later became the first employee of Airbnb and now serves as an advisor to Trautman's coding school. "I'm sure the field will shake out to some extent, but the underlying problem remains," he added. "There is still huge demand for qualified developers."
Trautman left App Academy in 2013 to create an open-source coding curriculum, which he called the Odin Project. He spent a year working on it full-time and it continues online as a training program.
For Mazin Power, a 32-year-old filmmaker based in London, the Odin Project fit. Power said he wanted learn to code for the "financial stability," which can be harder to come by as a filmmaker, along with a change of pace. Power had tried free models like Udacity and Coursera but found himself "directionless" until he discovered the Odin Project on the Reddit 'Learn Programming' board. "I find that a lot of tutorials spoon-feed you. Odin expects you to go out and find the answer," Power said. "[Trautman] does a great job of putting topics into layman's terms and exhibits how the topic is used in the real world."
After a year of completing the tutorials (between working and raising a newborn baby), Power secured a job as a junior-level software developer for Just So, a digital marketing agency in London. "What a lot of people really need is a path. There's all this glob of content on the Web, but the problem is that it's so scattered," Trautman said.
Choosing A Paid Course
Motivated students like Power can switch careers without having to pay a dime (aside from the opportunity cost of not working) and without the direct support of an instructor or classroom. Power said he would often reach out to users on Reddit when he hit a stumbling block.
Others benefit more from community learning. After completing the majority of tutorials in the Odin Project while working full time at Citigroup in Texas, 24-year-old Tom McLaughlin chose to apply to developer schools. "It wasn't until I sat down and had a structured environment that I really pushed myself, going from 20 hours a week to 80," said McLaughlin, who said he left finance in hopes of landing a more entrepreneurial opportunity in tech.
McLaughlin sent in applications to many of the top programs, and when it came to deciding, he turned down San Francisco-based Hack Reactor for the Viking School, partially motivated by the earlier start date. Another benefit: not having to relocate. "We are not trying to run a budget program, but the major difference is we're trying to shift the risk inclusion," Trautman said.
Trautman tested his new boot camp with a 12-week session in the fall of 2014 with six students, and an 18-week session in the winter with three students. The participants have ranged from college students to senior-level executives, their ages clustering around the mid-20s.
Viking Code School, which offers 12 spots, boasts a less than 5 percent admission rate. The program offers real-time and nearly constant communication from one instructor and two teaching assistants and accessibility to the other students. The curriculum, scheduled at 80-hours per week, has all students working together on weekdays and in partner projects on weekends. "I was constantly on calls," said McLaughlin, who participated in the second 2014 session. "When I moved to San Francisco, still waiting for my furniture to come, I was sitting on the floor, coding in Javascript and talking to my partners."
After completing the course, students should be able to build an app or design a website using any of a number of popular programming environments, including Ruby on Rails, Sinatra or Javascript.
There's no particular accreditation for these schools, with most of the regulations still developing. Trautman's company is incorporated in Delaware and operates out of San Francisco. Therefore, even while serving students worldwide, the school must meet California's post-secondary education regulations and voluntary reporting standards.
As for the instructors themselves, none of them are licensed. Trautman serves as the head of instruction while Michael Alexander, who worked in book publishing before also making the switch to coding, is the head teaching assistant. During the course, they will be working out of an office in San Francisco. Mentors and advisors, like former Airbnb engineer Granby, have advised Trautman on the curriculum.
Landing A Job
Students set to start Viking School's summer program pay a $2,000 deposit. And then agree to a percentage-based job placement fee set at 18 percent. Previously, the program had offered a $11,800 tuition option, but Trautman said he chose to update the format for clarity. In order to ensure honesty, the school requires all students to sign a contract that includes independent verification of employment offers.
Jobs that qualify can either have the student in any role at a technology company or in a technical role. For example, McLaughlin now works as a director of operations for Caarbon, a San Francisco-based startup that operates an on-demand valet service. Graduates who make less than $30,000 are exempt. But it's a big strain on the business. If Trautman doesn't succeed at getting his students careers, not only does he not get money from this round, he'll lose credibility. "If you're dropping a couple thousand dollars, you want to make sure that's worthwhile. You have to be able to deliver or you won't have the chance to do it again," McLaughlin said.
To secure jobs for graduates, some coding schools have developed pipelines with tech companies. For example, the Recurse Center works with Etsy and Dev Bootcamp has placed students at Facebook. Trautman has not established a direct feed, but plans to leverage his connections in the city. For the class, he has recruited mentors and advisors from search giant Google and mobile payments company Square.
McLaughlin said he had reached out to prospective employers about halfway through the program before getting the job at Caarbon. Like Trautman, disruption appears to be on his mind. "I wanted to come to the Valley because I'm interested in entrepreneurship," he said. "My idea is leading a team and leading a company in something that matters."
© Copyright IBTimes 2022. All rights reserved.
FOLLOW MORE IBT NEWS ON THE BELOW CHANNELS