Why 'Preacher' TV Show Deviates From The Comics; EP Calls AMC Series A 'Prequel' [VIDEO]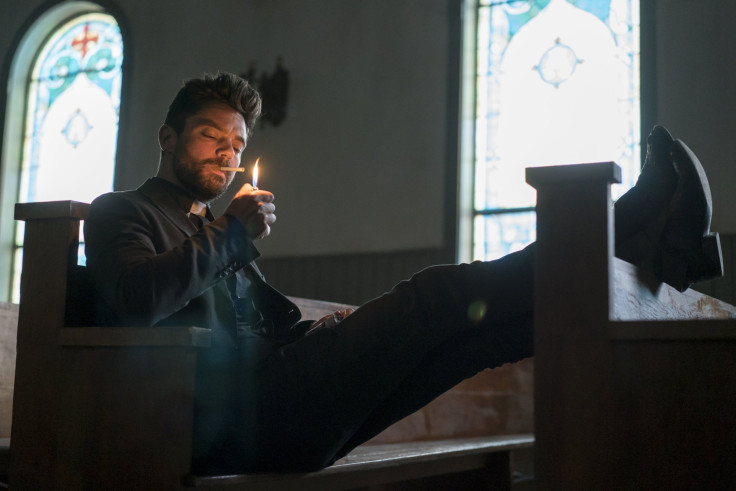 Seth Rogen, the comedian-writer behind "This Is the End" and "Superbad," just brought "Preacher" to the small screen. However, Rogen's adaptation, which premiered Sunday on AMC, might test comic book fans' patience.
The group is notoriously opinionated about any changes a film or TV adaptation makes when translating a story from the page to the screen. While "Preacher," an adaptation of Garth Ennis' '90s comic series, has received rave reviews and the buzz should bring good ratings, the Rogen- produced show takes a lot of creative liberty.
"At first it seemed appalling that we would add to the world of 'Preacher,' " Rogen told reporters last week. "Garth demystified the process of changing it by aggressively telling us to change it. He said, 'Change it. It won't work.' I think [co-executive producer Sam Catlin] not having a reverence for the comics helped as well."
"Preacher" tells the story of Jesse Custer (Dominic Cooper), a criminal-turned-preacher in a small Texas town who becomes possessed by a mysterious spiritual entity that gives him supernatural powers. Jesse eventually teams up with an Irish vampire (Joe Gilgun) and his ex-girlfriend Tulip (Ruth Negga) to fend off a gauntlet of enemies from heaven and hell — literally — who want his new powers.
The changes made by Rogen and co-executive producers Catlin and Evan Goldberg include new characters, a rearranging of some popular storylines — villain Odin Quincannon, played by Jackie Earle Haley, enters the fray right from the start — and a toned-down version of the comic's scorn for religion. However, the biggest change is the series' structure. In the books, Jesse and his friends set out on the road right away to track down the source of his powers, but in the AMC show, the trio stick around town much longer.
"We wanted to see Jesse be a preacher and have an investment in God and this town and these people — his flock," Catlin told International Business Times. "In the comics, he is disillusioned from the very beginning and we wanted to establish how important God was to his own salvation before we ripped the scales from his eyes and revealed God's [the character] true nature."
Catlin does promise that eventually, the pace of the show will catch up to the comics.
"It wasn't that we wanted to change it, we just wanted to start it a little earlier," said Catlin. "In a lot of ways it is a prequel. 'Preacher' is inherently a road show, it's a quest. Eventually it will have to hit the road."
While the structure and certain story elements may be different, the spirit of the comics, as well as most core characters and plot arcs, remain intact. Ennis approved the alterations, after all. Rogen believes that, ultimately, most fans will be pleased.
"I really think when the first season is over comic fans will be surprised at how much we retained, not how little we retained," said Rogen.
Watch the trailer for "Preacher" below:
© Copyright IBTimes 2023. All rights reserved.