Why Is Russia Bombing Syria? Turkey Plane Crisis Comes As Airstrikes Have Killed Hundreds Of Civilians In Fight Against ISIS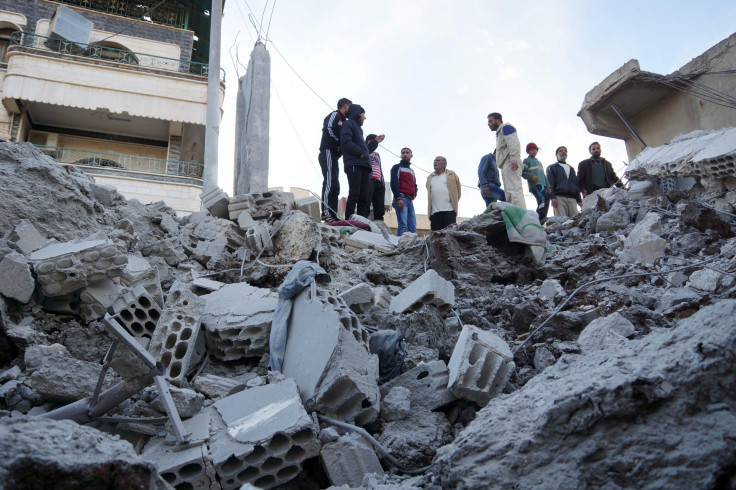 Russia has sought to tout the successes of its airstrike campaign against the so-called Islamic State group in Syria, claiming to have hit more than 1,000 ISIS oil tankers in the span of just a few days. But U.S. defense officials have cast doubt on those claims, and rights groups have repeatedly accused the Russian military of indiscriminately targeting civilian infrastructure. So what has the Russian campaign in Syria actually looked like?
Russia's airstrikes have been wide-reaching, targeting strongholds of anti-regime rebels as well as ISIS militants across the country. Over the weekend alone, the defense ministry claimed to have hit some 472 targets in Syria. Yet the Russian campaign has also been far more disastrous for civilians than a U.S.-led campaign, according to statistics provided by a U.K.-based Syrian monitoring group.
Russia entered the war in Syria reportedly at the request of the embattled Syrian leader Bashar Assad. While its earliest strikes focused largely on anti-Assad rebels, including some backed by the U.S., it has since also focused on weakening ISIS.
Russia has killed more than 400 civilians since its airstrike campaign began in late September, the Syrian Observatory For Human Rights said in a report published Friday. At least 97 children and 69 women were believed to be among those killed. The monitoring group said it held the international community responsible "to work seriously to stop the daily killing and displacing." A total of 1,300 people, including militants, have been killed in Russian strikes.
For comparison, some 250 have been civilians have been killed since a U.S.-led airstrike campaign began in September 2014. Around 3,952 people have been killed in total, and of them, at least 3,547 were ISIS fighters. Some 136 were fighters with the al Qaeda-affiliated Nusra Front.
Since Russian airstrikes began, 100,000 people have fled Aleppo and life has reportedly grown increasingly difficult under Russian airstrikes, which have targeted areas that have already for years been bombarded by the Syrian regime. Human rights groups charge Russia with targeting civilian infrastructure, and at least 10 health facilities were targeted by Russian war planes in the month of October, according to a report by Physicians for Human Rights published earlier this month.
The Syrian conflict has already claimed the lives of some 250,000 people, according to the U.N. More than half of the country's population of 22 million has been displaced, and millions have fled overseas.
© Copyright IBTimes 2023. All rights reserved.
FOLLOW MORE IBT NEWS ON THE BELOW CHANNELS