Wildfire In Idyllwild, Southern California, Contained 68 Percent, Rains Slow Down Massive Blaze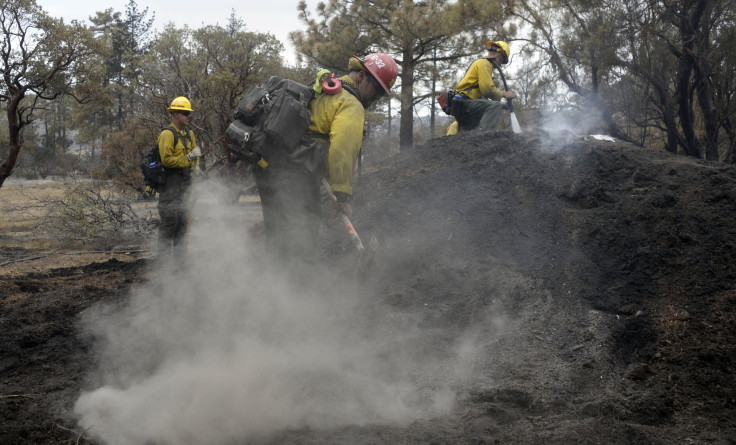 A wildfire that began last Monday near Idyllwild, a mountain resort town in southern California about 100 miles east of Los Angeles, has now been contained up to 68 percent, according to a U.S. Forest Service report, cited by USA Today.
The blaze is expected to be fully contained on Wednesday, two days earlier than expected, the report said. Firefighters, helped by favorable weather conditions, including overnight rains, made progress on Sunday in controlling the blaze that has destroyed a number of homes when it spread to more than 40 square miles.
"With diminished fire activity, firefighters made great progress with line construction, particularly along the east side towards Palm Springs," U.S. Forest Service spokesman John Miller told Associated Press.
Since the outbreak of the fire, which is said to be human-caused, about 6,000 people have been evacuated from towns between Palm Springs and Hemet in the San Jacinto mountains. The fire resulted in the destruction of 23 structures, which included seven homes, AP reported.
Evacuation orders were lifted for Idyllwild and Fern Valley on Sunday morning, and businesses were expected to resume by Sunday evening, Reuters reported.
"Today the residents and business owners were able to go back home and tonight they'll open Idyllwild back up to all visitors so we can start business as usual and let people come up to that beautiful little community," Norma Bailey, a spokesperson for the U.S. Forest Service, said.
As of Sunday, about 3,500 firefighters, aided by 10 air tankers and 20 helicopters, were fighting to contain the fire that is still a threat to many homes in the area, Reuters said.
© Copyright IBTimes 2023. All rights reserved.