Will Anderson Cooper Replace Michael Strahan On 'Live!'? Candace Cameron Bure Weighs In On Rumors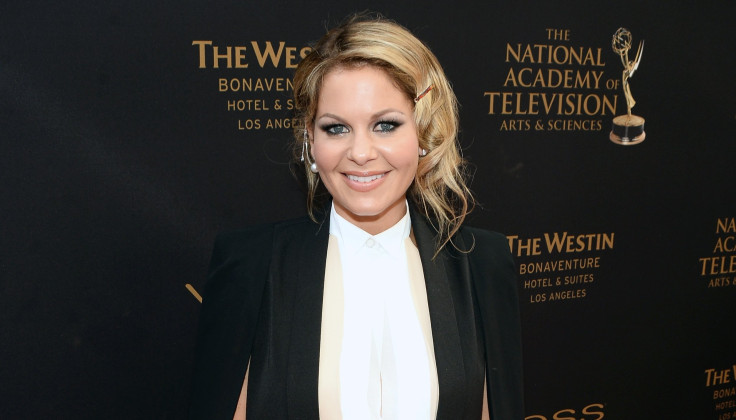 Candace Cameron Bure thinks Anderson Cooper is "great," but doesn't necessarily want to see him take over for Michael Strahan as Kelly Ripa's co-host on "Live! With Kelly and Michael." Ever since Strahan announced his departure from the syndicated talk show last month, reports have been swirling about which lucky celebrity will replace him.
Ahead of the Daytime Emmy Awards Sunday, Cameron Bure dished about the "Live!" shakeup telling Entertainment Tonight that she doesn't think Cooper — who's been rumored to join the talk show — is the right fit. "He's great," she explained. "He's great every time he's on the show but I don't know."
Cameron Bure, who's a co-host on ABC's "The View," said Strahan has brought a "different crowd" to his and Ripa's daytime show. "I love him, he's so fun and energetic," she said. "I don't know, I think Anderson's great, but I don't think he's right for every day."
Cameron Bure went on to say that she thinks producers will just do a "whole brand new search" to find someone to join Ripa.
As previously reported, Cooper addressed the rumors that he was in the running to become the new co-host on Bravo's "Watch What Happens Live" Thursday. He told host Andy Cohen that he was "very happy" with his current job as host of CNN's "Anderson Cooper 360" and that no one has offered him a position to join "Live!"
"It would be a dream to work with Kelly but nobody's offering anything," he said.
Cohen was also rumored to be in the running for the vacant "Live!" co-hosting gig but he dismissed the speculation last week saying that he was too busy to do it. "I've kind of said everything I had to say about it," he told Us Weekly. "I have 10 jobs!"
Other names rumored to be in consideration for the job are Neil Patrick Harris, Jane Lynch and Terry Crews. Television personality Mario Lopez's name also came up but during an interview Friday on "The Ellen DeGeneres Show" but he said there was no truth to the gossip.
Strahan, who announced he was leaving on April 19, was originally supposed to step away from the show in September but his last day will be May 13, so he can have the summer off before he joins "Good Morning America" full-time.
© Copyright IBTimes 2023. All rights reserved.