Will Non-'Star Wars' Fans Like 'The Last Jedi'? A Review By One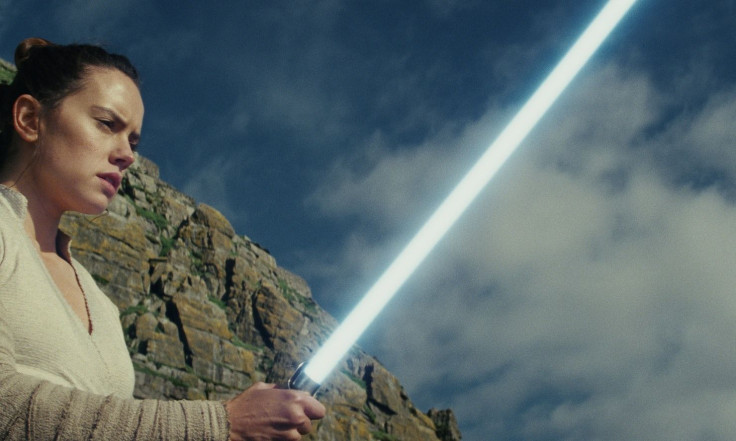 The latest "Star Wars" sequel, "The Last Jedi," is out today in theaters, which means it's an absolute joyous occasion for some and just a regular old day for others. For those that have never really been fans of the series and always felt left out of the obsession, I'm here to tell you that you will still enjoy the new movie.
Prior to seeing the new film, I'd only ever watched the first movie of each of the "Star Wars" trilogies, never going past the first one because I couldn't get into them. I decided to switch things up this time around, as 2015's "The Force Awakens" was my favorite of the films so far, and give its sequel a try.
I sat down at my assigned seat at my local iPic Theater, settled in and got ready for a movie I knew was going to be over two hours long. That's nothing new for "Star Wars" movies, and nothing new for many movies, in general, but it always seems a bit more daunting when you know it's not a movie that you were overly looking forward to seeing. That said, it was easy to get into the film because it picked off right where the one before it left off. So, warning: If you haven't seen "The Force Awakens," you'll be very confused by everything, immediately.
I had just seen the final scene of the first film and I was still a bit jolted when "The Last Jedi" began and it took me a second to figure out where I was in the new flick and what was happening.
Nonetheless, it's action off the bat and that's always a good way to get someone's attention - fan or not. What follows, though, is a (very long) continued tale of good versus evil, never really knowing why the overarching villains exist, aside from Darth Vader's grandson Kylo Ren (Adam Driver), and who they are, but simply taking it at face-value that this war has always been going on and it always will be going on, likely for many trilogies to come.
Still, even with a bit of confusion and some lack of understanding of the "why?" to the whole situation, the movie was enjoyable with great characters, like Finn (John Boyega), Rose (Kelly Marie Tran) and the always-fun Chewbacca. Plus, the movie is worth seeing if just for the near-the-end battle with Kylo Ren and Rey (Daisy Ridley). Without giving spoilers away, there's a lightsaber-filled battle with these two strong characters, as well as evil minion-warriors, and it's been added to my list of favorite fun, cool fight scenes.
So, if you're still on the fence about seeing the film, let me put it simply. "Star Wars: The Last Jedi" is filled with plenty of good characters, quite a few fun scenarios, an epic battle and one surprise battle, all bringing it together to create a movie that everyone will enjoy, but only for so long.
See it once and that's likely all the times you'll need or want to see it because although it's nice to be able to be a part of the "Star Wars" conversation, the film is truly very long, or more so, it feels that way. But go and enjoy all the great moments and power through the rest. It's worth it.
"Star Wars: The Last Jedi" is now out in theaters.
© Copyright IBTimes 2023. All rights reserved.
FOLLOW MORE IBT NEWS ON THE BELOW CHANNELS