Will SeaWorld's New Marketing Campaign Keep It Afloat In The Wake Of 'Blackfish'?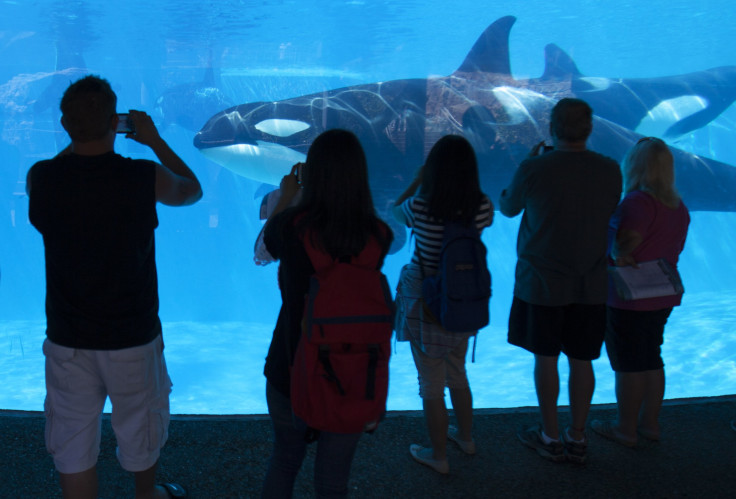 SeaWorld Entertainment Inc. reported to analysts Thursday that it lost $25 million in the fourth quarter of 2014, that attendance fell by 1 million since 2013 and that stock plunged 41 percent over the year, reports the Orlando Sentinel. In response, board chairman and interim CEO David D'Alessandro -- who replaced Jim Atchinson after Atchinson stepped down in December -- announced that SeaWorld would launch a targeted marketing campaign on April 1 that seeks to reach a nonpartisan consumer who "wants to know our side of the story."
But is this enough to save the tanking company? SeaWorld's financial misfortunes can be traced back to a worldwide PR disaster that began with Gabriela Cowperthwaite's 2013 documentary "Blackfish," which exposed conditions at SeaWorld that, the movie argues, are inhumane for the orcas held in captivity, and unsafe -- and in some cases lethal -- for trainers who work with them.
Whether or not any single marketing scheme can rescue the beleaguered company remains to be seen, but Jonathan Bernstein, a crisis management specialist, said it will be an uphill climb to say the least.
"They need to put themselves in the minds of their allies and their critics," Bernstein told International Business Times. "This kind of communication is different from how it is when things are going well."
What that means, he said, is that there can't be a disconnect between the issues at hand and their marketing, a vulnerability that can often result in marketing disasters."No matter how slick the campaign, it's in danger if there's a perception that it's words in lieu of action," Bernstein added.
By focusing its communications on this "middle" consumer, perhaps SeaWorld can sidestep the issue of actually addressing the serious animal welfare concerns raised by "Blackfish." After all, for groups like PETA (People for the Ethical Treatment of Animals) and the Humane Society, and those who support their anti-SeaWorld stance, it would seem that, short of shutting SeaWorld down, there's little a marketing campaign could say that would substantively address the criticism against it -- that keeping intelligent animals in captivity for profit is inhumane.
After the SeaWorld announcement on Thursday, PETA issued a statement saying "it has never been clearer that the tide has turned against the abusement [sic] park following the critically acclaimed film Blackfish."
In a blog post written shortly after SeaWorld's report of its finances, the Humane Society's CEO Wayne Pacelle stated that the SeaWorld model of marine mammal appreciation has an alternative: "Non-intrusive wildlife viewing is the right way to see whales showing off playful behavior," he wrote, describing footage obtained from a whale-watching boat operator in Cabo St. Lucas, which showed people watching orcas jumping and frolicking in their natural habitat. This is in contrast to the "bathtub" they live in at SeaWorld, as one scientist in "Blackfish" famously put it.
"Attendance fell 4.3 percent during the entire year, from 23.4 million in 2013 to 22.4 million -- down a million," wrote Pacelle, "but that's still too many people who go through the gate."
SeaWorld's targeted "middle consumer" marketing campaign might be for naught if that middle consumer ever gets a hold of "Blackfish." As one commenter to Pacelle's blog wrote: "I loved seeing the orcas performing when I was younger, now that I know the truth, it hurts knowing what they go through. If they would stop capturing orcas, making them perform, admit they made a mistake and they are changing their policies, I think it would be good PR and they could stop loosing [sic] money."
© Copyright IBTimes 2022. All rights reserved.
FOLLOW MORE IBT NEWS ON THE BELOW CHANNELS