Can SeaWorld Recover From 'Blackfish' Backlash? McDonald's Response To 'Super Size Me' Could Be Instructive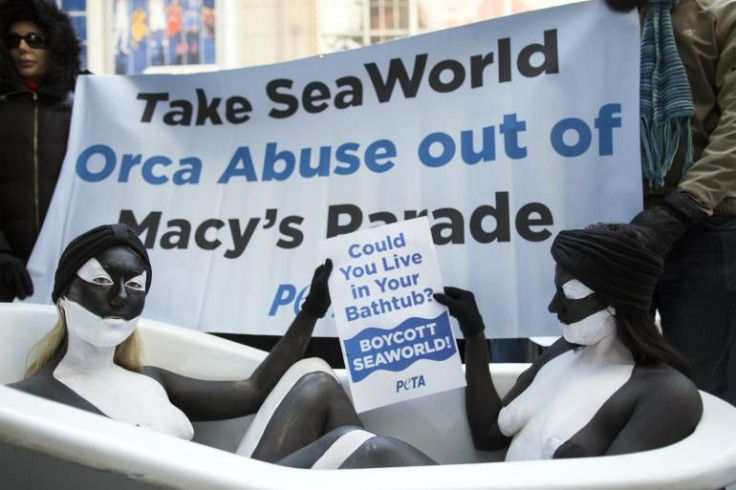 Since Gabriela Cowperthwaite's documentary film "Blackfish" about SeaWorld's mistreatment of killer whales was released in 2013, SeaWorld has seen a decline in attendance, a lawsuit from shareholders, a 60 percent plunge in stock, and on Thursday, its CEO Jim Atchison resigned, reports the Washington Post. So closely connected are SeaWorld's financial and PR woes to the documentary that there's even a link called "The Truth About 'Blackfish'" on its website that refutes the film's accusations, calling the film mere "propaganda." And of course, the filmmakers hit back in a point by point refutation.
All documentary filmmakers set out to show the world something in a new light or to reveal something previously hidden, but films like "Blackfish" are what Alternet writer Suemedha Sood calls "experiment[s] in filmmaking and activism," films that can actually effect change in the world by shedding light on injustice, abuse of power, or in the case of "Blackfish," allegations of corporate malfeasance and negligence.
And perhaps SeaWorld would be wise, unless it wants to see its fortunes decline even further, to follow McDonald's example after the gonzo-style 2004 Morgan Spurlock documentary "Super Size Me" helped to underscore how unhealthy the fast-food chain's food was. Although McDonald's executives have denied that the documentary prompted them to eliminate their supersized offerings and to place healthy items such as salads on the menu, it could be argued that its success today has something to do its response to critics -- filmmakers and otherwise.
In the case of SeaWorld, "Blackfish" set out to demonstrate that the aquatic theme park with 11 branches worldwide that purports to "connect and care for the world we share through the power of entertainment" actually harms both the killer whales, or orcas, and the trainers who come into contact with them. And furthermore, claims the documentary, it hides the truth from the public and its employees -- including the trainers. By unnaturally confining orcas accustomed to miles of ocean to range about into small spaces and forcing them to perform tricks for audiences, using underfeeding and violence from other whales as training techniques, according to "Blackfish," SeaWorld, the film argues, turns a sensitive and social creature into an aggressively dangerous animal for public entertainment.
In the film, 12,000-pound orca Tilikum, since its capture in 1983, had been connected to the deaths of two trainers and one unlucky drifter who snuck into the park and may have fallen into Tilikum's tank. SeaWorld shifted blame to the trainers in both instances, and the film combines footage of the attacks and the sorry state of the whales along with damning interviews with former trainers about the treatment of the animals.
A class-action lawsuit was filed on behalf of shareholders who bought stock from April 2013 to August 2014, according to MarketWatch, citing that SeaWorld had failed to disclose in its IPO documents that it had "improperly cared for and mistreated its orca population which adversely impacted trainer and audience safety"; that it continued to feature and breed Tilikum, connected to the deaths and injuries of many trainers; and that it told shareholders that the decline in visits to SeaWorld was not the result of "Blackfish" and its revelations but actually "caused by Easter holiday and other factors."
It's unclear whether SeaWorld will continue its PR and financial free fall after the release of "Blackfish," but perhaps it should emulate McDonald's corporate response to "Super Size Me." Filmmaker/provocateur Spurlock asks a simple question in "Super Size Me": What would happen to a person's health if s/he ate a steady diet of McDonald's for a month? Spurred into action by the failure of two lawsuits against McDonald's that alleged McDonald's made them fat and sick, Spurlock set out to find out if in fact eating McDonald's is that bad for you.
The answer provided and documented in "Super Size Me" is devastating. His doctor told him he was above average for health before his McDonald's experiment. And after? He gained weight (no surprise), became depressed and often impotent, and by the end of the month, both his vegan chef girlfriend and doctors begged him to quit the dangerous (and it turns out, addictive) diet because his liver was beginning to fail.
McDonald's had already launched an "Eat Smart, Be Active" initiative in 2003, with salads, fruit and yogurt as options, in addition to its regular offering of Chicken McNuggets, fries and burgers. But in 2004, after "Super Size Me" came out, it began to phase out its supersized fries, drinks and meals, and they were eliminated entirely by the end of the year.
Its healthier menu and openness to change -- and massive advertising campaigns -- have meant a more financially robust McDonald's. According to a 2012 New York Times report, "The company's bottom-line success in recent years is unmatched by its traditional burger-chain competitors."
SeaWorld announced on Thursday that following Atchison's resignation, David D'Alessandro, its current board chairman, would serve as chief executive in the interim. SeaWorld also stated that it planned to reorganize in the hopes of saving $50 million by the end of 2015.
Again, although a McDonald's executive was quoted in 2004 as saying that the phasing out of its supersized menu options had "nothing to do with ["Super Size Me"] whatsoever," it's hard not to connect the dots. Take note, SeaWorld: There's a way of saving money, saving face and saving your company in the wake of "Blackfish."
© Copyright IBTimes 2023. All rights reserved.