Windows 8.1 Release Date Arrives: Everything You Need To Know About The New Features And Apps From Microsoft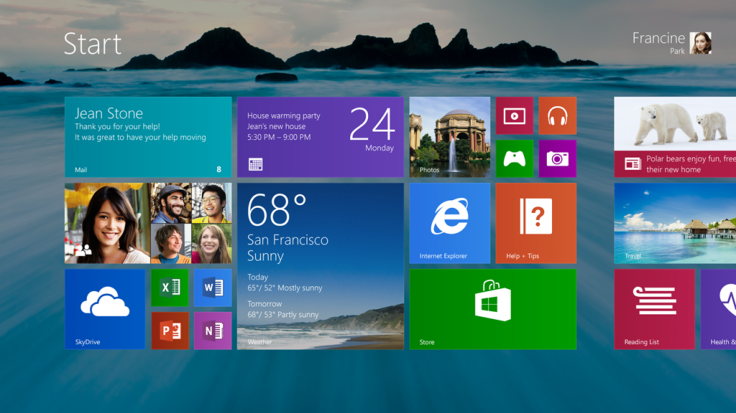 Confirming the announcement made Aug. 14, Microsoft on Thursday released Windows 8.1 as a free update for all Windows 8 users through the Windows Store. Microsoft originally announced the release date for Windows 8.1 months ago, noting Windows 8.1 would also be released on retail shelves and new Microsoft devices starting Friday, Oct. 18.
Windows 8.1, according to Microsoft, "continues the vision" the company began with Windows 8, which was initially released in August 2012 but saw its general release date arrive on Oct. 26, 2012. Unfortunately for Microsoft, many critics lambasted Windows 8 for its restricted Windows Store and its touch-centric features that appeared to alienate Microsoft's traditional desktop users, especially with its flagship hardware, the Microsoft Surface RT tablet, which was underwhelming in its own right from a sales, PR and critical perspective.
Windows 8.1 introduces many changes to the Windows 8 operating system, including the return of Microsoft's signature Start button, which is now more customizable; new apps for lifestyle and productivity needs such as Skype, Xbox Video, Xbox Music and Bing Food & Drink; a file manager integrated into Microsoft's cloud-based SkyDrive app; the new Internet Explorer 11 browser, which is enhanced for touchscreens and synchronizes all browsing history and settings across all Windows 8.1 devices; an updated security system; and Windows Store 2.0, which features a better layout and allows users to automatically update their apps. The release of Windows 8.1 also comes with a much-improved snap view feature, which allows users to see multiple apps on the screen at once.
"You can resize apps to any size you want, share the screen between two apps, or have up to four apps on screen," Microsoft said on its Windows blog. "If you have multiple displays connected, you can have different Windows Store apps running on all the displays at the same time and the Start Screen can stay open on one monitor. This makes multi-tasking even easier."
The release of Windows 8.1 will also add new support for NFC printing, Wi-Fi Direct printing, and even native APIs for 3D printing, as well as device encryption for all editions of Windows 8. And thanks to the efforts by British security expert James Forshaw, who was recently rewarded $100,000 from Microsoft for discovering exploits within Windows 8.1, the new release of Windows 8.1 is more stable and protected than last year's Windows 8 release.
The release date of Windows 8.1 arrives just before the first anniversary of Windows 8. Prior to the release date of Windows 8.1, Microsoft was busy advertising many of its new Windows 8 devices, including the new Microsoft Surface 2, the Lenovo Yoga 11s, the Dell XPS 18 and the Acer Iconia W3. Microsoft is also pushing its Windows Chip-In program, which is a crowd-funding program to help students and parents purchase new Windows devices for school.
What do you think about Windows 8.1? Do you own any Microsoft devices running Windows 8, or do you plan to with the release of Windows 8.1? Sound off in the comments section below.
© Copyright IBTimes 2023. All rights reserved.