Winklevoss Twins Open Gemini Bitcoin Exchange In London To Trade Ethereum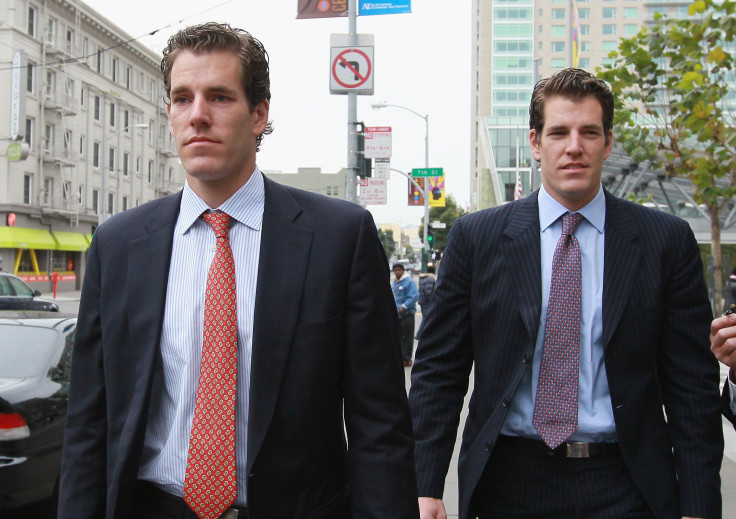 As the price of bitcoin experiences a resurgence, Cameron and Tyler Winklevoss are seeking to expand their presence in the market by bringing their Gemini bitcoin exchange from New York to London.
The twins, who earned a $65 million settlement after suing Mark Zuckerberg claiming he stole their idea for Facebook, have become some of the cryptocurrencies most vocal advocates. The pair set up the Gemini exchange in New York last October and are now opening up for business on the other side of the Atlantic.
"We know there's been a lot of demand for our services in the U.K., we know there's a strong desire, New York and London are financial capitals of the world and speak the same language," Tyler Winklevoss told the Telegraph. Initially the exchange, which opens Tuesday, will only allow customers to trade bitcoin for ether, the world's second-largest cryptocurrency, but trading in dollars and sterling will arrive in the coming months.
Ether is currently worth only a fraction of bitcoin with one ether trading for less than $12. However, many see this as a major challenger to bitcoin because the ethereum blockchain on which ether is built can allow for "smart contracts," essentially computer programs that execute themselves when certain conditions are met.
Many banks and financial institutions are actively building systems on the ethereum blockchain — though a recent attack on an organization built on the network has led some to question its future.
Over the course of the last month, the price of bitcoin has gone from under $450 to almost $800, though it continues to see large fluctuations on an almost daily basis. In the last 24 hours for example, the price of a single bitcoin, according to CoinDesk's Bitcoin Price Index, has gone from over $760 to less than $685, indicating that for many investors bitcoin is still too much of a risk. That, however, is not how Tyler Winklevoss sees it.
"It's like a better version of gold," he said. "Bitcoin is basically money working the way your email works: imagine if your email had to shut down at 5 p.m. and during the weekend. We'd like money to work 24/7. It really feels like these technologies have world changing potential and can improve people's lives."
Speaking to CNBC, Tyler Winklevoss said that bitcoin was still very early in its life cycle and there was still a lot of room for the price to appreciate. "The market cap [of bitcoin] is actually quite small and there is potential for a lot more increase in the price because you look at gold and the market cap is trillions of dollars. Although bitcoin has been appreciating quite significantly over the last two weeks, there still seems like it's really early and undervalued and potentially a lot of room to appreciate."
While the Winklevoss twins have made significant profits from the investments in bitcoin — allowing them to purchase a pair of seats on Richard Branson's Virgin Galactic shuttle — they have also come into contact with the controversial side of the cryptocurrency.
In 2013 the twins led a $1.5 million funding round into bitcoin payment processor BitInstant. Months later the CEO of BitInstant Charlie Shrem was arrested on charges of money laundering in relation to the controversial dark web service Silk Road, which sold drugs, guns and other illegal items in exchange for bitcoin.
Speaking about their other major controversy, the pair said they had put the Facebook issue behind them. "The past is the past, we're very proud of the way we handled righting a wrong and we achieved a solid degree of justice," Tyler Winklevoss told the Telegraph. "We're now writing a new chapter. The short answer is it's not something we're bothered by."
© Copyright IBTimes 2023. All rights reserved.