Wireless charging, the next frontier for smartphones. Once confined to the pages of science fiction, the technology has found its way into some of the latest devices on the market, such as Samsung's Galaxy S6 and Google's Nexus 6. Others can also add the feature through an accessory, and now wireless charging is even making its way into furniture from IKEA.
Then there's Apple, which has mostly ignored the technology, except in the Apple Watch, which uses similar inductive charging technology in its Magsafe style charger. So why haven't we seen the technology in Apple's iPhones?
It's partly because of competing standards, a common problem in the technology industry, as illustrated by this XKCD comic: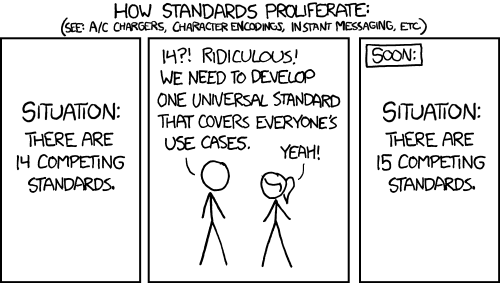 For wireless charging, there are several competing standards: Rezence, backed by the Alliance for Wireless Power (A4WP); Powermat, backed by the Power Matters Alliance (PMA); and Qi, backed by the Wireless Power Consortium. That list is expected to thin out later this year, when PMA and A4WP complete their merger.
Retailers like restaurants and coffee shops have installed wireless charging pads in some locations. For example, PMA and A4WP's technology is rolling out at Starbucks stores nationwide, and McDonald's has tested Qi in some of its restaurants in the U.S. and Europe. And IKEA's latest line of wireless charging furniture features Qi technology.
Since there's no single unifying standard, Samsung has taken a sort of shortcut, bypassing the issue by supporting PMA and Qi in the Galaxy S6.
The choice of design materials also plays a role in the introduction of wireless charging to smartphones. Apple's iPhone 6 and 6 Plus are constructed of aluminum, which can't support wireless charging technology.
"You can't have inductive charging on an all-aluminum, all-metal back," said Wayne Lam, IHS senior analyst. "That's a big reason why the S6 has a glass back. If it was all metal, it physically couldn't have happened."
Apple experienced this firsthand in 2006, when the company developed a brushed-aluminum iPhone prototype, according to Phil Kearney, one of the engineers tasked with creating the first iPhone.
"I and Rubén Caballero" -- an antenna engineer at Apple -- "had to go up to the boardroom and explain to Steve[Jobs] and [Jony Ive] that you cannot put radio waves through metal," Kearney told the New York Times. Apple eventually solved that problem by incorporating a plastic bottom into the final design of the first iPhone, as well as the plastic bands in the iPhone 6 and 6 Plus.
But beyond all of that, Apple hasn't always embraced standards that it didn't have a hand in creating. It did so with FireWire, the iPod 30-pin connector and Lightning connector. Though Apple uses some outside standards, such as near-field communication (NFC), it has limited its use to Apple Pay.
While wireless charging hasn't made its way into most of Apple's products, the company has certainly explored the technology, according to its patent filings with the U.S. Patent and Trademark Office. In one instance, Apple has explored the use of wireless charging by sharing circuitry with an NFC antenna.
"The ideal future is sort of a fruit bowl where you toss your keys, phones and watch and have it charge at home by itself in the background," Lam said. "Apple is most likely looking for the most elegant way of implementing wireless charging."
In the meantime, iPhone users will continue to be tethered to a Lightning cable when they need extra juice.