Wolfenstein 2 Blasts Neo-Nazis, Holocaust Deniers Ahead Of Release Date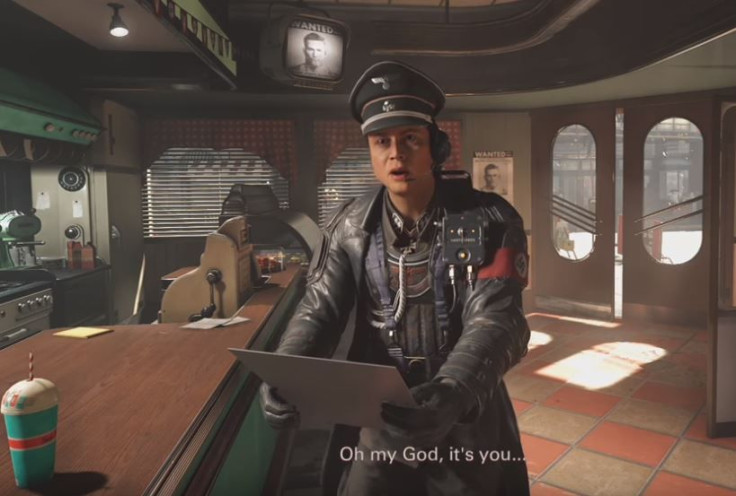 The Wolfenstein franchise managed to wade into waters that have somehow recently become controversial despite the World War II game sticking to its classic narrative: taking down Nazis.
A Sunday evening tweet from the official Wolfenstein franchise's account followed up on its Oct. 5 post, "Make America Nazi-Free Again #NoMoreNazis #Wolf2" to promote the latest Wolfenstein II iteration of the Nazi-killing video game. That first tweet created its own Twitter and Reddit-based brouhahas, with Bethesda Softworks receiving its fair share of "leftist" accusations labeling them an "anti-Trump" organization. But Wolfenstein responded to this seemingly binary "right vs. left" discussion by stating simply, "There is only one side. #NoMoreNazis #Wolf2" on Sunday.
Reactions to Wolfenstein's latest "No More Nazis" tweet for Wolfenstein II: The New Colossus has been overwhelmingly supportive, with any pro-Nazi sympathizers being ridiculed for even playing a game that has encouraged players to kill Nazis for decades. Although rare in World War II video games, this Wolfenstein edition features elements related to the Holocaust and anti-Jewish sentiment pervasive at the time. The game's stars Brian Bloom and Nina Franoszek addressed their personal reflections on the Holocaust and Jewish family history, detailing to the Donkey Con Artists podcast their families own struggles to survive in Nazi Germany.
"My father is Jewish and my mother is German. In the past, there was a German general on the mother's side and Jews trying to survive in Poland on the father's side, so the subject was very close to me," Franoszek said on the podcast. "I've done a lot of research to understand my own past and been to Auschwitz and all that, but as an actor what really convinced me was the script. The script to me was very similar to Inglourious Basterds, and I was given the opportunity to play sort of the Cristoph Waltz character as a female with a boytoy."
Developer MachineGames' first Wolfenstein reboot shows inspiration from novelist Phillip K. Dick's Man in the High Castle and sees protagonist B.J. Blazkowicz waking up from a coma to wage war on the Nazi regime in America. Many users even thanked the developers and marketing team for weighing into a controversy about "punching Nazis" that has festered on social media since a video surfaced in January showing alt-right leader Richard Spencer being punched in the face.
"PSA: Wolfenstein franchise is 35 years old. Nazis have always sucked. If you take it personally you have a problem Love u @bethesda," tweeted Jo.
"The Wolf 2 marketing team is the only good marketing team," tweeted another top response.
Some tweets urged players to buy the game if just out of spite for Nazi sympathizers: "Do it just to piss the local point-headed neo-Nazis off. Buy a console or your gaming PC of choice and play it on the biggest g*ddamned screen you can find."
However, a large swath of social media users maintained complaints about the Nazi-killing game's anti-Nazi marketing stance.
"Thanks for securing Trumps second term," tweeted one user. Others simply posted gifs and photos of President Trump wagging his finger or saying "wrong."
"Yeah well I wasn't about to play a game about endlessly killing white people anyway. GTA San Andreas is more my speed," responded one user.
Much of the discussion on the latest game focuses on Wolfenstein 2's very prescient in-game commentary that calls out terrorists, Nazi sympathizers and Holocaust deniers. The franchise's latest tweet looking to take down the "right or left" discussion makes clear that they've taken the side that the first-person shooter has always taken: No More Nazis.
The latest Wolfenstein is set for release on Oct. 27
© Copyright IBTimes 2022. All rights reserved.
FOLLOW MORE IBT NEWS ON THE BELOW CHANNELS