Women's Colleges Welcome Transgender Students Under Expanded Admission Policies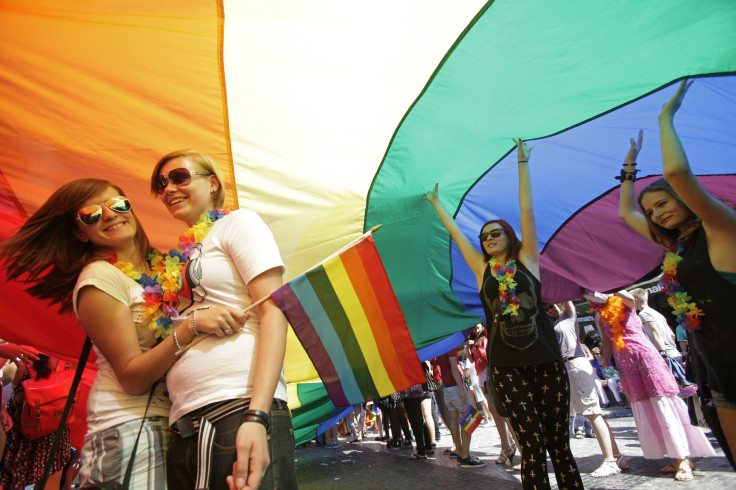 Greta Stacy chose to attend Smith College because she wanted to study chemistry, a field dominated by men, in a place where she felt empowered. At Smith, a private women's college in Northampton, Massachusetts, Stacy found herself on a campus full of diverse women who saw no limits -- they were scientists and athletes and more.
"Every person you see who's in a leadership position, whether that's the student body president or your organic chemistry tutor, these people are women," said 22-year-old Stacy, who was elected student body president last year.
But Smith's population is changing. The liberal arts college announced Saturday that its trustees had voted to expand its admission policy to include self-identified transgender women. Citing the "evolution of female identity," Smith is the seventh women's school to tweak its rules and allow transgender students in recent months, after institutions including Bryn Mawr College in Bryn Mawr, Pennsylvania, and Wellesley College in Boston.
The shift comes amid a national debate on transgender rights and awareness, following transgender teen Leelah Alcorn's suicide last year, former Olympian Bruce Jenner's recent coming out as a woman and the Obama administration's ongoing push to ban so-called conversion therapy for LGBT (lesbian, gay, bisexual and transgender) youth.
On campus, administrators face the challenge of implementing LGBT-friendly policies that may require modifying residence halls, restrooms and traditions without causing controversy.
'One More Opportunity'
Women's college students and alumnae said the schools they've historically fought to keep exclusive are taking the right approach by embracing a more diverse population. "I'm incredibly excited," said 1997 Smith alumna Stephanie Gayle, a 39-year-old writer in Arlington, Massachusetts. "Smith's always been pretty cutting-edge and liberal, and this is just one more opportunity for them to uphold the rights of all women."
Transgender advocates had a landmark year in 2014. Facebook gave users more options for setting the gender that appears on their profiles, "Orange Is The New Black" actress Laverne Cox, who is black and transgender, continued skyrocketing in popularity, and the Amazon series "Transparent" was nominated for two Golden Globe awards.
GLAAD, an advocacy group for gays and lesbians, defines sex as the anatomical classification upon which babies' genders are assigned at birth. Most people grow up to be "cisgender," where their gender matches their assigned sex. Others choose to identify as another gender or no gender at all. Some transition and live as transgender men and transgender women, a process that sometimes includes surgery and therapy.
Under Smith's updated policy, any undergraduate student who selects "female" as their gender on their application is eligible for admission. Scripps College in Claremont, California, and Wellesley in Wellesley, Massachusetts, have similar policies.
Other women's schools have slightly different rules. Simmons College in Boston and Mills College in Oakland, California, accept people who were assigned female at birth no matter how they identify, as well as people who were assigned male at birth and identify as female. Bryn Mawr follows a similar policy and also admits intersex students who live as women. Mount Holyoke College in South Hadley, Massachusetts, has the broadest policy: It accepts everyone except people assigned male who identify as male, Campus Pride says.
All seven schools have gender-neutral restrooms. Wellesley is developing a plan to be "as inclusive and welcoming as possible," said Kris Niendorf, assistant dean of students. Smith is doing the same. Mount Holyoke considers transgender student housing requests on a case-by-case basis, and people are not asked to specify their preferred gender identity in roommate matching, spokeswoman Julia Ferrante said. Mills offers a gender-fluid living community as well as single-gender apartments for men and women. Scripps' website states that it is creating a residential space for people who want gender-neutral housing. At Simmons, housing applications include a question about whether "it is important that my room is an LGBTQA safe space." [In the LGBT community, Q stands for queer and/or questioning, while A can stand for asexual, aromantic, allies and/or advocates.]
These decisions didn't come without controversy. Before Scripps trustees approved the policy tweak, more than 100 alumnae signed a letter concerning "the changes that increasing numbers of transitioning students may necessitate." It referenced Mills College, where the traditional chant "Strong Women! Proud Women! All Women! Mills Women!" was recently changed to "Strong! Proud! All! Mills!" The Scripps alumnae called for the trustees to protect Scripps as a women's space and worried about the erasure of the campus' sisterhood.
"Before we enact this or any policy that potentially evolves the fundamental nature of our women's college, we must have a compelling answer to the question, 'What is a women's college in the 21st century?'" it read.
On Facebook, more than 80 people liked a page called "Keep Smith College Female Forever," which posted a letter by alumna Elizabeth Hungerford, who graduated in 2000. In it, she wrote that she was worried about transgender students acting like men and oppressing women in a place intended to be a sanctuary. "Trans women may retain their penises and secondary sex characteristics," Hungerford wrote. "They may talk loudly over women or on behalf of women while looking and sounding exactly like men."
'They Need The Safe Space'
But other alumnae argued that the policy changes were overdue. Nora Hagerman, a 24-year-old auditor in Milwaukee who graduated from Wellesley in 2013, said transgender women have many of the same experiences with being marginalized that "ciswomen" do. "If anything, they need the safe space even more," she added.
In 2010, 76 percent of Scripps voters approved a student government measure swapping out all the language in its bylaws for gender-neutral terms. Last year, about 60 Bryn Mawr students and alumnae gathered 2,000 signatures on a Change.org petition demanding a more inclusive admission policy.
Ryan McDaniel, a 22-year-old Smith senior studying government, said women's college students tend to be more open-minded about gender. McDaniel, who entered Smith as a woman but now identifies as a man, said he saw this during his first week of school. During icebreaker activities in the dorms, students took turns introducing themselves by name, major and preferred gender pronoun. "People want to go out of their way to support their classmates," he said.
McDaniel said he graduated from a conservative high school and felt liberated by Smith's "culture of understanding." When he came out last year, his friends and professors were accepting and adopted the correct pronouns. The only hangup he had was with one of Smith's therapists, who McDaniel said declined to provide a letter he needed to start hormone replacement therapy.
Justin Kilian, a 19-year-old transgender woman and a member of the transgender student advocacy organization Smith Q&A, said she's happy with the trustees' decision, but hopes administrators are flexible in deciding where transgender students can live. She said she doesn't want them to be unfairly grouped and kept from the general student population, because that essentially negates the progress made by admitting them. "It happens a lot where, when people hear 'trans women,' they don't hear 'women.' They hear 'transgender,'" said Kilian, a student in women, gender and sexuality studies.
Kilian said Smith is still a women's college. She added that it's more important than ever to preserve that setting -- "just women being together," she said.
FOR FREE to continue reading
✔️ Unlock the full content of International Business Times UK for free
offer available for a limited time only
✔️ Easily manage your Newsletters subscriptions and save your favourite articles
✔️ No payment method required
Already have an account?
Log in
© Copyright IBTimes 2023. All rights reserved.