World Book Day 2017: Costume Ideas, Novels For Kids, Everything Else You Need To Know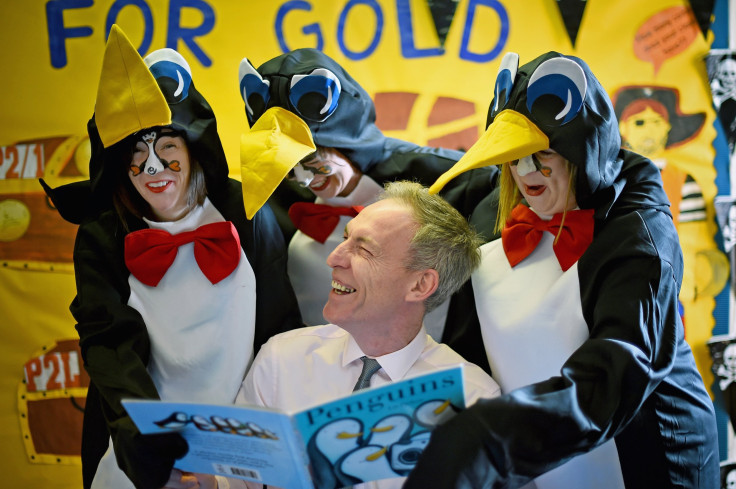 For the past 20 years, British children have spent one day in March living out their favorite imaginary stories: They arrive at school with a Mary Poppins umbrella, round Harry Potter glasses, a striped Where's Waldo t-shirt, or a green Oompa Loompa wig. This isn't Halloween in springtime. It's World Book Day, a celebration of children's literature.
This year, the U.K. was set to observe World Book Day March 2, although it will be celebrated April 23 in the United States. It's not a government-sponsored holiday — rather, it's a charity initiative, intended to get kids excited about reading (and, in some cases, to get adults excited too). Children receive book tokens that they can then swap out for one of the ten World Book Day books. The World Book Day charity is expected to give out 15 million tokens to kids around the U.K.
Need last-minute costume ideas? Here are some classics:
If your child have rain boots, a blue coat and a red hat, then he or she is set: Paddington Bear.
For Alice in Wonderland, give your daughter a blue dress and a white rabbit.
Any chance you have a stuffed raven, or even any sort of black bird toy? Quoth the raven, Edgar Allan Poe.
If your child as read hair, all you really need for Pippi Longstocking or Anne of Green Gables are braids.
Tie a cheap ring to a yarn necklace, give it to your child, and you have yourself a mini-Frodo Baggins.
Remember, you can always dress up your kid in a leftover Halloween costume. Superheroes such as Iron Man or Spider Man are always a good choice, and comic books — or graphic novels — are books too.
And if none of those outfits cut it for you, here are some photos from 2016 that might inspire:
And here are some recommendations for books to read with your children (besides the Harry Potter series and Dr. Seuss, of course):
Edward Eager's Tales of Magic will make your child's imagination spin in the most wonderful way. Published in the 1950s and '60s, a few of the books loosely follow the adventures of four children, Katharine, Mark, Jane and Martha: Read "Half Magic" and "Magic by the Lake" first.
This would be a great time to introduce your kids to Madeleine L'Engle's 1963 classic "A Wrinkle In Time" — a widely anticipated film directed by Ava DuVernay will be released next year. But as they say, it's always good to read the book first.
"Holes" by Louis Sachar was published in 1998, but it's still a feat of humor that sometimes dips into serious issues.
In honor of Natalie Babbitt, the children's author who died last October, you can introduce your child to her classic 1975 novel about immortality, "Tuck Everlasting." But you'd also do well to recommend reading her 1969 book "The Search For Delicious," about a 12-year-old boy who must poll a kingdom's citizens about the definition of delicious.
For the younger kiddos, don't forget the classic picture books: "Cloudy With A Chance Of Meatballs," "The Rainbow Fish," "If You Give a Mouse a Cookie," "Angelina Ballerina," "The Giving Tree," "Tikki Tikki Tembo" and "Blueberries For Sal" is a selection of just a few stories that never seem to get boring, no matter how old you are.
© Copyright IBTimes 2023. All rights reserved.