World Emoji Day 2015: Why Brands Like Bud Light And GE Are Jumping On This Made-Up Twitter Holiday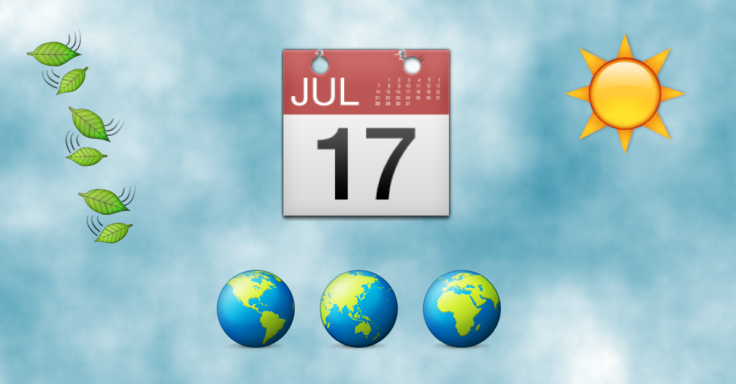 It's World Emoji Day -- for real, this time.
July 17 garnered attention as the emoticon's celebration day last year, with a push by Emojipedia.org, but only a handful of brands participated, such as "Funny or Die" and the television show "The Mindy Project." But in 2015, Fortune 500 companies, such as General Electric and Anheuser-Busch, are not letting the "holiday" slip by.
The hashtag #WorldEmojiDay was already trending on Twitter by 9 a.m. EDT with 93,000 tweets by 12 p.m., according to Twitter data. Emojis have become prolific in texting and messaging culture for consumers and brands over the last year, along with a rise in gimmicky holidays and conversations on social networks.
Even if our emoji obsession is just a passing fad, such as the prevalence of YOLO and other acronyms in 2013, brands are embracing one of the earliest forms of the visual Web to grab the attention of young audiences. Another perk: There's no language barrier. For General Electric, emojis have become a core part of their messaging, even launching a franchise called Emoji Science.
"The truth is we are a company that struggles to connect to that younger audience," said Sam Olstein, General Electric's global director of innovation. "We adopt that kind of principle of being earlier and being first. The important thing is the speed. We always go where there's an audience."
Why Emojis?
While emojis have been around since the dawn of the computer and Apple introduced them to the iPhone keyboard in 2011, their use has reached a much higher level in 2015. Six billion emoticons or stickers are sent each day, according to data from digital startup Swyft Media.
Emojipedia.org has experienced more online traffic in the first half of 2015 than in all of 2014, founder Jeremy Burge said. The site now has more than 1 million unique visitors each week.
Companies have been integrating more emojis into their everyday messaging on Twitter. Mountain Dew's digital brand manager Christine Ngo said that the company's social network data insights showed that including emojis in one-to-one messaging drew more engagement. "As a result, we've integrated emojis into Mountain Dew's overarching social strategy," Ngo wrote in an email.
For General Electric, the company began using emojis a year and a half ago, but the larger investment took place in December 2014 with the launch of a Snapchat campaign called Emoji Science. The technology company is working on a Web series with "The Science Guy" Bill Nye and creating a full classroom curriculum.
Gary Vaynerchuk, the head of VaynerMedia -- a digital agency that works with companies, including General Electric, to create social media campaigns -- attributed the emoji's popularity to a shift in visuals.
"This whole language revolution has finally hit the United States. When you look at emoji in Asia, it's been around for decades," Vaynerchuk said. "This time next year I think we'll see more late night talk show hosts use emoji. I think we'll see emoji evolve into another language, but more visual."
Emojis also appeal to companies as a universal language, and while there are sites like Emojipedia that translate the icons, the messaging requires less translation than words. In part, emoji can form sentences, inspiring brands to take ownership of a conversation.
"We're all using the same character-based 'alphabet,' but the options for combining emojis in new and different ways to create unique messages is endless," Azania Andrews, Anheuser-Busch's senior director of consumer connections, wrote in an email. "[Emojis are] the ultimate self-expression."
'Making It Ours'
July 17 earned the title of World Emoji Day due to its placement as the stock date on Apple's calendar and notepad emoticons. It's the day Apple's iCal launched at the MacWorld conference, the Washington Post's Caitlin Dewey explains.
While some brands' emojis are just spreading the message, others provide directly actionable prompts that could bring in instant revenue. For example, Mountain Dew chose to create custom emoji links that directed consumers to Mountain Dew Citrus Cherry Game Fuel on Amazon.
Mountain Dew also created a GIF tying the abbreviation for World Emoji Day (W/E/D) with the reverse spelling of Dew. "We're making World Emoji Day ours -- literally," Ngo wrote in an email.
Anheuser-Busch associated emoji with the Bud Light #UpForWhatever hashtag campaign, creating emoji-centric posts for Bud Light and Bud Light Lime Ritas. "From a campaign perspective, emojis are fun and spontaneous, so they fit with the Bud Light #UpForWhatever campaign perfectly," Andrews wrote.
Andrews attributed Friday's emoji day popularity to a rise in gimmicky holidays as well as brands increased desire to enter social conversations with fans. "If you don't have a response for these special holidays -- big or small -- you're missing out on a way to spark a conversation with your fans," Andrews wrote.
But VaynerMedia's Vaynerchuk cautioned that companies should not simply jump into online conversations that do not relate to their core messaging.
"If tomorrow's 'National Cat Day,' does every brand have to get involved? No," Vaynerchuk said. "You can be better off looking for a more subtle moment." And as Vaynerchuk notes, after two or three World Emoji Days, the novelty of this conversation will wear off.
While General Electric is using VaynerMedia for their current social engagement and also investing in the Emoji Science franchise, innovation director Olstein said that the corporate heads are not limited to that product. "We want to connect with fans of science and technology," Olstein said. "Next year, if there's something else that's better or different than emoji, we'll be there."
FOR FREE to continue reading
✔️ Unlock the full content of International Business Times UK for free
offer available for a limited time only
✔️ Easily manage your Newsletters subscriptions and save your favourite articles
✔️ No payment method required
Already have an account?
Log in
© Copyright IBTimes 2023. All rights reserved.