Worried About Dumb Facebook, Instagram Posts? There's An App For That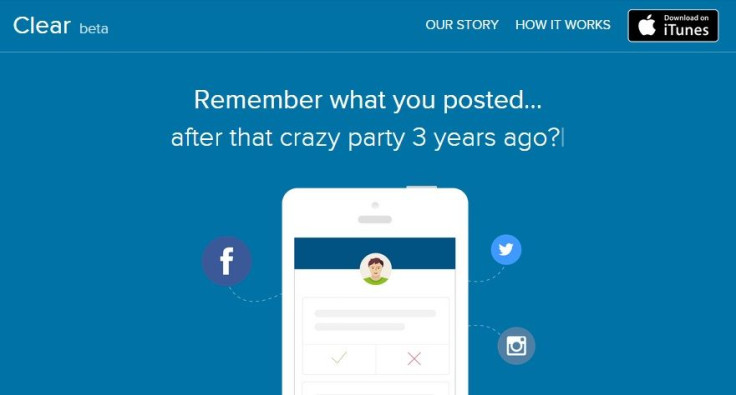 Presidential candidate Jeb Bush's former chief technology officer Ethan Czahor was working his dream job until he had to resign on account of old offensive online posts. He doesn't want that to happen to you.
That's why 31-year-old Czahor has released an iOS app called Clear that makes it easy to find and delete potentially offensive content on your social media accounts. Currently available in beta, the app can connect to your Facebook, Twitter and Instagram accounts and, in seconds, search for swear words and references to racial groups, sexual orientation or other potentially offensive content. It tends to sweep a lot up. For example, when TechCrunch's Anthony Ha tested the app, it flagged the words "assistant" and "perfect pun." (The app's creator Czahor had been scrutinized over tweets he posted while in an improv comedy group that were meant to be jokes but were misinterpreted without context).
After the app completes the search, you are given a score to describe how "clear" you are -- hence the name. The flagged content is listed in chronological order, and then you can delete any of the posts immediately. The app assures it will not delete any content without your permission.
Clear's algorithm is powered by IBM Watson's API, which is able to identify positive and negative content. The app currently can search on Facebook, Twitter and Instagram, and Czahor wrote On Product Hunt that he wants to add image scanning and analyzing blog posts in the future. He told TechCrunch that the app is in its early stage, so he hasn't thought much about how it will generate revenue or what direction it could take.
You can download Clear now on the iTunes App Store, but there's a wait list to actually get access to Clear. Sign up here.
© Copyright IBTimes 2023. All rights reserved.