Is This The Worst Winter Ever? Here's A Look At New York City Snowfall Data [CHARTS]
With 57 inches of snowfall in New York City so far, this is officially one of the coldest, snowiest winters in the past 150 years or so, according to the National Weather Service, which has snowfall records in Central Park dating back to 1869.
The last New York City winter that had a comparable amount of snowfall -- 62 inches -- was in 2010-11, when then-mayor Michael Bloomberg received quite a bit of criticism for not handling the winter snow adequately.
There's still more than a month of winter left, and it's quite possible that the winter of 2013-14 might surpass that of 2010-11.
The snowiest winter on record, ever, was the winter of 1995-96, when more than 75 inches of snow fell in Central Park.
Below is every annual snowfall total in Central Park since 1869 in a chart. The bars colored blue are as severe as or worse than the winter of 2013-14 in New York City: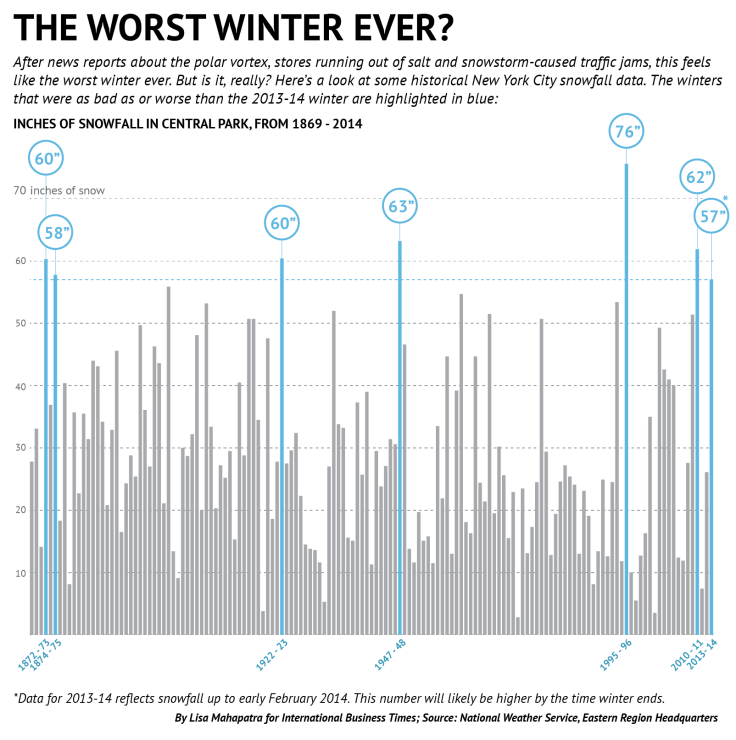 How badly you're affected by the winter snow depends quite a bit on which borough you live in. For example, Manhattan is well-serviced by snow plows and is full of apartment buildings, most of which have maintenance crews who shovel away the snow. But in the outer boroughs, where there are many more brownstones, single-family homes and smaller buildings than there are in Manhattan -- and where the amenities aren't as good as Manhattan's -- snow can be much more of a problem.
Little-known fact: It's illegal not to shovel your sidewalk after snow accumulates in New York City. According to New York City law, property owners must clear snow within four hours of a snowfall, or, if the snowfall ends between 5 p.m. and 7 a.m., it must be cleared before 11 a.m. the next morning. If property owners fail to do so, they get fined.
During especially snowy winters, property owners tend to get a lot more tickets than usual. During the winter of 2011-12, when only seven inches of snow fell, NYC sanitation officers issued a total of 674 tickets, or summons to appear in court.
In the next winter, 2012-13, when 24 inches of snow fell, the number of tickets issued shot up to 5,120. This winter, which had more than double that amount of snow -- 57 inches and counting -- more than 11,000 tickets have been issued so far.
Here's a borough-by-borough breakdown of snowfall-related summons issued: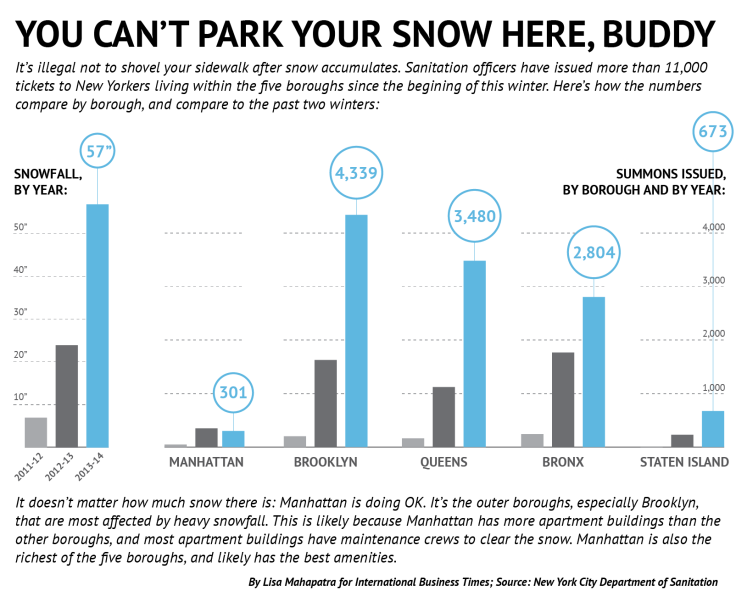 Compare the number of tickets issued by the total annual snowfall, and another trend emerges: During the winter of 2011-12, sanitation officers issued 94 tickets for every inch of snow that fell.
In 2012-13, that number shot up to 213 tickets for every inch of snow. This winter, the worst since 2011-12, the number of tickets issued per inch of snow actually fell slightly -- to 204 tickets per inch of snow.
In general, the number of tickets issued per inch of snow increases dramatically with every additional inch of snow -- but only up to a point.
© Copyright IBTimes 2023. All rights reserved.