WWE 'SmackDown' Live Tonight Featuring Dolph Ziggler And Big Show Vs. John Cena And Sheamus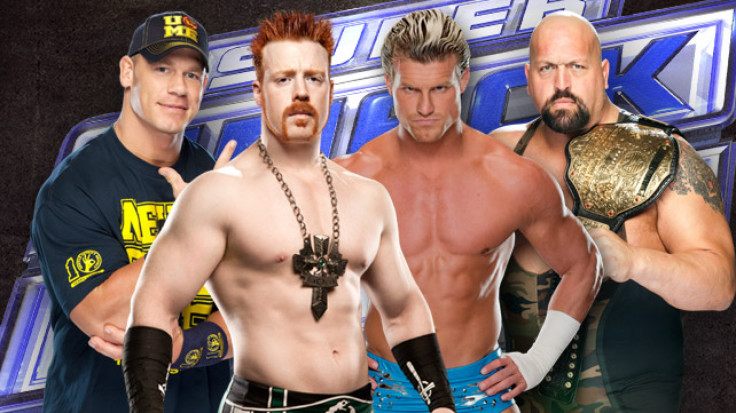 In a change from the norm, "SmackDown" will be broadcast live tonight on the USA network. The show is usually taped on Tuesday and airs on Friday on SyFy; the change is in accordance with WWE week on USA that also features Tribute to the Troops on Wednesday.
The show will feature a tag team main event with Dolph Ziggler and Big Show facing John Cena and Sheamus, according to WWE.com. This combines the two top storylines going on, and does not include WWE Champion CM Punk because the Second City Saint is still recovering from knee surgery.
Even though the Giant wrote off the Celtic Warrior after their Chari match for the World Heavyweight Title, Big Show and Sheamus still appear to be at odds. On "RAW" last night, Sheamus attacked Show in the ring, and they will be meeting tonight.
Dolph Ziggler and John Cena are having an exciting feud, with the two performers' styles complementing each other. The Showoff got the best of the Cenation Leader in a Ladder match this past Sunday, and now Ziggler has aligned himself with Cena's former friend with benefits AJ Lee.
AJ and Ziggler will be addressing their recent embrace on "RAW" and the roles they've been playing for one another lately, tonight on MiizTV. The talk show segment may also address the introduction of Big E. Langston, who attacked Cena in favor of the Showoff and the Crazy Chick.
WWE.com is teasing that Intercontinental Champion Kofi Kingston could be looking for payback on Wade Barrett. The Bareknuckle Brawler attacked Kingston just last night, and the Boom Squad General isn't likely to let the assault slide.
The WWE Tag Team Championship picture is in question, despite the fact that Rhodes Scholars won the No. 1 contenders spot at TLC and Kane and Daniel Bryan are still the champions. Team Hell No is still involved in their angle with Ryback and The Shield, but tonight could be the time to put the bronze belts in sight of Cody Rhodes and Damien Sandow.
© Copyright IBTimes 2023. All rights reserved.