Xbox One Black Friday Deals 2015: Games, Console Bundles And Accessory Discounts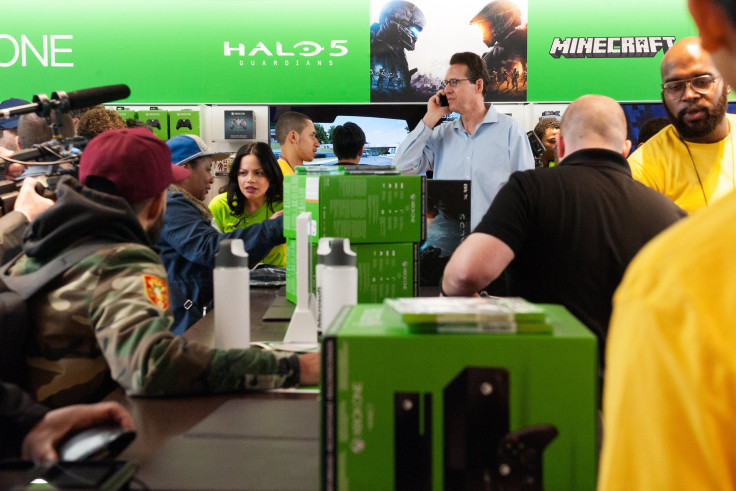 It's Black Friday 2015, which means shoppers are looking for the best Xbox One deals. Microsoft took some of the mystery out of what's happening during the annual shopping event by announcing a $50 discount on all Xbox One console bundles. In addition to the Microsoft deal, retailers are also offering additional discounts on games and accessories. Here's a guide for the retailers that are offering the best Xbox One deals on Black Friday 2015.
GameStop (Friday through Sunday)
There are many Xbox One Black Friday deals at GameStop, but shoppers might avoid the Xbox One "Gears of War: Ultimate Edition" bundle that's discounted to $299.99 because there will be better deals for the console. All Xbox One console bundles will be discounted by $50, but some retailers are throwing in additional games. For $349.99, GameStop is offering the "Gears of War" bundle along with "Ori" and "Rare Replay," but you're not saving much on those games. The Turtle Beach XO One Xbox One headset is $49.99, a savings of $30.
The Xbox One wireless controller is $49.99, a discount of $10, while the Lunar White Xbox One wireless controller is $44.99. "Forza 5" is also discounted to $49.99. "The Witcher 3: Wild Hunt" is marked down to $29.99 and comes with a free Steel Book Game Box. Purchasing the full-price "Assassin's Creed Syndicate" gets you "Assassin's Creed Unity" for free. Other games are reduced by $5, $10 and $15.
Dell
This may be the best game-related Black Friday 2015 deal out there. Dell has one Xbox One deal, but it's worth checking out if you're in the market for a new console. The Xbox One "Gears of War: Ultimate Edition" bundle is $299. The console bundle will be featured across retailers, but Dell is throwing in "Fallout 4" and an extra controller free.
Best Buy
For Black Friday, Best Buy is offering a Xbox One "Rise of the Tomb Raider" bundle for $349.99. The set includes a free controller along with "Rise of the Tomb Raider" and 2013's "Tomb Raider: Definitive Edition." If you're looking for a TV and a console, there's a $499.90 deal that includes a Samsung 40" LED HDTV and the Xbox One "The Lego Movie VideoGame" bundle. All Xbox One bundles are reduced by $50 while there's a selection of games for $34.99 and $24.99.
Toys R Us (Beginning 5 p.m. Thursday local time)​
For Black Friday, Toys R Us is featuring the Xbox One "LEGO Movie VideoGame" bundle for $299.99. The dreamGEAR Essential Gaming Kit (headset, UBS adapter and cable and a dual-controller charging station) is $14.99. Select games, including "Gears of War: Ultimate Edition," get a $10 discount. "Evolve" and other titles get a $25 discount while "The Evil Within" and other select titles will receive a $20 discount for Black Friday.
Walmart (Beginning 5 p.m. Thursday local time)​
The Xbox One Black Friday deals at Walmart are pretty similar to those of other retailers. No Xbox One console bundles are advertised, but it's likely Walmart is participating in the $50 discount announced by Microsoft. Xbox One controllers are reduced to $39. Electronic Arts titles such as "FIFA '16" and "Madden '16" are on sale for $27. Walmart is offering a slate of games for $35, including "Metal Gear Solid V: The Phantom Pain," and select titles, including "Witcher 3: The Wild Hunt," for $25.
Target
While Dell throws in a free controller and "Fallout 4" for Black Friday, Target also has a pretty great Xbox One Black Friday deal. The $299 Xbox One "Gear of War" bundle comes with a $60 gift card, which means you can purchase "Fallout 4," "Halo 5: Guardians" or any other game or accessory for your new console. No discounts for "Halo 5: Guardians" or "Forza 6," but shoppers will get a $15 gift card with purchase. Target also has games for $20, $25 and $35. Controllers and the Turtle Beach XO1 headset are reduced to $44.99.
Amazon
The online retailer will feature the $50 discount for Xbox One bundles. During its Black Friday deals week, Amazon will roll out accessory and Xbox One game deals throughout the day.
© Copyright IBTimes 2023. All rights reserved.