Yahoo Disables Automatic Email-Forwarding Feature, Making It Harder For Yahoo Mail Users To Leave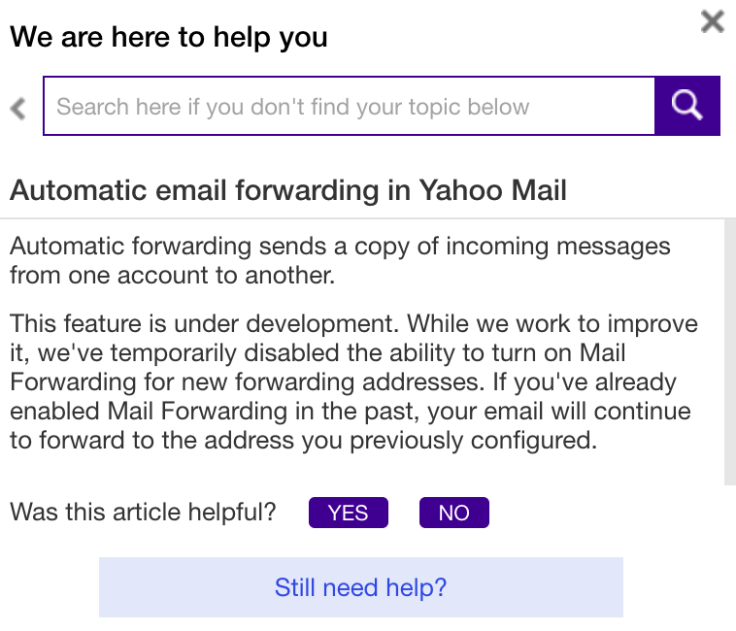 Yahoo announced in September a data breach affecting 500 million users accounts, which the company is now making it challenging for Yahoo Mail users to switch to another email service.
Yahoo recently disabled its automatic email forwarding feature, which allows users to redirect incoming emails sent from their Yahoo email address to another account.
In September the company announced that hackers stole personal information from a half a billion user accounts back in 2014, and that it took Yahoo two years to discover the breach. Since the data breach, several users have announced they would be leaving Yahoo because of all of the negative news that's been going around.
When the company was asked about its decision to shut down its automatic email forwarding, Yahoo declined to comment and pointed the AP to a Help Site post explain what's going on with the automatic email forwarding feature. AP was the first to write about the change.
"This feature is under development. While we work to improve it, we've temporarily disabled the ability to turn on Mail Forwarding for new forwarding addresses. If you've already enabled the Automatic Mail Forwarding in the past, your email will continue to forward to the address you previously configured."
Yahoo Mail users who already set up email forwarding won't be affected, but anyone trying to forward their emails now will have issues using the feature.
Email forwarding has been a feature that most email providers offer, and is not something that would need to be improved. By now, Yahoo is just making it super challenging for Yahoo Mail users to switch to another email provider.
For now, Yahoo Mail users may want to skip the email forwarding process and go straight to deleting their Yahoo Mail account.
Update from Yahoo: "We're working to get auto-forward back up and running as soon as possible because we know how useful it can be to our users. The feature was temporary disabled as part of previously planned maintenance to improve its functionality between a user's various accounts. Users can expect an update to the auto-forward functionality soon. In the meantime, we continue to support multiple account management." -- attributable to a Yahoo spokesperson
© Copyright IBTimes 2023. All rights reserved.