Yellen Says US Economy Still Needs Help, Housing Poses Risk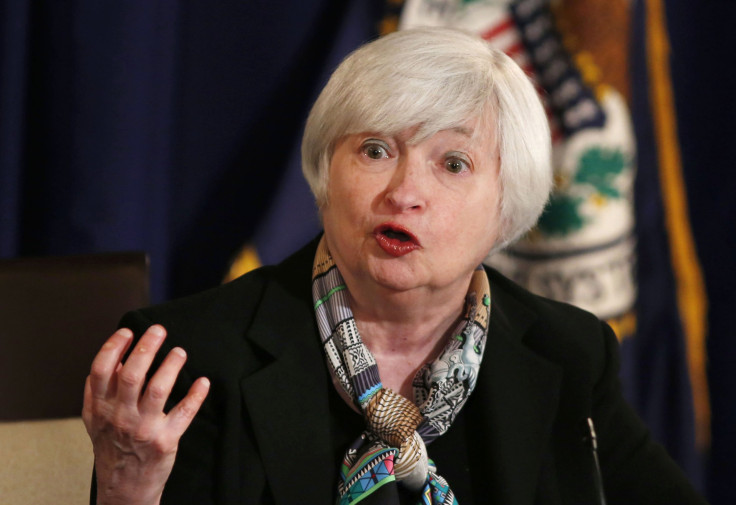 (Reuters) - Federal Reserve Chair Janet Yellen said on Wednesday the U.S. economy was still in need of lots of support given the "considerable slack" in the labor market, adding that the housing sector's weakness and geopolitical tensions posed risks.
Even as she took note of "appreciable" improvements in the jobs market, Yellen told a congressional committee a high rate of long-term unemployment and a slow rise in worker pay suggested plenty of room for further job gains.
"A high degree of monetary accommodation remains warranted," she told the congressional Joint Economic Committee.
Yellen said she expected the economy to expand at a "somewhat" faster pace than last year, but flagged weakness in the nation's housing sector and the possibility of heightened geopolitical tensions or the re-emergence of financial stress in emerging markets as potential risks.
U.S. stocks slipped after her testimony was released but later steadied, while prices for U.S. government debt were little changed. The dollar rose against a range of currencies.
"The only new thing in it is housing," said David Keeble, global head of interest rates strategy at Credit Agricole Corporate & Investment Bank in New York. "All the other comments could have been lifted from her recent speeches."
EYE ON JOBS MARKET
In April, U.S. employers hired workers at the fastest clip in more than two years while the jobless rate hit a 5-1/2 year low of 6.3 percent. The drop in unemployment, however, reflected Americans giving up the hunt for work, extending a trend that has been an unfortunate hallmark of the economy's recovery.
Yellen expressed faith that at least part of the decline in labor force participation could be reversed. She also said she had very little doubt that the share of Americans working part-time because they could not find full time work would also come down as the economy strengthened.
"Unemployment is a good indicator of the state of the labor market ... But there are different things happening in the labor market we need to take account of," she told the panel.
A week ago, the Fed reduced its monthly bond purchases to $45 billion from $55 billion, keeping the stimulus program on a path to be fully wound down by year end. But it also stuck to its assessment that the economy would need near-zero interest rates for a "considerable time" after the asset purchases end - a message Yellen stuck with in her testimony.
HOUSING, GEOPOLITICS
In its policy statement last week, the Fed took note of the housing sector's weakness, but Yellen went further in underscoring it as a concern in her testimony.
"The recent flattening out in housing activity could prove more protracted than currently expected rather than resuming its earlier pace of recovery," she said.
And for the first time since the Ukraine crisis emerged, Yellen cited geopolitics as a prominent economic risk. Ukraine appears to be sliding towards war after its deadliest week since a separatist uprising began in its mainly Russian-speaking east.
She also indicated concerns over potentially risky investment behavior given the extended period of low rates.
"Some reach-for-yield behavior may be evident," Yellen said, pointing to the lower-rated corporate debt markets as an example.
She noted that issuance of syndicated leverage loans and high-yield bonds had expanded, while underwriting standards had loosened, though she said the increase risk-taking appeared modest - particularly at large banks and life insurers.
Yellen added that equity market valuations as a whole and residential real estate prices were within historical norms.
© Copyright Thomson Reuters 2023. All rights reserved.