Why The US Is Cautious In Yemen While Fighting Continues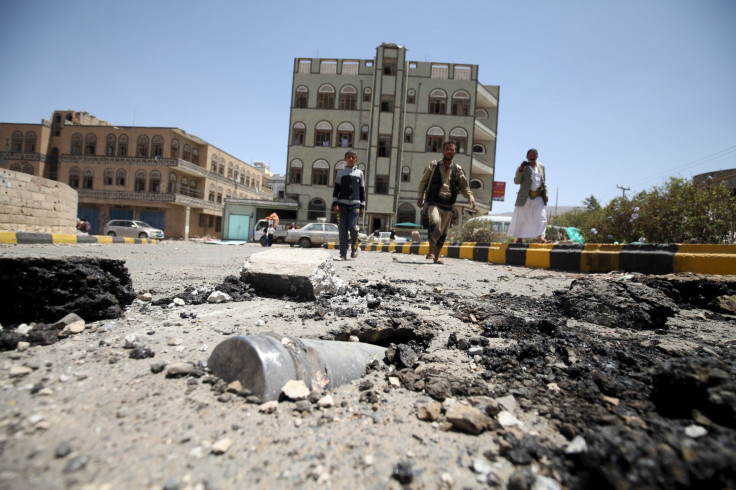 As the Saudi Arabia-led military coalition shifts its operations in Yemen -- while still carrying out airstrikes -- the United States is continuing to navigate a tricky balancing act in the conflict that some observers fear has already widened into a sectarian proxy war between Saudi Arabia and Iran. But the resumption of airstrikes and the advance of Iranian ships toward Yemen's waters are testing Washington's cautious approach.
The U.S. maintains a support role in the Saudi-led air campaign, providing intelligence, logistical assistance and air-refueling services for the coalition while pushing for a diplomatic solution. But in recent days, some U.S. officials have expressed alarm at the dramatic civilian toll the aerial bombardments have taken and reports that al Qaeda is capitalizing on the chaos to regroup.
"In the last week, there's been a crescendo of U.S. alarm at the way [the Saudi-led campaign] is going," said Frederic Wehrey, a senior associate in the Middle East program at the Carnegie Endowment for International Peace. "There's a real hesitation and fear of getting embroiled in this conflict and being publicly associated with it this week, so they're trying to rein in the Saudis or skew them toward a defined set of goals instead of open-ended military intervention."
But while the Obama administration is facing criticism from some for getting militarily involved in another messy Middle East conflict, it's also withstood backlash from others, such as Sens. John McCain and Lindsey Graham, for deferring to Saudi Arabia's muscular new foreign policy in the region.
The Saudi-led coalition continued aerial bombardments in Yemen on Wednesday, despite announcing Tuesday that it was ending the air campaign and shifting to a new operation focused on a political resolution to the conflict. The Obama administration reportedly pressured Saudi leaders to end the airstrikes before Tuesday's announcement as the civilian death toll mounted.
On Wednesday, Adel al-Jubeir, the Saudi ambassador to the U.S., said the coalition would continue to use force when necessary. "When the Houthis or their allies make aggressive moves there will be a response," he said, according to Reuters. "The decision to calm matters now rests entirely with them."
Saudi Arabia's King Salman deployed an elite unit of the National Guard this week for a ground offensive against Houthi rebels, but there haven't been any additional details about the deployment so far.
Meanwhile, Iran's precise role in the situation remains murky: U.S. officials have accused Iran of supplying Houthi rebels with arms, a claim Iran has denied. The U.S. Navy has deployed warships off Yemen's coast to give the U.S. "options" to deal with potential Iranian attempts to deliver supplies, a Pentagon spokesperson told CNN this week. A flotilla of Iranian ships suspected of carrying arms for Houthis is heading to the area, sparking fears of a potential standoff with U.S. and coalition ships.
But the maritime situation won't likely escalate, Wehrey said. "It's a show of presence with Iran," he said. "I don't think an actual armed confrontation is likely. The Iranians may be testing it a bit, but there are certain rules in the game on the high seas that both U.S. and Iranian naval forces have followed.
"There's always a risk," he added. "But in this case, if the Iranians did choose to escalate, it would be disastrous. I don't think the two sides want it to happen."
The U.S.'s approach to Iran is particularly delicate, as international powers are trying to hammer out a deal on Iran's nuclear program. A naval conflict would threaten to derail those talks, said Nabeel Khoury, a senior fellow at the Atlantic Council's Rafik Hariri Center for the Middle East. But he said the nuclear deal wasn't hampering U.S. action in Yemen in any way.
"With or without the nuclear negotiations, I don't think the U.S. wants to get involved militarily in Yemen," he said. "It's not that they're feeling restrained by the negotiations. They're feeling constrained by the desire not to get involved in another military confrontation."
Since the aerial bombing campaign began a month ago, 944 people have died in Yemen, according to the World Health Organization. The United Nations estimates that more than 150,000 people have been displaced.
© Copyright IBTimes 2023. All rights reserved.