Yik Yak Update Adds Private Chat, Safety Center In Latest Move Away From Anonymous Posts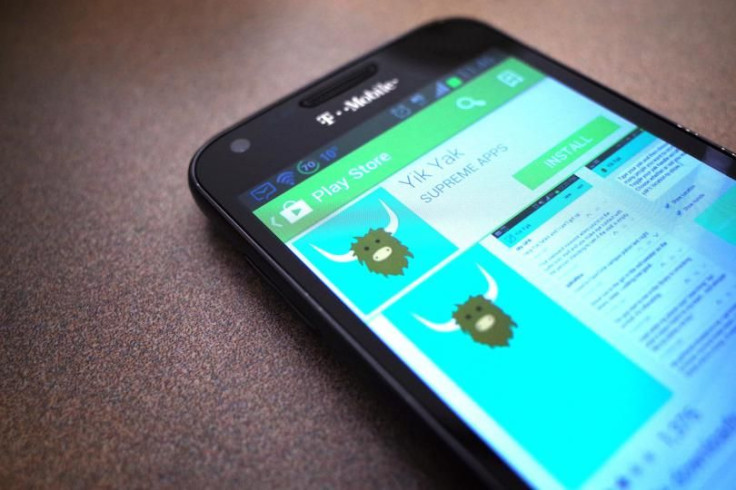 Yik Yak is making the app chattier. The social networking app, popular on college campuses and among other small communities, added chat features Monday that will let users take their conversations to a private forum.
The app displays a feed of nearby posts, which users can choose to upvote, downvote, reply to or share. Users can also peek into other global forums, but the app focuses on localized chats. Users were kept anonymous until Yik Yak added personalized handles in February as its first major shift away from anonymous networking.
Private chat is available to any Yik Yak user who has claimed a handle. Prior to the update, users could converse, but only on forums that could be accessed by other nearby Yik Yak users.
On Yik Yak, users were already doing tasks like organizing to find and return someone's lost keys or helping wounded wildlife, as the company notes in a blog post. Now, those conversations can be taken to private messaging. Chat was the most requested feature, according to Yik Yak.
"There are tons of situations like these when it'd sure be nice to be able to follow up individually with a Yakker in your local feed. And with chat, you can," Yik Yak wrote in the blog post. "We've definitely heard you asking for the ability to chat with other Yakkers, and we're super excited to now make it easier for you to build individual, personal connections with members of your local herd!"
Each user must make a chat request to another user, so no one will receive a message unless they accept. As part of the update, Yik Yak also created a safety center on its website. There, users can see tips on how to address and report inappropriate behavior on the app. The site breaks the guidelines into four sections: users; colleges and universities; educators and parents; and law enforcement.
Launched in 2013, Yik Yak has had controversies over bullying and threats made on the network. The app has even been banned on some college campuses. Earlier this month, the Thomas Jefferson Center for the Protection of Free Expression, a nonprofit advocacy organization, awarded some of those colleges with "Muzzles," satirical awards that condemn such actions as violations of free speech.
Yik Yak users can choose to a block a user, even after they accept a chat request. The app also allows users to send a message to Yik Yak's support team.
Beyond this product update, Yik Yak's executive team has faced some turnover. Chief Technology Officer Tom Chernetsky left his position last month, but he remains as an advisor. One director of engineering and vice president of product departed earlier this year, the Atlanta Business Journal reported.
While based in Atlanta, Yik Yak has been expanding its office in San Francisco and recruiting more engineers. Yik Yak is supported by $73.5 million in venture capital funding. The company last closed a Series B round in November 2014, led by Sequoia Capital.
© Copyright IBTimes 2022. All rights reserved.
FOLLOW MORE IBT NEWS ON THE BELOW CHANNELS