Young M.A Opens Up About Tori Brixx Relationship, Reveals How They Started Dating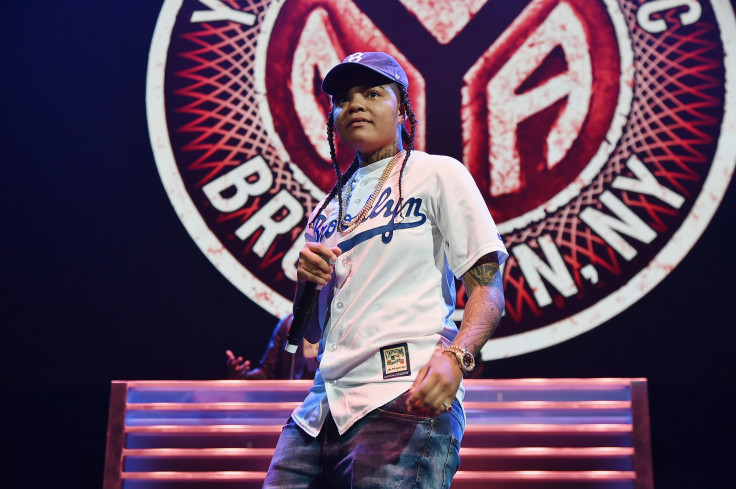 Since the release of her hit single "OOOUUU" in 2016, New York rapper Young M.A has managed to keep her private life under wraps. Now, during an interview with Hot 97, the 25-year-old artist has opened up about her relationship with model Tori Brixx and how the two began dating.
When asked if she was dating Brixx, Young M.A said "yeah" and revealed the two had been dating for quite some time now. "A lot of people didn't know we been dating for a minute," the rapper said of fans. "They thought when it all came out that that was just right then and there."
According to Young M.A, the two have been dating since last October, but it didn't start with the rapper sliding in Tori Brixx's Twitter DMs. Young M.A said the relationship first began when she noticed Brixx posted a video of her rapping along to "OOOUUU."
The rapper said, "I came across a video of her singing my "OOOUUU" song… I saw the video and I thought she was pretty so I posted it… I seen that she was following me. I really didn't know who she was at first. Then I followed her back and that was it. It was nothing after that. She didn't come in my DMs. I didn't go in her DMs." The two eventually met in person thanks to a mutual friend when Young M.A did the Apple Beats commercial.
Young M.A had previously said her and Brixx prefer to keep their relationship private and still don't want their business out in the open. "We was already talkin' for a while, we just kept it low. We still don't even wanna be out there," she said. "And then a lot of people, they under the comments assuming it's like some publicity stunt thing, and meanwhile we don't even wanna be out there like that."
During her interview with Hot 97, the rapper also discussed being an openly-gay rapper in today's hip-hop world. According to Young M.A, she has heard she's an inspiration to many gay hip-hop fans and said even straight people have thanked her. "Not even from just gay people; from straight people," she said. "Regular people just be like, 'yo, you inspire me, I don't even care about your sexual preference.'"
The rapper has yet to release her debut album but doesn't feel rushed to do it. Speaking with Fader in February, Young M.A said, "I know people are looking forward to an album from me, but I don't think it needs to be rushed either. Nowadays, albums don't come out as frequent as they used to, so I'm not too sure if I'ma drop an album as soon as people would think. I'm just trying to go off a vibe: how they feeling this, how they feeling that?"
The young artist has since gone on to release an EP called "Herstory" which featured the track "Hot Sauce."
© Copyright IBTimes 2023. All rights reserved.