'Young And The Restless' Spoilers: Chloe Stuns Kevin With Marriage Plans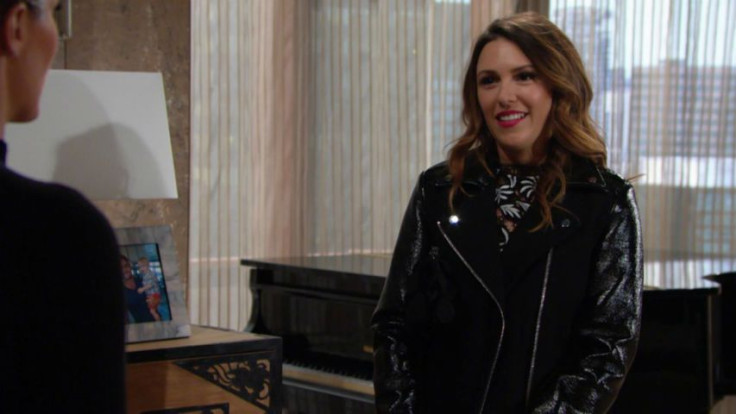 Chloe knows that suspicions are starting to arise that she may have played a role in Adam's unexpected death. In an attempt to save herself from trouble, Chloe will make a shocking proposal to Kevin on the Wednesday, March 29 episode of "The Young and the Restless."
Chloe (Elizabeth Hendrickson) now knows that Chelsea (Melissa Clare Egan) and Nick (Joshua Morrow) are suspicious of her and may suspect she had something to do with Adam's death on the CBS soap. The two confronted her about the tracking device in Connor's toy, and she was able to lie quickly about why she had traced Chelsea's location the night she and Adam planned to run away together. However, she's aware that the investigation into his death may not stop there, and her role in the situation could quickly become exposed.
Now, in a preview clip for the newest episode, she will surprise Kevin (Greg Rikaart) when she asks him to move up their wedding plans.
"I want to get married tonight," she says.
Read: Chelsea And Nick Find Shocking Clues About Adam's Death On "The Young and the Restless"
Kevin will immediately begin to question why she suddenly wants to scrap their previous plans, because it is clear to him that something else is very obviously wrong with his fiancée. Chloe will immediately try to cover up the truth with him as well, accusing him of not wanting to marry her faster because his mother doesn't approve due to their romantic history and Chloe's crazy past. Trying to appease her, Kevin will assure her he will move up the date, but it will take him a few days to get everything together.
Now, Chloe will know her chance to marry Kevin is up against a ticking clock, because it's only a matter of time before her secret likely gets out.
"The Young and the Restless" airs weekdays at 12:30 p.m. EDT on CBS.
© Copyright IBTimes 2023. All rights reserved.