'The Young And The Restless' Spoilers For This Week: Devon And Hilary's Special Day Arrives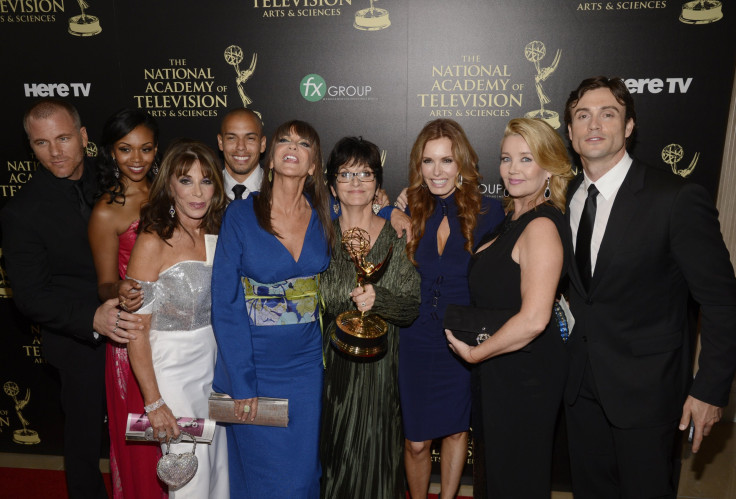 This week's episodes of the CBS soap opera "The Young and the Restless" will feature Neil's plans to get revenge against Devon and Hilary. The storyline also includes Hilary and Devon's wedding day, Abby's issues with Stitch and Phyllis' jealousy regarding Marisa and Jack's relationship.
This week's episodes will feature Nikki (Melody Thomas Scott), Cane (Daniel Goddard), Lily (Christel Khalil), Victor (Eric Braeden), Neil (Kristoff St. John), Phyllis (Gina Tognoni), Stitch (Sean Carrigan), Chelsea (Melissa Claire Egan), Adam (Justin Hartley), Ashley (Eileen Davidson), Jack (Peter Bergman), Marisa (Sofia Pernas), Victoria (Amelia Heinle), Billy (Burgess Jenkins) Hilary (Mishael Morgan), Summer (Hunter King), Colin (Tristan Rogers), Kevin (Greg Rikaart) and Devon (Bryton James).
Spoiler alert! This article contains "The Young And The Restless" spoilers.
Soaps.sheknows.com reports Neil will try to destroy Hilary's wedding. Meanwhile, the Genoa City killer will be revealed. Stitch will confide in Ashley about his communication problems with another person, according to another report from the said spoiler site. Meanwhile, Nikki wants Victor to stop trying to manipulate her so that she will change her mind about something. As for Hilary, she will notice that Devon has been different since his bachelor party and she wants an explanation.

Jack will talk to Phyllis and tell her that Marisa is not an enemy. But Phyllis doubts it so she will ask Marisa some important questions. Abby will approach Ben and Ashley, wanting to know what she missed. Ashley doesn't want Abby to see her holding Ben's hand, so she immediately lets it go. Adam wants to go to Paris with Chelsea. Meanwhile, Chelsea will be shocked to find out the details about Adam's life while he was away.

Billy will start to doubt Victoria, particularly her loyalty. Victor will divulge a perilous secret. And, the mysterious killer will be revealed. Summer will be shocked when she discovers something. Ashley and Jack will team up to protect Jabot. As for Hilary, she demands more answers from Neil. Plus, Hilary and Devon's wedding day arrives as Kevin tries to corner the killer. And, Lily will confront Colin.

Soap Central reports Victor will talk to Victoria about Marco. He will also tell his daughter about the imminent threat against their family. Abby will start to feel that Stitch is not treating her like an equal. Victor will accuse Ashley of being the mastermind of the Paragon Project. Nikki will confess something to Victor. And, Devon will ask for Lily's advice.
A sneak peek at some of the upcoming scenes on "Y&R" was posted on the show's official YouTube channel. A preview video for Monday's episode was also uploaded on YouTube.
© Copyright IBTimes 2023. All rights reserved.