'Young And The Restless' Spoilers: Will Rey Discover The Truth About JT?
His case was on the line because he had made no progress, but now, following the discovery of J.T.'s watch in Chancellor Park, Rey has gotten a huge break in his case. Now, his decision about how to handle it will stun Victoria, Nikki, Phyllis and Sharon on the Thursday, Nov. 8 episode of "The Young and the Restless."
Rey (Jordi Villasousa) was told he needed to get a break in his case within the next week or it would be closed for good on the CBS soap, and not long after Arturo (Jason Canela) showed him the watch he found while working to fix the broken water pipe in Chancellor Park. After calling Mac (Kelly Kruger) to town, Rey was able to confirm the watch was J.T.'s (Thad Luckinbill), and that information will allow him to reopen the case.
"Rey makes an announcement about J.T.," "Y&R" spoilers tease.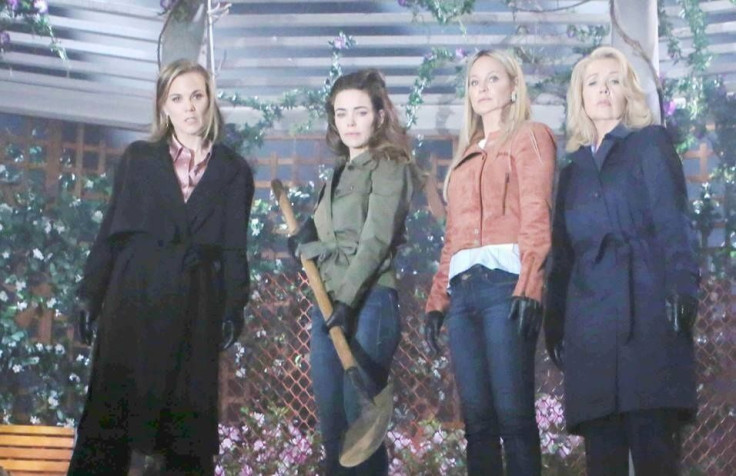 A preview clip for the week's episodes (see above) previously showed Rey holding a press conference at the site of the water pipe and indicating that the missing person's case was now a murder investigation, and this will likely be the announcement he makes. Of course, his revealing that the police now believe J.T. is dead will be bad news for Nikki (Melody Thomas Scott), Victoria (Amelia Heinle), Sharon (Sharon Case) and Phyllis (Gina Tognoni), who all know the truth about J.T.'s disappearance.
The women believed that Nikki had killed him the night he tried to attack Victoria again, and they worked together to bury his body in the park and keep the crime covered up for good. However, when they tried to dig his body up to move it before the water pipe repairs began, they were stunned to learn his body was now missing. They've since been fearful that either someone else knows the truth and is waiting to expose them, or J.T. himself is somehow still inexplicably alive.
No matter what happened to the body though, all four women will realize that they are in significant trouble now that J.T.'s disappearance is being treated as a murder--and it may only be a matter of time before they're caught.
"The Young and the Restless" airs weekdays at 12:30 p.m. EST on CBS.
© Copyright IBTimes 2023. All rights reserved.