YouTube Kids App Exposes Children To Unwanted Ads, Advocacy Groups Claim Seeking FTC Probe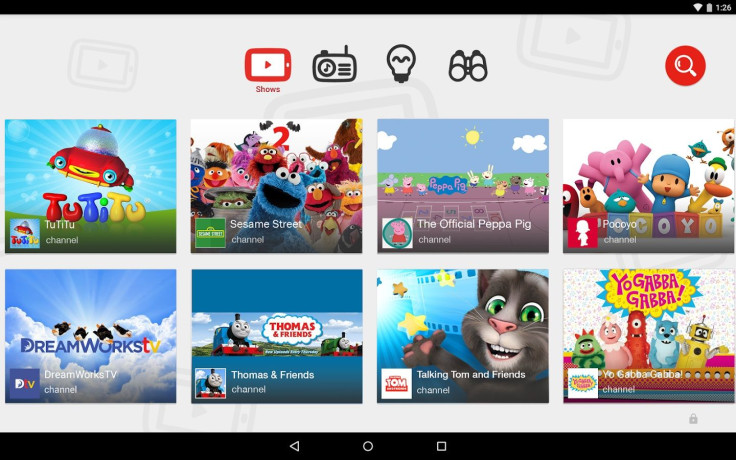 A group of consumers and children advocacy organizations plans to send a letter to the United States Federal Trade Commission (FTC) on Tuesday, urging it to investigate the YouTube Kids app for allegedly exposing children to commercials that should not be permitted to be shown to young audiences.
The YouTube Kids app, which was released in February, allows children to choose from hundreds of channels that run entertainment and educational programs. But these offerings also include ads from corporate giants like McDonald's and Mattel in a way that deceives children and parents, according to the group, which will send the letter to FTC asking it to examine whether the app violates federal laws that limit how commercials should be targeted to children, Reuters reported.
"The videos provided to children on YouTube Kids intermix commercial and other content in ways that are deceptive and unfair to children and would not be permitted to be shown on broadcast or cable television," according to the letter, obtained by Reuters.
During the launch of the app earlier this year, Google-owned YouTube had said that the service was "safer and easier for children" to use. The company also said that videos on the app "are narrowed down to content appropriate for kids." In addition, the app also included parental control settings to limit viewing time and Web search capabilities.
The coalition of advocacy groups, which include the Center for Digital Democracy, the American Academy of Child and Adolescent Psychiatry and the Consumers Union, said that channels on the YouTube Kids app mix programs with ads for toys based on a character -- a deceptive marketing practice, which is not allowed on television.
According to the group, FTC should "stop these and any other deceptive or unfair practices uncovered as a result of its investigation."
"This is the most hyper-commercialized media for kids I have ever seen," Dale Kunkel, a University of Arizona professor, who helped draft the FTC complaint, told the Los Angeles Times. "Children don't understand the persuasive intent of advertising."
Meanwhile, a YouTube representative told the paper that the company coordinated with numerous partners and child advocacy groups when it was developing the YouTube Kids app.
"While we are always open to feedback on ways to improve the app, we were not contacted directly by the signers of this letter and strongly disagree with their contentions," the representative said.
© Copyright IBTimes 2023. All rights reserved.