Zimbabwe Typhoid Fever Outbreak 2016: Harare Confirms Six Cases Of Deadly Disease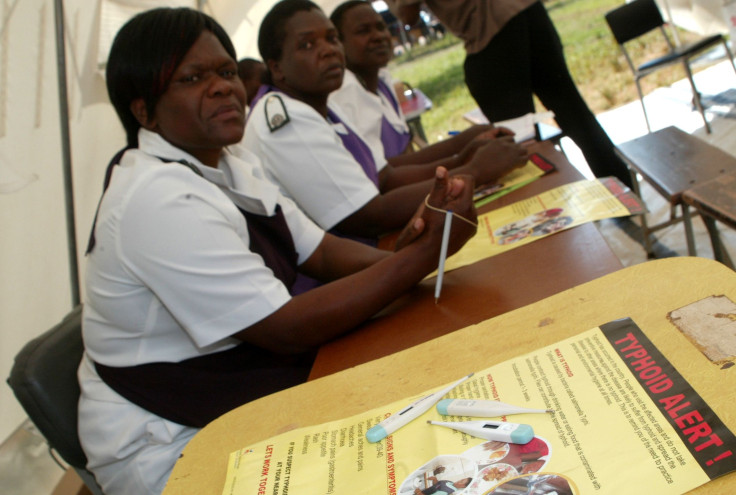 Zimbabwe's capital and most populous city has been hit with several cases of typhoid fever, speaking fears of a major outbreak. Prosper Chonzi, the Harare City health director, said Wednesday that six cases of the disease had been confirmed in the past five days in various suburbs, according to state-owned newspaper the Herald.
"We have sent our teams to assess the situation in those areas, particularly in Hopley, where there is strong suspicion that people could be sick from their homes. The teams will be interviewing and treating all suspected cases," Chonzi reportedly said.
More than 30 cases of the disease in an area would constitute an outbreak, and city health officials are apparently working to stem further spread. Still, the cases confirmed in Hopley as well as the Glen Norah and Hatfield suburbs were cause for concern due to an area nearby where people sell produce and prepare food in unsanitary conditions. Typhoid fever is a bacterial infection spread by contaminated food and water or close contact.
"We want all that to stop because it exacerbates the situation. With what is happening there and the confirmed cases we have seen so far, we are sitting on a health time bomb waiting to explode," Chonzi told the Herald.
Symptoms of typhoid include lasting high fevers, weakness, stomach pains, headache and loss of appetite. Those infected may also have constipation or a rash. In rare cases, typhoid can lead to internal bleeding and even death, according to the Centers for Disease Control and Prevention.
Several cases of the serious disease have been reported in South Africa in the past week. A 27-year-old Malawian woman died Sunday in Johannesburg after contracting typhoid fever, according to Eyewitness News in South Africa.
At least one of the patients in South Africa had recently traveled to Zimbabwe. A 38-year-old Zimbabwean woman who lives in the South African province of Gauteng came down with typhoid fever last week, not long after she had visited Zimbabwe, according to eNews Channel Africa.
A deadly typhoid outbreak was confirmed in Harare starting in early November 2011. The number of cases surpassed 1,500 within weeks. Zimbabwe's health minister at the time, Henry Madzorera, called for an overhaul of the southern African nation's water and sanitation systems amid the outbreak, according to Al Jazeera.
"The progressive deterioration of public health infrastructure have seen such rare diseases like typhoid becoming more commonly encountered within our population," Madzorera reportedly said in February 2012. "The same poor water and sanitation conditions in Harare prevail in most of our urban areas and other parts of the country."
© Copyright IBTimes 2022. All rights reserved.
FOLLOW MORE IBT NEWS ON THE BELOW CHANNELS