'Zombie Angelina' Sahar Tabar Reveals Her Real Face, Says The Viral Images Were Fake
KEY POINTS
Sahar Tabar was jailed in 2019, months after her photos and videos went viral
She was sentenced to 10 years but was recently released due to the anti-hijab protests in Iran
She admitted that the now-viral images were a mixture of Photoshop and makeup skills
Sahar Tabar, an Iranian woman who became a worldwide sensation after posting photos and videos in which she resembled a ghostly version of Angelina Jolie, has finally revealed her real face to the world after being released from jail and admitted that the images were fake.
Tabar, whose real name is Fatemeh Khishvand, was sentenced to 10 years in prison in October 2019, months after she posted her now-viral photos and videos. She was jailed on charges of "blasphemy" for allegedly insulting the hijab and displaying "obscenity" in the materials she shared, The Independent, reported, citing the Iran Human Rights News Agency.
She was also accused by the country's religious police of "corrupting" the younger generation with her actions. However, she was recently released due to the ongoing anti-hijab protests in her country.
In a video she posted on Instagram three years ago, Tabar could be seen with ghastly swollen lips, sunken eyes and an overall skeletal-looking face, which made her look like a creepy version of Hollywood star Angelina Jolie. People speculated at the time that it might have been a result of a botched surgery or a bad case of cheek and lip fillers. Her account on the social networking site was deleted shortly after, as reported by BBC News.
Tabar's 2019 arrest caused acerbic reactions on Twitter, with people sarcastically asking if her "crime" was worse than murder or theft. Famed Iranian activist Masih Alinejad came forward to defend her in a tweet, even pleading with Jolie to intervene in the matter, according to The New Indian Express. Alinejad has also been one of the most prominent pro-protest voices in the ongoing anti-hijab movement in the country.
Besides showing her real face, Tabar claimed in a recent interview that the materials that had gone viral and later landed her in jail were mainly a mixture of Photoshop and makeup tricks, as per the outlet. She also admitted that she wanted to be famous when she was young and thought "cyberspace was an easy way."
Tabar reportedly remained in the desert jail Qarchak — known as the "worst jail in Iran for women — for 14 months.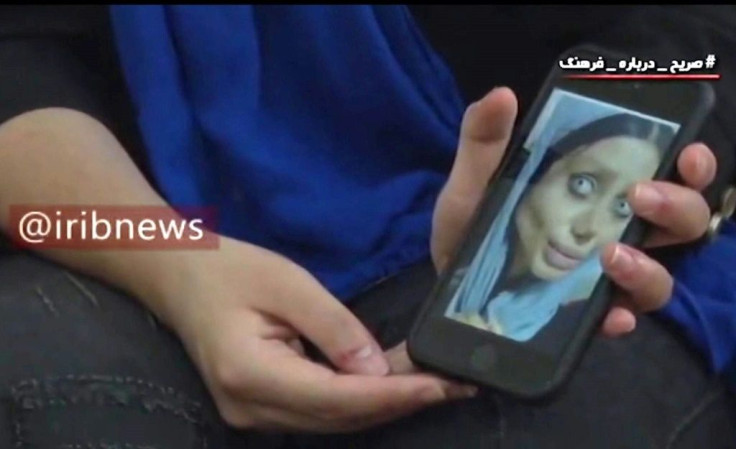 © Copyright IBTimes 2023. All rights reserved.