Zuma Declares Week Of Mourning For Miners As Lonmin Demands Strikers Return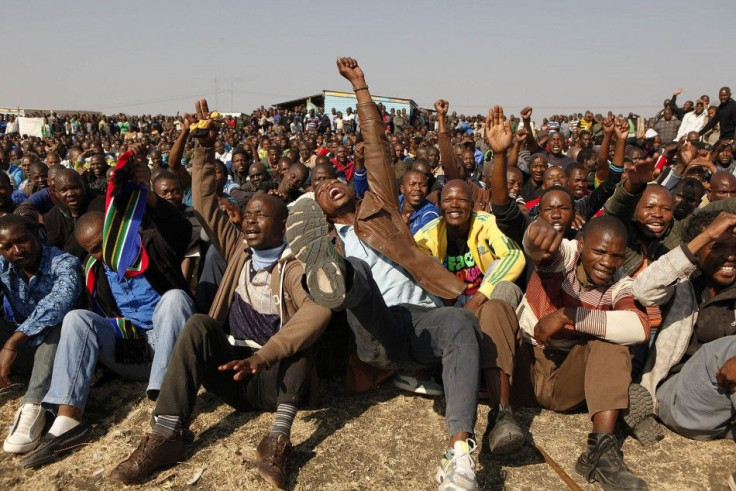 South African President Jacob Zuma has declared a week of national mourning for the striking miners killed in violence at a platinum mine Thursday, as the mine operator delivered an ultimatum for the strikers' return to work.
At least 34 people were killed when police opened fire at the Marikana mine, northwest of Johannesburg. Another 10 people, including two police officers, were killed in earlier clashes there after the owners of the mine, Lonmin, gave their striking workers a final ultimatum to return to work.
In a statement, Zuma said the nation was in "shock and pain," the BBC reported. "We must this week reflect on the sanctity of human life and the right to life."
At least 78 people were injured in the violence and some 250 people were arrested.
Flags will fly at half-staff all over South African and at diplomatic missions abroad during the mourning period, which will last from Monday until next Sunday.
On Saturday, ousted African National Congress youth leader Julius Malema addressed the strikers and called on Zuma to resign over the clashes.
Lonmin, the world's third-largest platinum producer, said the miners must be back at work by Monday or risk being dismissed.
"The final ultimatum has been extended to Monday, the 20th following Thursday's events," spokeswoman Gillian Findlay said on Sunday, Reuters reported. "Employees may be dismissed if they fail to heed the final ultimatum."
Some miners dismissed the call as disrespectful to their colleagues who died.
"Expecting us to go back is like an insult. Many of our friends and colleagues are dead, then they expect us to resume work. Never," worker Zachariah Mbewu told AFP.
He added that no-one would return to work as long as they were still in mourning and that workers would only go back when management gave them what they sought.
London-based Lonmin accounts for 12 percent of global platinum output. It is already struggling with low prices, weak demand and may miss its annual production target of 750,000 ounces as the quarter to the end of September is typically its best.
The strike was sparked by a turf war between the powerful National Union of Mineworkers and the upstart Association of Mineworkers and Construction Union, which has accused NUM of caring more about politics than workers in mine shafts.
NUM has been a breeding ground of leaders for the ruling African National Congress party and one of the union's former top officials now sits on Lonmin's board as a non-executive director.
Ten people were killed prior to the police shooting, including a NUM shop steward who was hacked to death.
NUM General Secretary Frans Baleni, said on a national TV talk show that he was not sure if the miners would return to work.
The deadly protest could also hurt the ANC and its long-standing labor allies by laying bare workers' anger over enduring inequalities in Africa's biggest economy.
© Copyright IBTimes 2023. All rights reserved.
FOLLOW MORE IBT NEWS ON THE BELOW CHANNELS