Zynga Faces First Insider Trading Lawsuit In Wake Of Poor Second-Quarter Earnings Report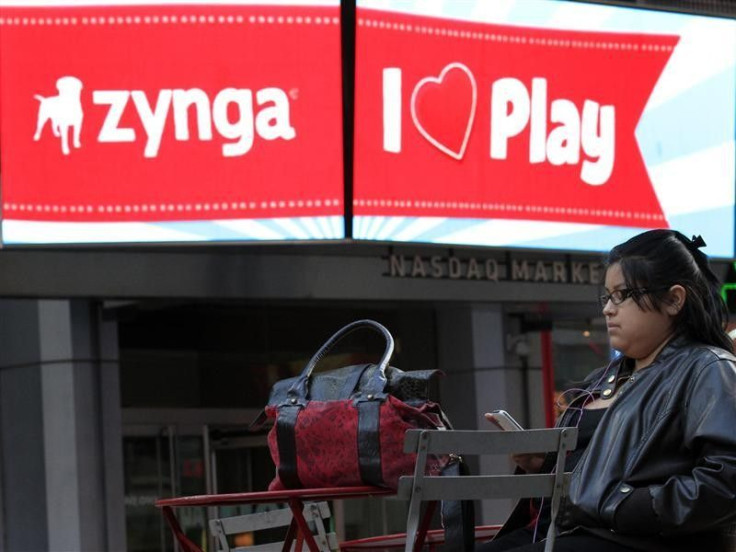 Speaking in an interview with Wired Business that was published Monday but took place before his company's stock took a nose-dive last week, Zynga CEO and co-founder Marc Pincus seemed to predict the scrutiny he would suddenly face from Wall Street once his company went public, saying that "in the short run," he would be "questioned and not appreciated." But "in the long run," he added hopefully a moment later, "investors are going to reward companies that make smart long-term investments."
A week is not enough time to grant a "long-run" perspective, even by the standards of the business news cycle. But amidst the headlines about the company's poor financial performance, declining user base, and dubious shareholder ethics, law firms are now beginning to pry into the company's history since it went public last year to find out what long-term systemic issues might have been plaguing the struggling social gaming giant. On Tuesday morning, The Verge reported that the first insider trading lawsuit had officially been filed following an increasing number of investigations into the company that were launched late last week.
Zynga first went public in December 2011 at $10 a share. At the time, employees and early investors were "locked up"-restricted from selling their shares until May 28th, 2012. But according to The Verge's a report, a "select group of insiders got underwriters Morgan Stanley and Goldman Sachs to waive that restriction, allowing them to sell an additional $515 million worth of shares on April 3rd at $12 a pop."
This special arrangement is the subject of the lawsuit filed on Monday by the San Francisco-based law firm Newman Ferrara. "Zynga's regular employees were still locked up from selling their shares. But the guys at the top, who saw what was coming down the pipe, got to cash out," Ferrara attorney Roy Shimon told the tech website in an interview. By the May 28th when the original lock up was set to expire, Zynga's share price had dropped to $6. Following last week's earnings report, Zynga's shared dropped further to slightly over $3.
Newman Ferrara is just one of five law firms that announced plans to investigate potential insider trading, but the firm is the first to file an official lawsuit. This is also not the first time in Zynga's short history as a publicly-traded company that its sharing practices have come under scrutiny either. In November of 2011 as the company was gearing up for its IPO, the Wall Street Journal reported that the company was trying to reclaim lucrative stock options from some of its own employees.
Even at that time, reports admitted that the company's questionable behavior "carries legal risk." As Santa Clara University Law School Professor Steve Diamond said to NBC News for their report on the story: "That suggests perhaps the possibility that they're not acting in good faith and enforcing or carrying out the terms of the agreement they made with the employees in the first place."
While admitting that the move may have been an effort to "keep governance and control of the corporation within a select group in the executive team and the board," Diamond went on to predict, "If the mechanism is seen as unfair by some of the employees, then clearly it's going to come back to bite Zynga."
Combined with being able to avoid the initial lockup on shares, executives were then able to sell at a time when the company was still projecting positive growth prospects, particularly for the second half of 2012. The company's secondary offering was first reported in March, for instance, around the same time that the company purchased "Draw Something" creators OMGPOP and were awash with enthusiasm for their latest venture. At the time, Zynga explained to its employees that it hoped to "facilitate an orderly distribution of shares and to increase the company's public float." The company justified the decision to its own employees by saying that it was that it was better to stagger the sale of shares, rather than open them all at the same time in late May. An anonymous Zynga employee told The Verge that the this decision raised suspicion among many workers whose shares were still "locked in" at the time: "It's not easy for folks to see that the executive team were selling their shares while most people were still locked up."
Mark Pincus himself was first allowed to sell his shares in April during the secondary offering, at which point the CEO unloaded about 15% of his holdings and made $200 million in the process. Other executives including the chief operating officer, chief financial officer, and early investors such as Institutional Venture Partners and Union Square Ventures, also sold.
Zynga's executives responded to the disappointing earning's report last week by attempting to shift some of the blame to Facebook, the social media site that functions as a platform for most of the developer's IP. COO John Schappert said at the time that "Facebook made a number of changes in the quarter. These changes favoured new games. Our users did not remain as engaged and did not come back as often." The company went on in press conferences and statements to guarantee that it would move further into mobile gaming space and recoup some its loss with a turn towards online gambling.
But employees speaking to The Verge were doubtful that the company's executives did not foresee Zynga's current woes. "Zynga is a company very focused on data. Mark (Pincus) wants this business to be driven by numbers, not by hits," said one employee. "They analyze every action in the game and try to optimize the business. They rely on franchises to eliminate risk."
Henry Blodget of Business Insider defended the company in an article last week, writing, "I know many of these folks personally, including at the company's underwriters, and like and respect them. I think the last thing they would intentionally do is unload stock when they thought it was about to crash-especially when the amount they made in the sale, though huge, is still relative chicken feed for them. Also, all of these folks only sold a fraction of their holdings, so they've been hammered along with the rest of Zynga shareholders by the subsequent collapse."
But while Mr. Pincus himself may have only sold only a fraction of his total holdings (still to the tune of $200 million, nonetheless), other executives sold far more before the recent news. According to a New York Times report from March of this year, COO John Schappert sold 45 percent of his shares and Zynga's chief financial officer, David Wehner, sold over half of his stock.
FOR FREE to continue reading
✔️ Unlock the full content of International Business Times UK for free
offer available for a limited time only
✔️ Easily manage your Newsletters subscriptions and save your favourite articles
✔️ No payment method required
Already have an account?
Log in
© Copyright IBTimes 2023. All rights reserved.