Facebook Earnings And Zynga Shares Plunge: "Farmville" Maker Lashes Out At Social Media Giant Over Poor Figures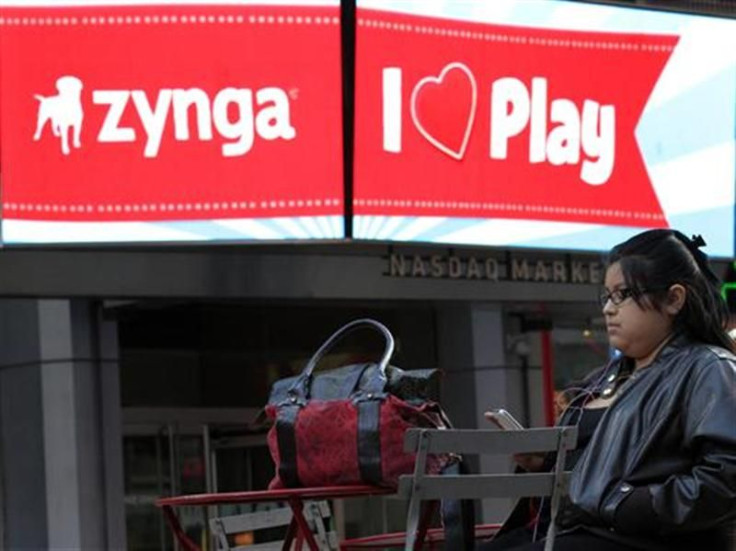 Zynga shares sank to an all-time low Thursday below $3 — falling more than 40 percent in after-hours trading Wednesday evening, and dropping more than 70 percent from its initial public offering price.
The plunge in the social video game developer's shares came after its quarterly report indicated a severe slowdown in growth, rattling conficence in a company company that has built its entire business model on the sale of virtual goods primarily within Facebook itself, a company that was expected to post a profit this quarter. Zynga's rapid plunge has shaken confidence in both companies, leading many analysts to wonder if Facebook can sustain its profitability this quarter in the face of such severe losses by the "Farmville" creator.
Speaking to the Wall Street Journal, Sterne, Agee & Leach analyst Arvind Bhatia called the rapidity of Zynga's plunge "mind-boggling," leading him to conclude that "the softness seen in Zynga's various titles is suggesting general fatigue towards social games, in general."
Facebook and Zynga have been "joined at the hip," in the words of Eurogamer reporter Wesley Yin-Poole. But now in light of the catastrophic losses, both companies are doing their best to distance themselves from one another. Speaking in a conference call to investors, Zynga COO and former EA executive John Schappert put the blame squarely on the social media giant's shoulders, saying "Facebook made a number of changes in the quarter. These changes favoured new games. Our users did not remain as engaged and did not come back as often."
Zynga drew a $22.9 million loss for the quarter, down from a $1.4 million profit the same period last year. Revenues, meanwhile, had increased 19 percent, to $332.5 million. But Zynga incurred costs along the way, particularly with the hasty and controversial purchase of "Draw Something" for $200 million. At the time, The IBTimes' own Dave Smith called the purchase "a brilliant acquisition" due to the fact that it was dominating iOS and Android sales charts then. But soon after it managed to do the impossible and top even "Angry Birds," the game began losing customers as quickly as they came. As a result of "reduced expectations for Draw Something" and "a more challening environment on the Facebook web platform," Schappert reasoned, the company was forced to lower its projected outlook.
Marc Pincus, Zynga's co-founder and CEO, said the company will focus on rejuvenating itself in the coming years by turning more attention toward mobile devices, and announcing plans to enter into real-money gambling by 2013.
In other words, the company is also doing its best to distance itself from Facebook in the future. "Getting beyond the Facebook web footprint through mobile is going to give us more growth opportunities for games," he said.
While pinning success and failure on another rapily evolving tech company is certainly unstable for both Facebook and Zynga, analysts remain doubtful as to whether moving "beyond Facebook" will be enough to save Zynga. Speaking to the New York Times, Richard Greenfield of BTIG said bluntly: "Right now, everything is going wrong for Zynga. In a rapidly changing internet landscape that is moving to mobile, it's very hard to have confidence these issues are temporary."
The larger problem, however, seems to lie with the dubious trust that can be placed in virtual goods. Michael Gartenberg of Gartner explained to the Times that "At the end of the day...virtual goods might not be a viable business strategy. People eventually stop spending money in virtual goods and want to spend that money on real goods." At the same time, J.P. Morgan analyst Doug Anmuth had more confidence in the prospect of gambling games and a healthier mix of intellectual properties for the company as it moves more into the mobile space.
But any possibility for growth is further down the road than Zynga would prefer. "Facebook's promotional changes are likely to negatively impact Zynga for multiple quarters," Anmouth concluded in a note to his clients. "The only near-term positive catalysts are likely to include potential share buyback and strategic opportunities."
© Copyright IBTimes 2023. All rights reserved.