The 10 Biggest Aircraft Deals Of 2013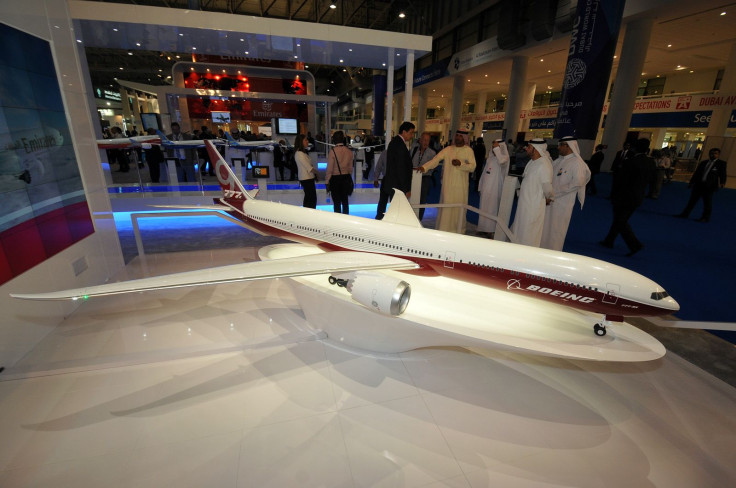 It's been a banner year for the world's biggest airline manufacturers, with hundreds of billions of dollars pouring into their coffers as clients order the newest, fuel-efficient aircraft. The Boeing Company's (NYSE:BA) new 777X aircraft has been in particular demand from the Middle East. Rival Airbus, a unit of EADS (EPA:EAD), saw sales of its similarly sized A350 twinjet also soar, and reaped a huge order for the A380, the world's biggest airplane.
1. Emirates - $76 billion
The Dubai-based airline owned by the local government made history at the Dubai Air Show in November with the biggest single order ever for Boeing: 115 firm orders for the 777X-9X and 35 for 777-8Xs. Those two newest versions of the successful 777 twinjet haven't flown yet; they will enter service around 2020, and that's why Boeing does not include them in its official price list yet, although their prices can be deduced from other deals.
2. Etihad Airways - $26.9 billion
Also at the Dubai Air Show, the Abu Dhabi-based airline announced it had bought 50 Airbus A350s, 36 of the smaller A320neo medium-range jets, and one A330-200 freighter.
3. Etihad Airways - $25.2 billion
At the same time, the fast-growing Etihad said it had ordered 17 Boeing 777X-9X, 8 of the smaller 777-8X, 30 of the 787-10 Dreamliner, and one 777-200 freighter.
4. Lion Air - $24 billion
The Indonesian budget airline, which in 2012 had set the previous record for Boeing's biggest order with a $22 billion commitment for 737s, also bought from Airbus in 2013, with 169 A320s and 65 A321. This was the biggest order ever for the European consortium.
5. Emirates - $20 billion
On the same day it announced its record-breaking order for Boeing, Emirates also said it had placed 50 firm orders for the Airbus A380. Emirates is already the largest operator of the world's biggest passenger airplane, and this was the largest order ever for the giant double-decker jet, each costing $404 million, according to the published Airbus price list (but airlines get discounts for orders of this size -- and Airbus is trying hard to move the A380, which has sold a relatively paltry 259 units so far).
6. Qatar Airways - $19 billion
Also at the Dubai Air Show, whose 2013 edition broke the record for most orders at an aviation trade event, another state-owned Mideast carrier, Qatar Airways, announced a commitment for 50 Boeing 777-9X.
7. Ryanair - $15.6 billion
Ryanair Holdings PLC (DUB:RYA), the biggest budget airline in Europe, ordered 175 Boeing 737-800s -- the only airplane it flies -- for $15.6 billion.
8. FlyDubai - $11.4 billion
The budget airline that's also owned by the government of Dubai, like Emirates, bought 100 Boeing 737 Max -- the re-engined, more fuel-efficient version of the world's best-selling jetliner, that will enter service in 2017 -- and 11 of the current-model 737-800. That order was also announced in November at its hometown air show.
9. EasyJet PLC - $11 billion
London-based low-fare airline EasyJet Plc (LON:EZJ) stayed with Airbus for its fleet renewal and expansion with an $11 billion order for 35 current-model A320s and 100 re-engined A320neo models.
10. Japan Airlines - $9.5 billion
Tokyo-based Japan Airlines Co. Ltd. (TOK:9201), historically a Boeing-only airline, also made history by switching to Airbus for the first time with an order for 18 A350-900s and 13 A350-1000s.
While not included in the list, Embraer-Empresa Brasiliera de Aeronautica (BVMF:EMBR3) and Bombardier Inc. (TSX:BBD.A) have both received large orders for small, cheaper regional aircraft from American Airlines Group Inc. (NASDAQ:AAL). The newly merged airline, the biggest in the world after combining with US Airways, bought 30 CJR900 NextGen aircraft from Bombardier for $1.42 billion and purchased 60 E175s from Embraer for about $2.5 billion.
© Copyright IBTimes 2022. All rights reserved.
FOLLOW MORE IBT NEWS ON THE BELOW CHANNELS