'The 100' Season 2 Spoilers: Watch 3 Sneak Peek Videos From Episode 9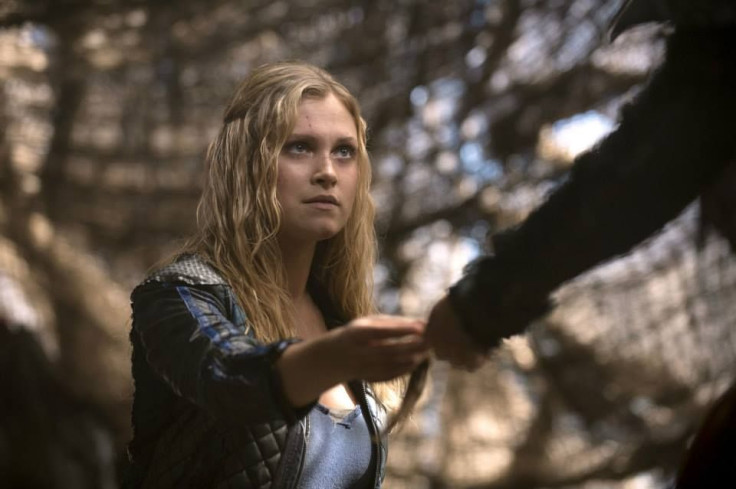 "The 100" Season 2, episode 9 is not going to make life any easier for Clarke (Eliza Taylor). She'll have to deal with the ramifications of sacrificing Finn (Thomas McDonell) in the midseason premiere. New sneak peek videos for the episode tease that she won't find much support from her friends.
Sneak Peek No. 1
Raven (Lindsey Morgan), Finn's ex, is crying over Finn's dead body. "Go away," she tells Clarke.
Clarke apologizes, but that only makes Raven yell louder. Clarke isn't really there to pass along her sympathies. "I know how hard this must be for you, but I'm leaving with the Grounders and I need you to keep working on the radio," Clarke says.
The Grounders start to take Finn's body, but Raven won't let them. Clarke postpones them for a moment. She explains that they have to complete a death ritual with his body. It's part of their truce.
"I'm coming too," Raven says. "And don't worry, I'll bring your damn radio."
Raven storms off and Clarke is clearly in pain as she tells the Grounders to take Finn's body. As they pick him up, Clarke sees Finn's eyes open and stare at her.
Watch the sneak peek video from "The 100" Season 2, episode 9 below:
Sneak Peek No. 2
Clarke is hallucinating Finn as she walks with Bellamy (Bob Morley). Bellamy notices something is wrong. "You did the right thing," Bellamy says.
"Now I get to live with it," Clarke says. "You still think this truce is a bad idea, don't you?"
Clarke claims that they need the Grounders' army to save their friends from Mount Weather. Bellamy believes that if their army was that strong, they would have taken care of Mount Weather years ago. He thinks that he could sneak in to rescue their friends.
"I said no," Clark says.
"Since I don't take orders from you, I'm going to need a better reason," Bellamy says.
"I can't lose you too, okay?" Clarke says.
Watch the sneak peek video from the midseason premiere of "The 100" Season 2 below:
Sneak Peek No. 3
At Mount Weather, the boys seem to be hatching their own escape plan. They may have even figured out how to send a message. While they still haven't found Harper (Chelsey Reist), they think that she might be hidden somewhere.
"There has to be rooms we don't know about, places that aren't mapped," Jasper (Devon Bostick) says.
Maya (Eve Harlow) says it's a possibility, but Miller (Jarod Joseph) doesn't find a "maybe" very helpful. After all, she isn't an outsider and won't be locked away if they get caught. Monty (Christopher Larkin) distracts them with a possible escape.
"If we can access the radio, we can send a message over the Archway channel, tell them we're here," Monty says. They won't be able to get into the command center, but the blueprints show another possible way to access the wires they need. However, it won't be easy.
"Great, now all we have to do is break through a two-foot section of wall, find the outgoing wire and hijack the system without being heard by anyone in the command center or in the field," Monty says.
"That's all, huh?" Miller asks.
"No, we'll also need to steal some copper wire, the guards' schedules and a walkie talkie. Oh yeah, and a big a-- hammer," Monty says.
Watch the sneak peek video from "The 100" Season 2, episode 9 below via Entertainment Tonight:
"The 100" Season 2, episode 9, titled "Remember Me," airs Wednesday, Jan. 21 at 9 p.m. EST on The CW. Do you think Raven will have the radio working in time to hear the boys message? Sound off in the comments section below!
© Copyright IBTimes 2023. All rights reserved.