15 Facts You Should Know About Lee Jihan: K-Pop Star Who Died In Itaewon Stampede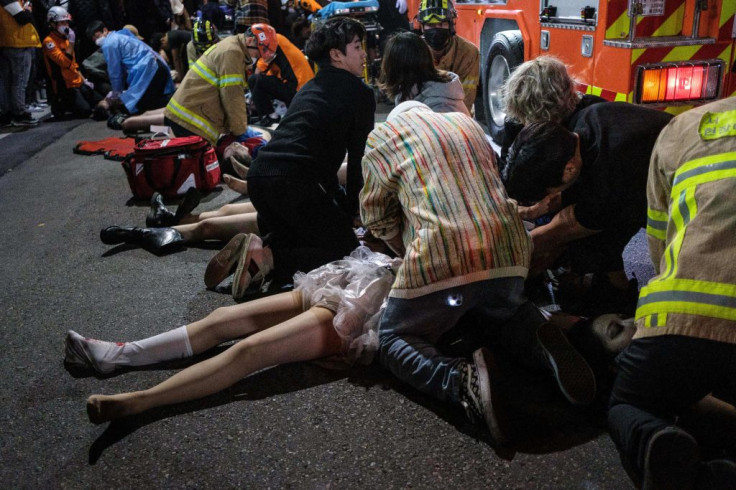 KEY POINTS
Lee Jihan was among the people who died in the Halloween stampede in South Korea
The 24-year-old K-pop star's talent agency confirmed his passing via social media.
The neophyte artist, who made his acting debut in 2019, was buried on Nov. 1
K-Pop singer-actor Lee Jihan passed away due to the devastating Halloween crowd surge in the Itaewon district of South Korea on the night of Oct. 29. He was 24.
Seoul's neon jungle froze as 154 revelers died and 100 got injured after attending the traditional Halloween festival in the Itaewon neighborhood, which halted for two years due to the pandemic.
Jihan was as one of the victims of the horrific stampede as confirmed by his talent agency in a Twitter post.
"We are sad to deliver such news today, but Lee Jihan has passed away in the crush in Itaewon last night. We would like to express our deepest condolences to his family, who are saddened by the sudden tragic news, and also to everyone who loved him," 935Entertainment said in the statement translated by Global News.
Park Hee Seok, a former "Produce 101" competitor and close friend, shared his sentiments in a heartfelt Instagram post accompanied by a photo that said, "Pray For Itaewon."
Hee Seok revealed in his post that he was planning to see Jihan before flying to Japan. He then extended his condolences to his friend's family.
The funeral of the late actor took place on Nov. 1 at Myongji Hospital Funeral Hall in Goyang, Gyeonggi, a city located northwest of Seoul.
Some may not have heard about his journey, but Jihan was making a name for himself in the K-pop scene and was ready to take the TV industry by storm. Here are some interesting facts about the former idol trainee.
1. Despite his toned-down social media presence, Jihan had an Instagram account with the username @ji_han_0803.
2. His native name is 이지한, which appears in his Instagram bio.
3. Jihan, a Leo, was born on Aug. 3, 1998.
4. He stood at 181 cm with a weight of 65 kg, according to his biography published by Fandom.
5. Jihan was only 19 years old when he became a "Produce 101" trainee.
6. He appeared in the second season of the reality talent competition in 2017. During the fifth episode, he finished in the 98th spot.
7. He worked with other "Produce 101" participants who became his friends, including Hee Seok, Jo Jin Hyung and Kim Do Hyun.
8. He auditioned on the show with a cover of EXO's "Overdose."
9. He also participated in a group rendition of Infinite's "Be Mine" on the reality survival program.
10. Jihan performed the Pick Me Evaluation Performance with other "Produce101" participants, including singer-songwriter and businessman Kang Daniel, who was the season's overall winner.
11. He represented Pan Entertainment as a "Produce 101" trainee. Pan Entertainment is a Korean drama agency that produces dramas and houses talented recording artists and actors.
12. After participating in "Produce 101" under Pan Entertainment, he shifted to a South Korean music label, Widmay Entertainment.
13. While pursuing a career as a K-Pop idol, Jihan landed the main role in the 2019 5-episode comedy web series "Today Was Another Nam Hyun," which was also his acting debut. He starred as Shin Nam Hyun, an ordinary high school student obsessed with ramyun.
14. Jihan was featured in a commercial for the Indonesian coffee brand Luwak White Coffee alongside Indonesian artists Mawar de Jongh and Beby Tsabina.
15. Jihan was slated to appear in the new MBC fantasy comedy-drama "The Season of Kkok Du," which was supposed to be his first major role following his debut in 2019. He was set to play the ex-boyfriend of Han Gye Jeol, portrayed by Im Soo Hyang.
However, filming for the drama has taken a screeching break, as per Soompi.
© Copyright IBTimes 2023. All rights reserved.