'19 Kids And Counting' Stars Share Video Update On Jill Duggar, Baby Israel; Thank Fans For Their Support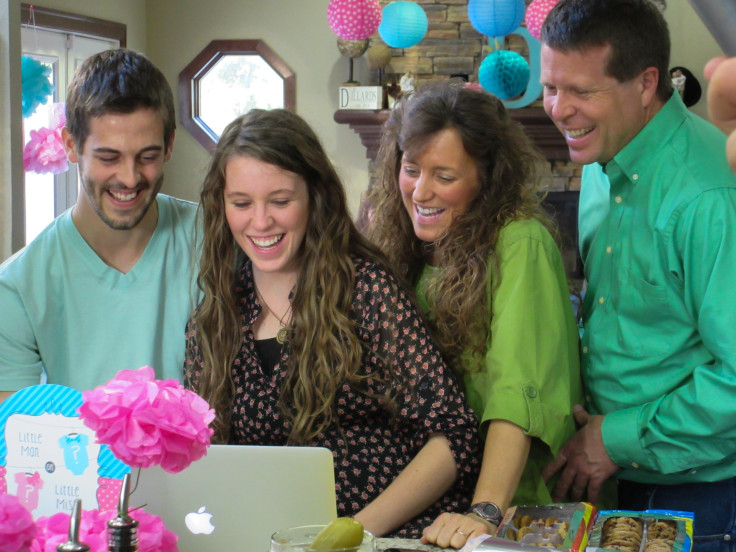 Michelle and Jim Bob Duggar took a moment away from their daughter Jill (Duggar) Dillard, son-in-law Derick Dillard, and new grandson Israel Dillard, to share a message of gratitude with their fans Friday. In a video message posted to their official Duggar family blog, four-time grandparents Michelle and Jim Bob gave their "19 Kids and Counting" viewers an update on the newest member of the Duggar brood.
The video, which was sent to the Duggar family's newsletter subscribers Friday evening, gave a special shoutout to fans. "We wanted to thank you first for the outpouring of support we've received from so many after the birth of our grandson Israel David Dillard," read the message. "Thank you for you continued prayers and well wishes."
In the video, the couple shared similar sentiments.
"We want to thank everybody for all their support for Jill and Derick," Jim Bob said.
"What a blessed time this is as we've welcomed our new grandbaby little Israel into the world. We are just so thankful for our friends and those out there that have been praying for our family," Michelle added.
Jim Bob concluded the video with a joke about the many grandchildren he expects will come from his 19 offspring. "Four grandkids and counting, going on two hundred," he quipped.
Israel, born April 6, to Jill, 23, and Derick, 25, is Michelle and Jim Bob's newest grandchild. The couple are already grandparents to their oldest son Josh's three — soon to be four! — children with his wife, Anna. While Anna is currently the only member of the "19 Kids and Counting" clan with a confirmed pregnancy, rumors that their 22-year-old, recently married daughter Jessa is with child have been rampant for several months.
Jill also shared an update with fans Friday. In an interview with People Magazine, the reality star and first-time mom said she and Derick have been getting a generous amount of support from her family after her delivery — which was initially planned as a home birth — did not go as expected.
"We are so blessed to have such a great family and such great people here at the hospital and doctors and the nursing staff," Jill said. "My sisters and my mom and Derick's mom have been all been in to help!"
Catch up with Jill and the rest of the Duggar family on "19 Kids and Counting." New episodes air Tuesdays at 9 p.m. EDT on TLC.
© Copyright IBTimes 2023. All rights reserved.