200 Allegiant Air Passengers Stranded For 4 Days After Cancelled Flight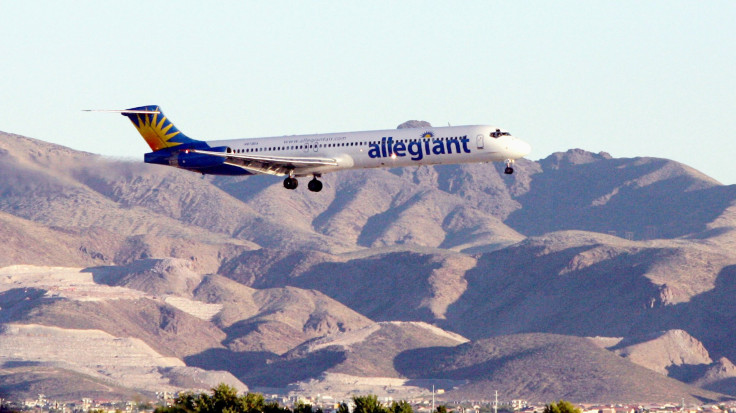 Allegiant Air reportedly left almost 200 passengers stranded in Las Vegas, Nevada Sunday following a canceled flight to Oklahoma City, Oklahoma, according to FOX 5 Vegas. The airline informed customers that they would not be placed on another flight until Thursday, leaving passengers stranded at McCarran International Airport in Las Vegas for four days after their original scheduled flight.
"This is an unusual situation — canceling without a reschedule is rare, and is only invoked when there are truly no other options available for switching aircraft or rescheduling," Krysta Levy, a spokeswoman for Allegiant Air, told International Business Times. "Unlike many larger carriers, Allegiant does not have daily service to all markets served from Las Vegas. In many instances, these are two-times weekly flights."
Levy added, "All options were explored to get our passengers to their destination, but unfortunately, there were no practical solutions given the heavy Sunday and Monday schedules in our network."
Mechanical issues with the air craft disrupted Allegiant Flight 454 from taking off. The 160 passengers were offered a $300 check but were told it wouldn't arrive in the mail for seven to 10 business days. Passengers could use the check to rebook their flight with Allegiant, or they would receive a refund if they chose not to rebook their flight with the airline.
Read: Ann Coulter Blasts Delta For Removing Her From Airplane Seat, Twitter Reacts
Jennifer Falsetti, a FOX 25 reporter in Oklahoma City, tweeted pictures of the letters passengers on Flight 454 received from Allegiant upon the carrier's cancellation. Allegiant sent an email and traditional mail letter to the flight's passengers.
"We regret to inform you that your upcoming Allegiant flight 454 originally scheduled to to depart McCarran International Airport (LAS) to Will Rogers World Airport (OKC) on Sunday, July 23 at 04:03 pm has been canceled," the apology email read. "Visit Allegiant.com and select Manage Travel to view the options available for your itinerary."
Airline issues aren't a new phenomenon, but Twitter users have expressed their disdain towards of the carrier following the company's latest scandal, with some deeming it the "worst airline on the planet."
"Your company is a JOKE! My daughter is stuck in Vegas Airport due to you cancelling her flight Customer service IS HORRIBLE," a woman wrote on Twitter, sharing her frustrations with Allegiant in a series of tweets. "@Allegiant told her they could get her to Chicago for an additional 150.00 and she is stuck in O'Hare now with NO LUGGAGE! @Allegiant HAD APPARENTLY LOST HER LUGGAGE....ALONG WITH MANY POTENTIAL CUSTOMERS AFTER THIS!"
One user commented on the frustrated woman's rant, saying, "A dozen of my friends stranded in Vegas until Thurs, and given 300 bucks. They're awful."
Another user tweeted a separate complaint, saying, "Extremely disappointed in @Allegiant . My roommate's flight from Vegas has been cancelled and we're not getting any responses from staff!"
Some customers tried to make the best of the situation, with one group of friends embarking on a road trip from Las Vegas to Oklahoma City, according to NBC News affiliate KFOR.
Read: EU Airplane-Style Drone Regulations May Be Issued By 2019
Spokeswoman Levy issued an official apology on behalf of Allegiant for the disruption of customers' travel plans, saying the airline has issued refunds and additional benefits to all passengers who would have boarded flight 454 to Oklahoma City.
"We sincerely apologize for the interruption to our passengers' travel plans. All passengers have been issued refunds for the flight, as well as an additional $300 to help defray costs associated with the disruption to their plans," she said. "In addition, each passenger has been issued a $150 voucher toward future travel on Allegiant. Passengers were also given the option to be re-accommodated on another Allegiant flight at no charge, for example, some chose to take yesterday's flight from Las Vegas to nearby Tulsa, OK."
Follow me on Twitter @dory_jackson
© Copyright IBTimes 2023. All rights reserved.