3-Month-Old Baby With Rare Birth Defect Undergoes Life-Saving Surgery
KEY POINTS
Newborn was diagnosed with bilateral nasal encephalocele, a rare congenital disorder
Nearly three months later, doctors performed a complicated surgery to treat the infant
Baby was given anaesthesia as the gas mask was hindered by a swollen frontal lobe
Doctors at the pediatric surgery department in King George's Medical University (KGMU) in India conducted a life-saving surgery on a three-month-old boy suffering from a rare congenital disorder. The infant was diagnosed with bilateral nasal encephalocele at birth.
In this congenital defect, the brain of the baby was not fully closed through temporal bones. This leads to spinal and brain fluids accumulating out of the skull posing threat to the life of the baby.
The baby was born on Sept. 17 in the northern state of Uttar Pradesh. A day after birth, the newborn was referred to KGMU for treatment. Head of the paediatric surgery department, KGMU, Prof J D Rawat, examined the baby and asked the parents to bring the infant back after two months as the child was too small at the time to undergo a surgery.
After consulting neurology and ophthalmology departments, a team of doctors decided to perform the surgery; it was conducted by Rawat and Dr. Nipex Tyagi.
"In the two-and-a-half-hour surgery, we successfully removed fluid, placed the brain to its usual place and closed the opening. Now, the baby is fine and will be discharged at the weekend," Rawat said, according to The Times of India.
"This disorder is found in one child out of 40,000 live births and occurs in cases where women do not take enough nutrition, especially folic acid and iron during pregnancy. Such a case was successfully operated at our hospital for the first time. It was very difficult to give anaesthesia to the baby because the gas mask was not fitting due to swelling in the frontal lobe. Experts used cotton to fill gaps in the gas mask to prevent leakage," Rawat added.
While the surgery has been successful, the baby still needs corrective surgeries in coming days to minimize face deformity, doctors said, according to IANS.
Vipin Kumar, father of the baby, said: "We had lost all hope, but doctors have given a new life to my child."
About 1 in every 10,500 babies is born with encephalocele in the United States, according to Centers for Disease Control and Prevention. The exact cause of encephalocele is unknown.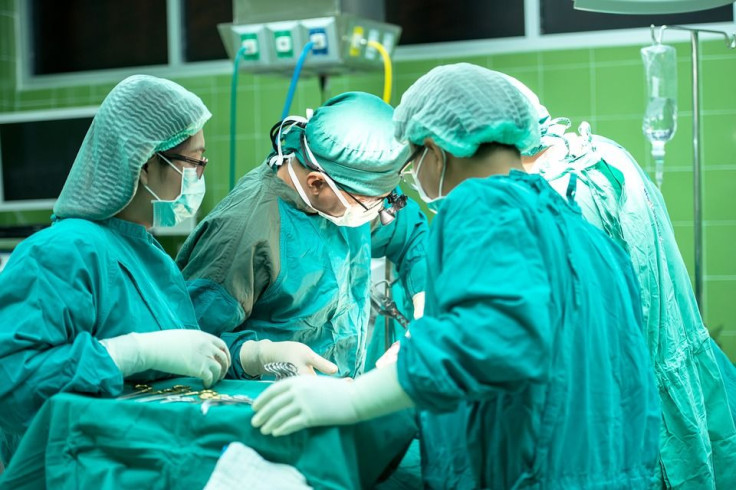 © Copyright IBTimes 2023. All rights reserved.