30 Funniest Thanksgiving 2022 Quotes: For Family, Friends, Work, Business And More
KEY POINTS
30 Thanksgiving quotes for your family, friends and workmates
Some family members can be swept up in the holiday frenzy
In the US, Thanksgiving Day falls on Nov. 24 this year
The fourth Thursday of November is when Americans celebrate Thanksgiving. And sometimes, there's more to cozy fall decorations, warm autumnal lights and thrilling family reunions. Some family members might be at the helm of planning what's for Thanksgiving and Christmas; some might be fumbling around other relatives in between small talks, and still, others may be attending for the first time that they already want to leave.
But, as the famous saying goes, "food is the way to the soul," but "laughter is the language of the soul." Throw a barrel of jest on social media or ease the tension at the family table with these witty quotes at Thanksgiving because, most likely, a good belly laugh while having a good feast is just what everyone needs.
FOR FAMILY
1. "Thanksgiving, man. Not a good day to be my pants." —Kevin James
2. "I come from a family where gravy is considered a beverage."—Erma Bombeck
3. "Thanksgiving is a time to count your blessings, one by one, as each relative goes home."—Melanie White
4. "I got to go home for Thanksgiving and sit at the adults' table. That's 'cause, you know, somebody had to die for me to move up a plate." —Andre Kelley
5. "My cooking is so bad my kids thought Thanksgiving was to commemorate Pearl Harbor." —Phyllis Diller
6. "I suppose I will die never knowing what pumpkin pie tastes like when you have room for it." — Robert Brault
7. "Every Thanksgiving, I bring the champagne because in my family, we all know what our strengths are." —Gloria Fallon
8. "I'm thankful for each and every one of you. Now stop hiding in the broom closet reading tweets and get back with your family." —Ellen DeGeneres
9. "The Thanksgiving tradition is, we overeat. 'Hey, how about at Thanksgiving we just eat a lot?' 'But we do that every day!' 'Oh. What if we eat a lot with people that annoy the hell out of us.' " —Jim Gaffigan
10. "A lot of Thanksgiving days have been ruined by not carving the turkey in the kitchen." —Kin Hubbard
FOR FRIENDS
1. "I approximated the Black Friday experience at home by hurling myself into a wall a number of times and then ordering online." —Kumail Nanjiani
2. "You can't have Thanksgiving without Turkey. That's like Fourth of July without apple pie, or Friday with no two pizzas." —Joey Tribbiani ("Friends")
3. "That's one of the great things about Thanksgiving: Football's on!" — Michael Strahan
4. "It's not too much food. This is what we've been training for our whole lives. This is our destiny, this is our finest hour." —Lorelai Gilmore ("Gilmore Girls")
5. "I can't cook a Thanksgiving dinner. All I can make is cold cereal and maybe toast." —Charlie Brown
6. "For those of you who cannot be with family this Thanksgiving, please resist the urge to brag." —Andy Borowitz
7. "The Thankstini: A fun and delicious new novelty drink I invented. Cranberry juice, potato vodka, and a bouillon cube. Tastes just like a turkey dinner." —Barney Stinson ("How I Met Your Mother")
8. "Turkey: A large bird whose flesh, when eaten on certain religious anniversaries, has the peculiar property of attesting piety and gratitude." —Ambrose Bierce
9. "I'm looking forward to seeing pie this Thanksgiving more than members of my own family." —Damien Fahey
10. "I love spending Thanksgiving surrounded by all these great friends I met in the Best Buy parking lot." —John Lyon
FOR WORK
1. "Vegetables are a must on a diet. I suggest carrot cake, zucchini bread, and pumpkin pie." —Jim Davis
2. "What we're really talking about is a wonderful day when no one diets. I mean, why else would they call it Thanksgiving?" —Erma Bombeck
3. "Thanksgiving—when the people who are the most thankful are the ones who didn't have to cook." —Melanie White
4. "I have strong doubts that the first Thanksgiving even remotely resembled the 'history' I was told in second grade. But considering that (when it comes to holidays) mainstream America's traditions tend to be overeating, shopping, or getting drunk, I suppose it's a miracle that the concept of giving thanks even surfaces at all." —Ellen Orleans
5. "A new survey found that 80 percent of men claim they help cook Thanksgiving dinner. Which makes sense when you hear them consider saying 'that smells good' to be helping." —Jimmy Fallon
6. "I love Thanksgiving! When else can you eat too much and watch football? Except for like every weekend." —Ellen DeGeneres
7. "Note to self: when they ask you what you're thankful for, don't just list off your prescriptions." —Emily Lime
8. "Just got a Happy Thanksgiving e-mail from my gastroenterologist." —Damien Fahey
9. "The doctor told me I can't drive a forklift on the medication he prescribed. And like that, my Thanksgiving is completely ruined." —Bridger Winegar
10. "The turkey that President Obama will pardon this Thanksgiving is from California. The turkey said, 'I don't need a pardon. I need a job.'" —Conan O'Brien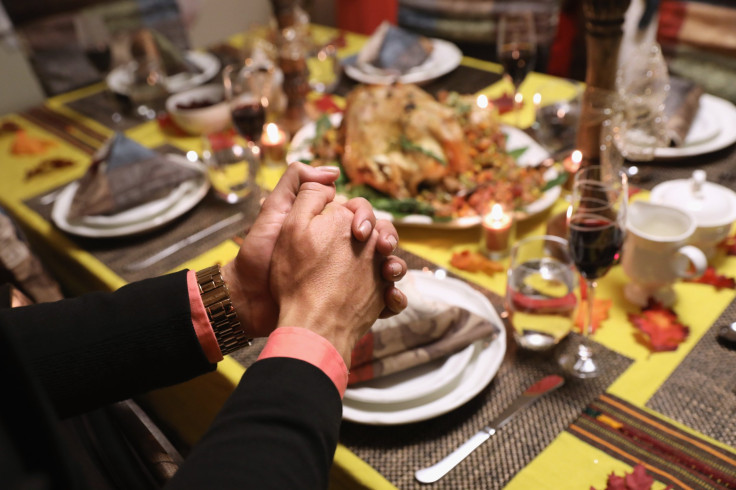 © Copyright IBTimes 2022. All rights reserved.
FOLLOW MORE IBT NEWS ON THE BELOW CHANNELS