5 Things Apple Must Do To Make iWatch A Hit And Redefine Wearables
Developers and analysts weigh in on 5 things the iWatch absolutely must do.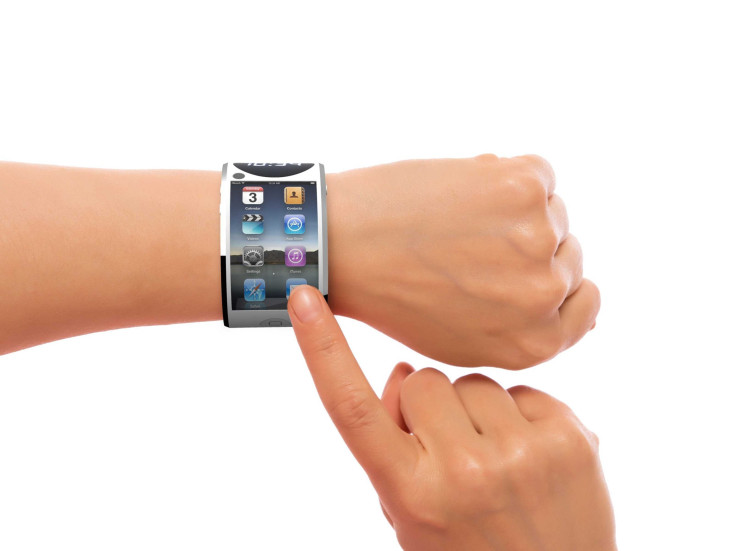 The tech world is looking for its next home run, and so is Apple Inc. (NASDAQ:AAPL), which hasn't created a new product category in four years. Apple did it with the iPod in 2001, the iPhone in 2007 and the iPad in 2010. Can Cupertino do it again with wearables in 2014?
We may know tomorrow when Apple is expected to unveil the so-called iWatch along with two new iPhones. Like the MP3 market in 2001, the market abounds with a confusing array of wearables and no clear winners or hits. So what features could make the iWatch a success? We asked some smart people, and came up with five key ones:
1. Solid battery life. Early reviews of Motorola Mobility's eagerly awaited Moto 360 seem to all have the same complaint: lousy battery life. For the iWatch to really catch on, it needs to last, and according to some experts, it would be best if it lasted for a few days, like the Pebble.
"The problem with all of these wearable devices is battery life," said analyst Jan Dawson, founder of Jackdaw Research. "One of the things that fitness devices track is your sleep. The Moto 360 is clearly built so that it charges at night, so it's absolutely useless for tracking sleep, unless you track when you take it off and put it on again."
The problem giving Android Wear devices a short daily lifespan? Their screens. Dawson said the better a portable device's screen, the worse its battery life. He said Apple could bypass issues by having a very basic screen, if it has a display at all.
"It needs a basic screen that tells the time, but only does anything else when its absolutely necessary, to save battery life," Dawson said.
2. Sex appeal. First and foremost, hopes are high Apple's noted design team will be able to generate a wearable device people actually want to wear. While some people stopped wearing watches when their phones began telling the time, they remain a popular pieces of jewelry.
Too many recent smartwatches take the wearable computing concept too seriously, offering devices that look more like computers than something to put on every day. For the iWatch to be a major hit, it needs to look good.
3. Simple health tracking. Dawson did the research: 80 percent of Britons and Americans surveyed have never purchased a fitness tracking device. Of those who have, half end up letting the gizmos collect dust after only a few uses. But Apple has not yet entered the market.
"I don't think Apple would be entering that market, unless they thought they could do markedly better in some way," Dawson said.
Apple could turn the iWatch into a hit product by incorporating not just fitness tracking, but by allowing users to better understand their overall health. Developers say most iPhone users seek a clearer picture of their well-being.
"The main goal of an iWatch should be targeted towards fitness. In technology today, that is where everybody is hoping to be," said Kriss Smolka, product designer and founder of Funn Media, publisher of the WaterMinder app. "As we can see with HealthKit coming out in iOS 8, Apple is already moving in that direction."
HealthKit is a new service for iPhone and iPad that will organize health information collected by a number of sensors, including a user's heart rate, daily steps and even blood sugar levels.
4. Unobtrusive notifications. Being able to know who is calling you without pulling your phone out of your pocket or bag might be convenient, but if the iWatch's notifications happen as often as those on an iPhone, it might get a little annoying.
"You don't want your wrist buzzing every 30 seconds with a Facebook notification," said Ilene Jones, an iOS developer and creator of apps like Hurricane HD which tracks storms in real-time, and the geolocation game Traveler's Quest. "That would become very interruptive during the day, especially when you're trying to get work done."
One of the major selling points to a wearable is being able to feel connected without having your smartphone in your hand, but for Apple to keep consumers happy, it needs to strike a balance between convenient and irritating.
5. Easier payments. Apple is planning something big in payments. If the iWatch is able to make wireless payments along with the iPhone 6, it's possible wallets may go the way of the dinosaur.
Several signs point to the development of a proverbial iWallet, including Apple's reported deals with all of the big credit card companies as well as the Apple Stores roll out of NFC (near field communication), a wireless payment technology. Payments could mean lower fraud costs for retailers -- especially if Apple's Touch ID fingerprint sensor plays a part -- and higher revenues for Apple.
If Apple is able to incorporate all of this and more into the iWatch, then shut up and take our money. The first generation of devices, especially those from Apple, are sometimes disappointing, so no matter what, your best bet is going to be waiting until the iWatch 2 is released in 2016.
FOR FREE to continue reading
✔️ Unlock the full content of International Business Times UK for free
offer available for a limited time only
✔️ Easily manage your Newsletters subscriptions and save your favourite articles
✔️ No payment method required
Already have an account?
Log in
© Copyright IBTimes 2023. All rights reserved.