5-Year-Old Boy Bitten, Dragged Into Pool By Huge Python
KEY POINTS
The child's father managed to free him from the reptile
His grandfather also jumped into the pool to help the child
The reptile was later released into the wild
A five-year-old boy in Australia was bitten and constricted into a swimming pool by a 10-foot-long python.
The child, identified as Beau Blake, was enjoying a swim at his home in the coastal town of Byron Bay in New South Wales Thursday when the reptile struck, his father told Melbourne radio station 3AW. The child's 76-year-old grandfather pulled the boy out of the pool while the reptile was still entangled.
The child's father, Ben, managed to free Beau from the clutches of the massive reptile after intensive effort. However, the boy suffered minor injuries in the incident.
"Once we cleaned up the blood and told him that he wasn't going to die because it wasn't a poisonous snake... he was pretty good actually," Ben told the local radio station.
"He's an absolute trooper," he added, affirming that the family would continuously monitor the bite wounds.
Detailing the ordeal, Ben said, "[Beau] was just walking around the edge [of the pool], and I believe the python was sort of sitting there waiting for a victim to come along, and Beau was it."
"I saw a big black shadow come out of the bush and before they hit the bottom, it was completely wrapped around his leg."
With "no self-preservation whatsoever," Beau's grandfather Allan jumped in the pool to save the child. "I'm not a little lad... [so] I had him released within 15-20 seconds," Ben said, while speaking to the local station.
For about 10 minutes, Ben held on to the python in a desperate bid to save the child. The family later released the giant snake into the wild, ITV News reported.
"He went back to the scene of the crime, the naughty thing."
The father, however, stated that pythons were a fact of life in the area: "Look...it is Australia."
In a shocking incident that took place in Indonesia in October, a 54-year-old woman died after she was swallowed whole by a giant python. Locals found out about the incident while they were looking for the woman after she went missing. Her remains were discovered when the 22-foot-long snake was cut open.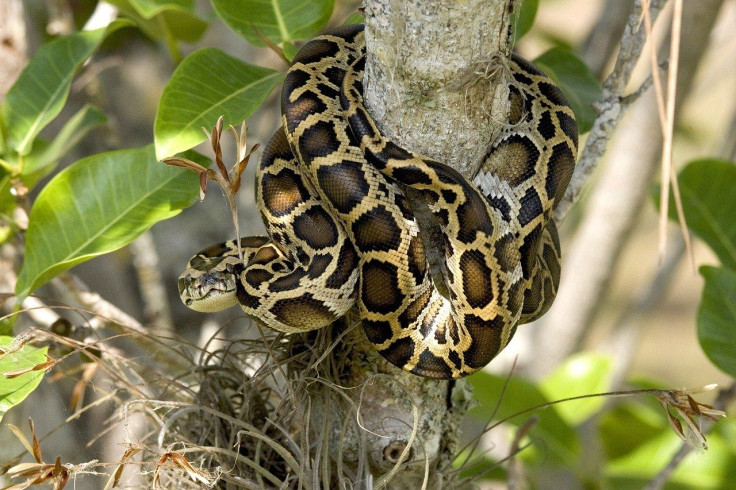 © Copyright IBTimes 2023. All rights reserved.