6 Moments You Missed On 'DOOL,' 'Y&R' And 'B&B'
Love was definitely in the air for couples on "Days of Our Lives," "The Young and the Restless" and "The Bold and the Beautiful," but Valentine's Week also had plenty of jaw-dropping and less lovable drama as well.
Though there was plenty of romance to make fans and the characters on the show alike both swoon, there was also quite a few bombshells which changed things up. In case you missed a moment of the shocking discoveries, loved up Valentine's Day celebrations, and even heartbreaks, here are the six biggest moments from the week of Feb. 12.
"Days Of Our Lives" (NBC)
JJ Proposes To Lani
After realizing she was going to make him the happiest man in the world by giving him a child, JJ (Casey Moss) decided to take things one step further with Lani (Sal Stowers). After getting one of Alice's old rings from Doug (Bill Hayes), JJ got down on one knee and proposed to Lani. She said yes, and she genuinely seems happy to be marrying JJ. However, she's still keeping a very big secret from him that could change everything—the baby isn't his.
Steve Makes A Shocking Discovery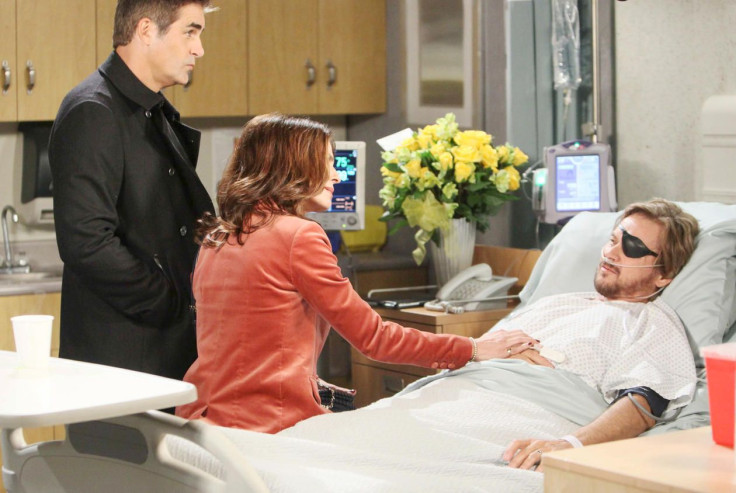 After being hospitalized over his worsening condition, Steve (Stephen Nichols) finally caught a break when it came to learning what was happening to him. Kayla (Mary Beth Evans) informed him that one test showed he was being poisoned, which gave him some ideas as to why he was sick. Then, after John (Drake Hogestyn) went into his hospital room and injected something into his IV, Steve may have figured out how the poison got there. Now, he just needs to know why.
"The Young And The Restless" (CBS)
Cane And Lily Remarry
After a difficult struggle and coming very close to officially divorcing, things officially turned over and changed completely for Cane (Daniel Goddard) and Lily (Christel Khalil). The couple sealed their reconciliation with an official kiss by renewing their vows on Valentine's Day, and they promised their kids that this time, there wouldn't be anything that could tear their family apart.
Chelsea Tells Phyllis The Truth About Christian
After Phyllis (Gina Tognoni) refused to back down from exposing Chelsea (Melissa Clare Egan) for setting up the mirror site that stole money from Fenmore's, the other woman was forced to drop a bombshell on her enemy. After Phyllis demanded that Chelsea give Nick back the engagement ring and call off their entire relationship, Chelsea revealed why she couldn't, telling Phyllis the truth about young Christian—the boy was not Nick's son, but Adam's. She then warned Phyllis that if that truth got out, it would all be on her.
"The Bold And The Beautiful" (CBS)
Wyatt Breaks Up With Katie—And Thorne Makes A Move
After witnessing a kiss between Katie (Heather Tom) and Thorne (Ingo Rademacher) during Brooke (Katherine Kelly Lang) and Ridge's (Thorsten Kaye) wedding, Wyatt (Darin Brooks) decided to put an end to his No Strings Attached romance with Katie. She was devastated, but it quickly became clear that she wouldn't have to be single for long if she didn't want to be. Thorne made his intentions to be with her known, and it didn't take long for Wyatt to also realize he still wanted to be with her. Katie is about to be caught in one interesting love triangle.
Liam And Steffy Learn Their Baby's Sex
After Steffy (Jacqueline MacInnes Wood) got an ultrasound appointment scheduled, she and Liam (Scott Clifton) were able to have a special moment together. Though their marriage is still very much on the rocks, and there is no guarantee Liam will be able to reconcile with her, the two will always have something very special in common—the baby girl—their daughter, that Steffy is carrying.
To see how these stories continue to play out next week, tune in to "Days of Our Lives," weekdays on NBC, "The Young and the Restless," weekdays at 12:30 p.m. EST on CBS, and "The Bold and the Beautiful," weekdays at 1:30 p.m. EST on CBS.
© Copyright IBTimes 2023. All rights reserved.
FOLLOW MORE IBT NEWS ON THE BELOW CHANNELS