8 Hallmark-Inspired Cocktails For Toasting The End Of Christmas Movie Season
The final days of Hallmark Channel's Christmas movie season is upon us. Saturday night's "A Midnight Kiss" is the last 2018 Countdown to Christmas premiere, and then there are only a few more days of Christmas flicks airing on the network consistently after that. Don't fret, though. Instead, toast the end of the event with cocktails resembling the ones you admire in all of the Hallmark holiday movies.
Always want to try one of those over-the-top festive cocktails you see in your favorite Hallmark Christmas movies? Or want to enjoy one of the classic-with-a-twist concoctions the characters put together? Well, now you can.
Here are eight cocktail recipes that'll have you feeling like you've jumped right into a Hallmark Christmas movie.
Moët J'Adore Le Pop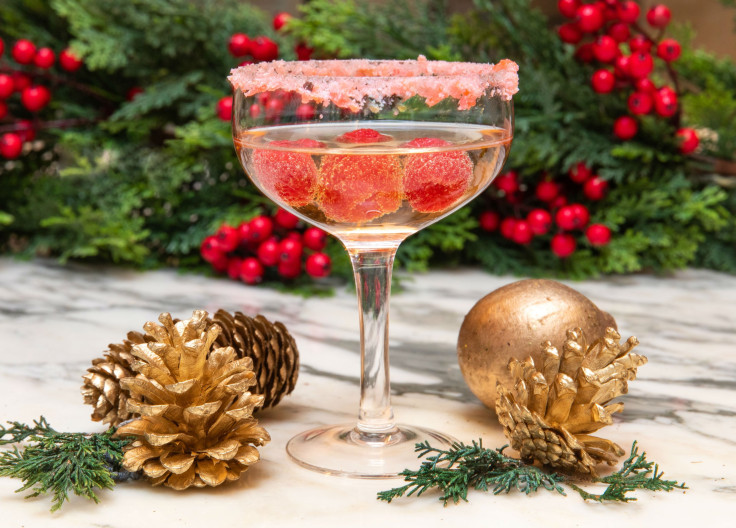 Ingredients:
If you're not able to check this drink out at Café Clover in the West Village in New York City, you can make this recipe from Nell Diamond at home. Just add everything together and coat the glass with a Pop Rocks candy rim to create this simple, delicious cocktail.
Ketel Soda with Cranberry and Rosemary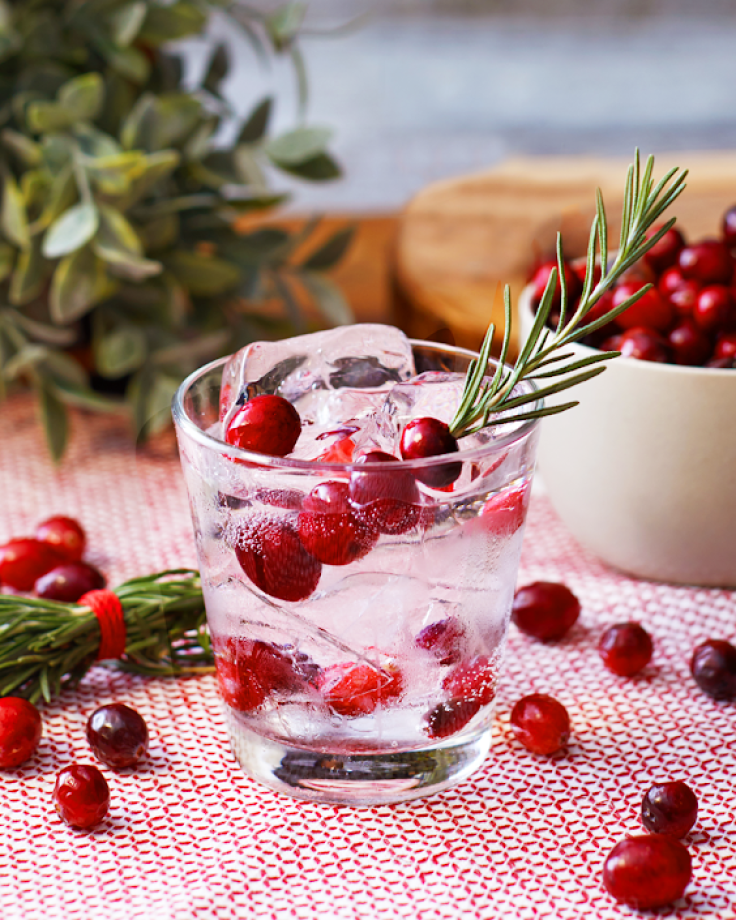 Ingredients:
Fill a wine glass with ice, and add the Ketel One Vodka and club soda. Top with cranberries and rosemary to complete the easy and festive drink.
Kerrygold Eggnog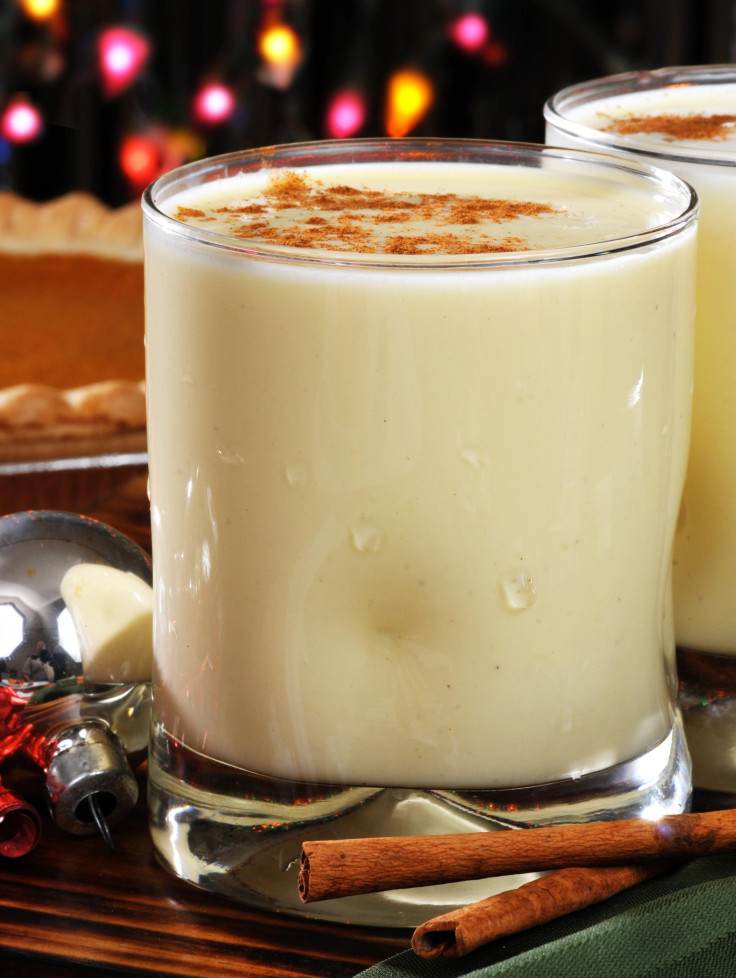 Ingredients:
1 part Kerrygold Irish Cream
½ parts Zaya 12 Rum
3 parts half and half
1 whole egg
Hallmark's "Road to Christmas" have you craving eggnog with cinnamon? Kick that drink up a notch with this Kerrygold recipe. Simply shake all the ingredients together and strain into whatever glass you'd like. Don't forget to add a cinnamon stick at the end for extra flavor.
S'mores Tini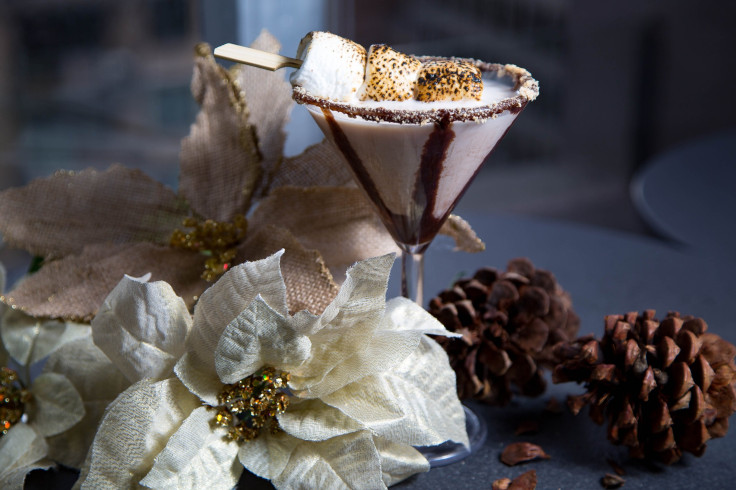 Ingredients:
Indulge in this holiday cocktail — from Midwinter Night's Dream at PHD Terrace at Dream Downtown in New York City — that looks like it would be served by a fireplace at a charming restaurant in a snowy Hallmark movie. Shake everything in a shaker with ice and strain into a martini glass. Make it however chocolatey you want by coating parts of the glass with chocolate syrup. Finish it off with the syrup and crushed graham crackers on the rim and a stick of marshmallows resting inside the glass.
Orange & Peppermint Hot Chocolate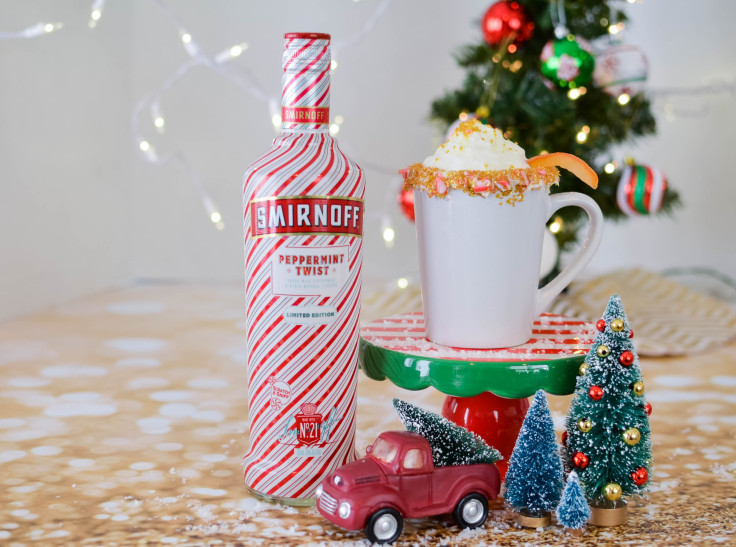 Ingredients:
0.5 oz. Triple Sec
8 oz. Hot Chocolate
While this recipe doesn't call for cayenne like the one in "Christmas Joy," it does put a different twist on the classic hot chocolate drink; a Smirnoff Peppermint Twist to be exact. Simply combine the ingredients in a mug, stir and serve with a candy cane.
Crimson & Clover Sparkler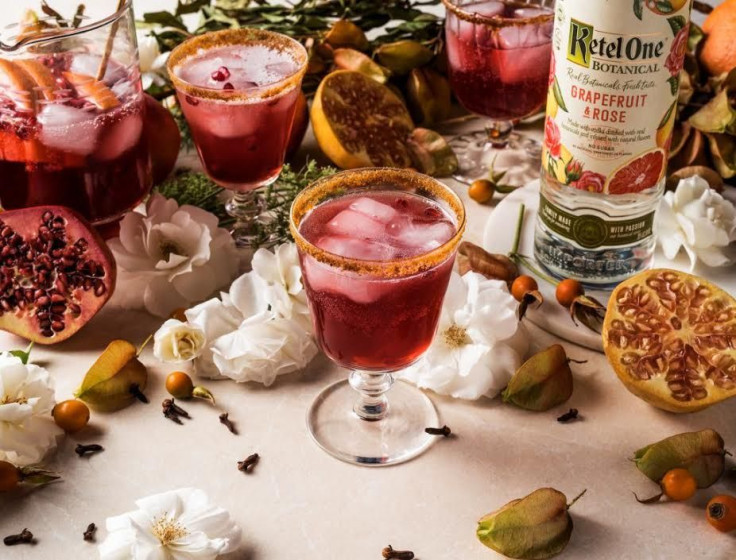 Coconut Clove Sugar Ingredients:
¼ cup coconut sugar
½ teaspoon ground cloves
1 grapefruit wedge
Cocktail Ingredients:
This drink will help you keep the holiday season going with a few of your senses — taste, smell and sight. Make the coconut clove sugar by mixing all the ingredients in a bowl. Pour it onto a shallow plate, and rim your glass with the grapefruit wedge. Then dip the rim in the sugar you made. Continue with the drink by combining the Ketel One Botanical, pomegranate juice, grapefruit juice and pinch of ground cloves in a shaker with ice. Finish off by shaking it, pouring it through a sieve into the glass and adding the soda water and a sprinkle of pomegranate seeds.
Holiday Cosmo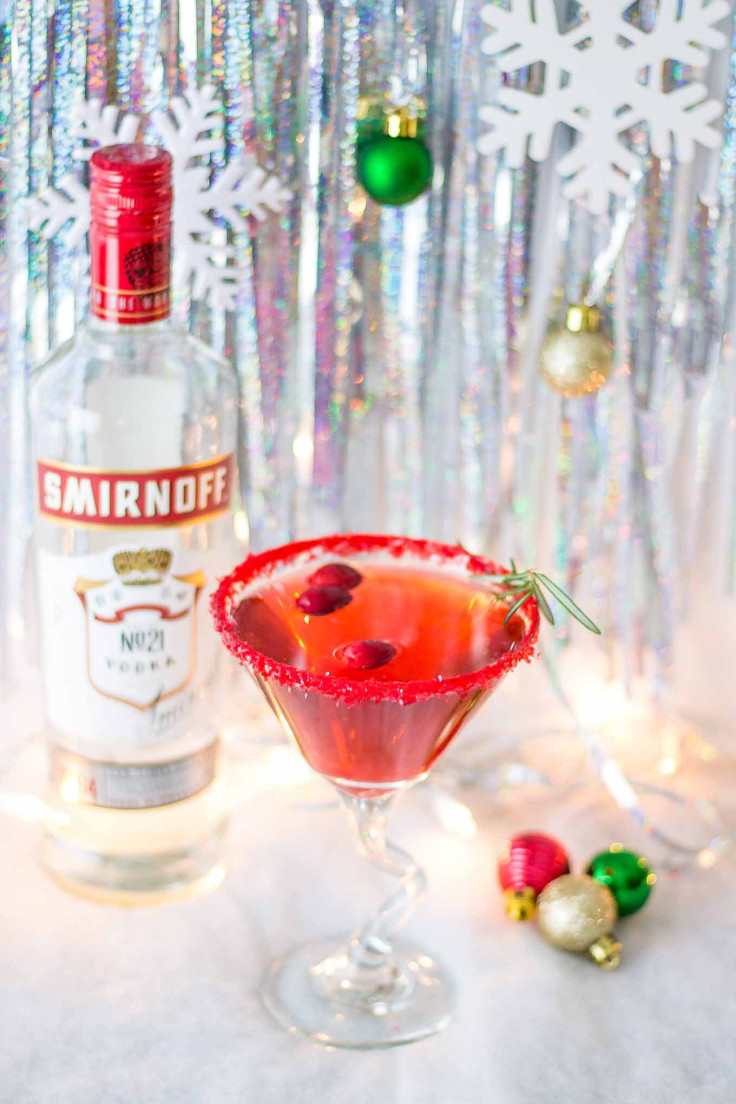 Ingredients:
1.5 oz. Smirnoff No. 21 Vodka
1 oz. Orange Liqueur
4 oz. Cranberry Pomegranate Juice
Lemon twist
Candy rim
Cranberry skewer
Courtesy of Megan Marlowe of Strawberry Blondie Kitchen, this cocktail will make you feel like you're starring in your very own Hallmark Channel Christmas flick. Just rim a martini glass with water and dip into edible glitter. Then, shake ice, Smirnoff No. 21 Vodka, orange liqueur and cranberry pomegranate juice in a shaker until chilled. Pour the concoction into the glass and finish with cranberries as a garnish.
SVEDKA A Present, For Me?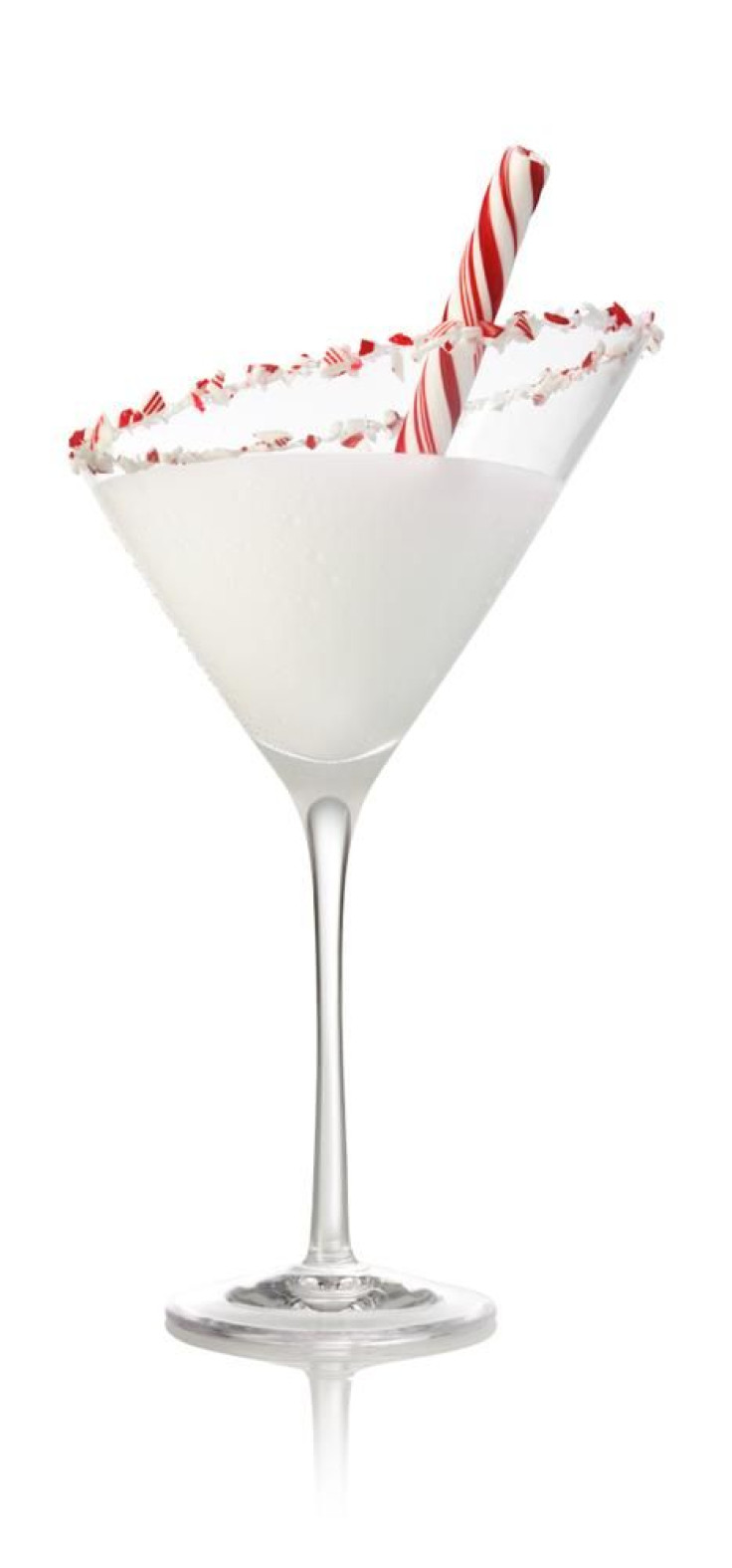 Ingredients:
1½ parts SVEDKA Vodka
1½ parts white crème de cacao
1 part peppermint schnapps
1 part heavy cream
Did those delicious-looking candy cane-rimmed drinks in "Pride, Prejudice and Mistletoe" spark your interest? Luckily, this recipe from SVEDKA is the perfect way to make it come to life. Shake all the ingredients in a shaker with ice and strain into a glass. Used crushed peppermint sticks on the rim as garnish.
© Copyright IBTimes 2023. All rights reserved.